Government will be facilitating their annual Summer Day Camp Programme starting on July 5th, with the camps to cost $60 per week and be available for children aged 4 – 14 years-old.
A spokesperson said, "The Minister of Youth, Culture and Sports, Dr. Ernest Peets confirmed that Government will be facilitating its 50th annual Summer Day Camp Programme starting July 5.
"Online registration for Summer Day Camp begins May 26 at 9.30 a.m. This year's camp cost is $60 per week, and children aged 4 – 14 years-old will be accommodated.
"Parents are invited to contact the Department of Youth, Sport and Recreation at 295-0855, or visit www.gov.bm to enroll their children. Contactless payment can be done online.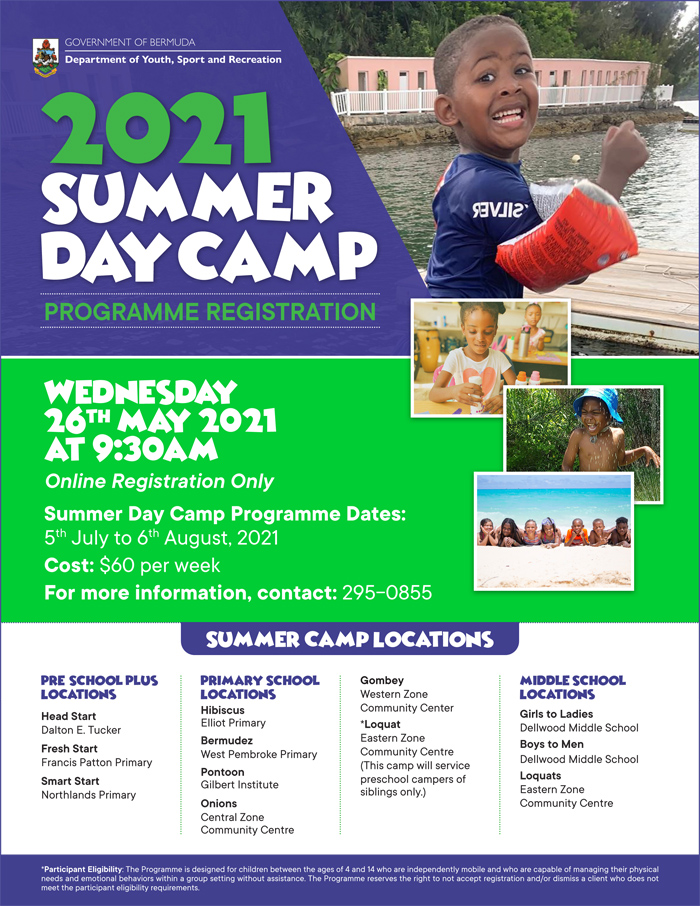 Minister Peets said, "Parents can be assured that the safety of our young people and staff are our highest priority. We have instituted protocols that are in keeping with the Ministry of Health's guidance, and we are pleased to be able to offer our annual summer camp for our young people during these challenging times."
"As an assurance, the Department outlined some of its health and safety protocols for this year's summer camp:
A thorough screening process is in place for children and staff.
All cleaning procedures and measures outlined by the Department of Health will be implemented.
All staff overseeing the Summer Camps have undergone rigourous health and safety training.
Ensuring physical distancing of young people.
"This year's Summer Camps are as follows:
Pre-school Plus Locations
Head Start – Dalton E. Tucker
Fresh Start – Francis Patton Primary
Smart Start – Northlands Primary
Primary School Locations
Hibiscus – Elliot Primary
Bermudez – West Pembroke Primary
Pontoon – Gilbert Institute
Onions – Central Zone Community Centre
Gombeys – Western Zone Community Center
*Loquats – Eastern Zone Community Centre [This camps will service preschool campers of siblings only.]
Middle School Locations
Girls to Ladies – Dellwood Middle School
Boys to Men – Dellwood Middle School
Loquats – Eastern Zone Community Centre
"Lastly, each of us has a role to play in stopping the spread of the coronavirus. Follow Public Health guidelines, wear a mask, practice good hand hygiene, maintain physical distance and download the WeHealth Bermuda app. Do the research, talk with your doctor and make an informed decision about getting the COVID-19 vaccine."
Read More About