Citizens Uprooting Racism In Bermuda [CURB] will be holding a virtual community forum and panel discussion entitled 'The 1981 General Strike: Memories of a Fight for Justice' on Wednesday, May 12th
A spokesperson said, "CURB invites the public to join us for our next virtual community forum and panel discussion entitled The 1981 General Strike: Memories of a Fight for Justice commemorating the 40th Anniversary of the 1981 General Strike, to be held on Wednesday, 12th May from 6:30pm to 8:00pm.
"Less than 4 years after the 1977 riots, the island became embroiled in the largest work disruption in Bermuda's History known as the 1981 General Strike, setting the Bermuda Industrial Union against the United Bermuda Party Government.
"The national crisis, precipitated by an ordinary industrial dispute beginning April 11th involving non-clinical BIU employees at the hospitals, snowballed into a 25-day sympathy strike joined by other members of the BIU, culminating with the Bermuda Union of Teachers, Bermuda Public Service Union and the Electrical Supply and Trade Union [Belco] joining the strike May 5th constituting the General Strike for that one day.
"This marked an indelible and ground-shaking chapter in Bermuda's social, political, and economic history, and an unprecedented watershed moment for peaceful resolution with the strike ending 7th May 1981.
"Today, two narratives co-exist in the community about the cause of the general strike and its outcomes, but what was the real story? Hear first-hand accounts of that period of Bermuda's history from those who were there and witnessed the unfolding story.
"Panelists for the forum include BIU President, Chris Furbert, BIU Education Officer, Bro. Collin Simmons, BIU General Secretary, Sis. Helena "Molly" Burgess, former BUT President and General Secretary and community activist, Glenn Fubler, and lawyer, journalist and former Member of Parliament, John Barritt. The forum and discussion will be facilitated by media consultant, Rick Richardson.
"Interested persons can register here to receive a link to the forum, or email admin@uprootingracism.org for more information or assistance."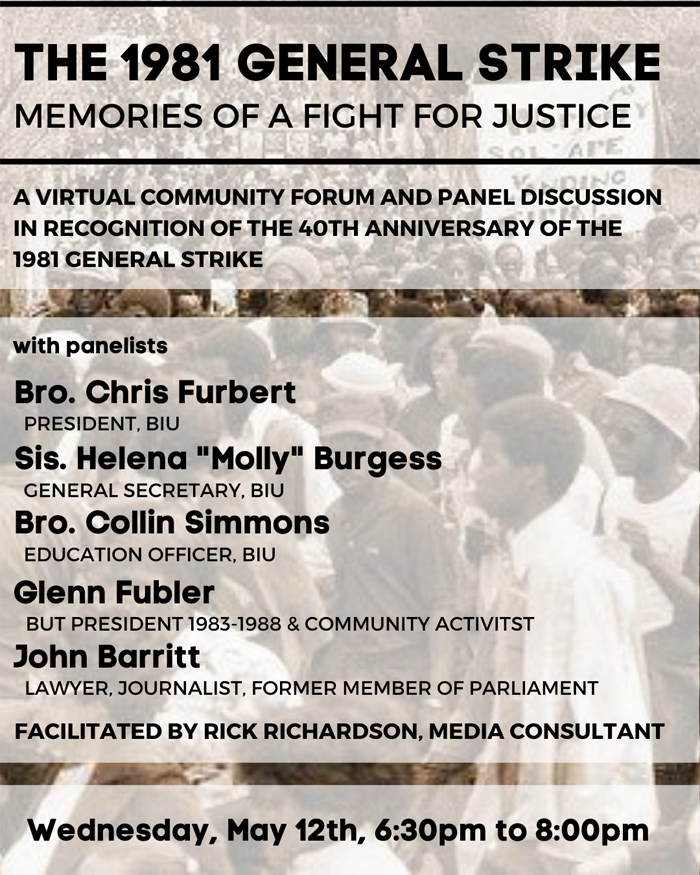 Read More About