[Updated with PDF] The Government of Trinidad and Tobago extended their "profound appreciation to the Government and people of Bermuda" for the donation of 9,000 Covid-19 vaccines.
A statement from the Government of Trinidad & Tobago Government said, "Senator the Honorable Dr. Amery Browne, Minister of Foreign and CARICOM Affairs, received 9,000 World Health Organization [WHO] approved AstraZeneca COVID-19 vaccines from Bermuda today, 24th May, 2021. These vaccines were generously donated to the Government of Trinidad and Tobago by the Government of Bermuda from their existing allocation of vaccines.
"The vaccines arrived at the Piarco International Airport this afternoon arrived at 4:23 p.m. and were immediately handed over to the technical team of the Ministry of Health. Minister Browne was accompanied by Her Excellency Frances Seignoret, Ambassador of Trinidad and Tobago to CARICOM and Ms. Anesa Doodnath-Siboo Principal Pharmacist [Ag.], Ministry of Health.
"The Government of Trinidad and Tobago extends its profound appreciation to the Government and people of Bermuda for their generosity in providing this much needed assistance and for also providing transportation for the vaccines."
Photo via the Trinidad & Tobago Government website: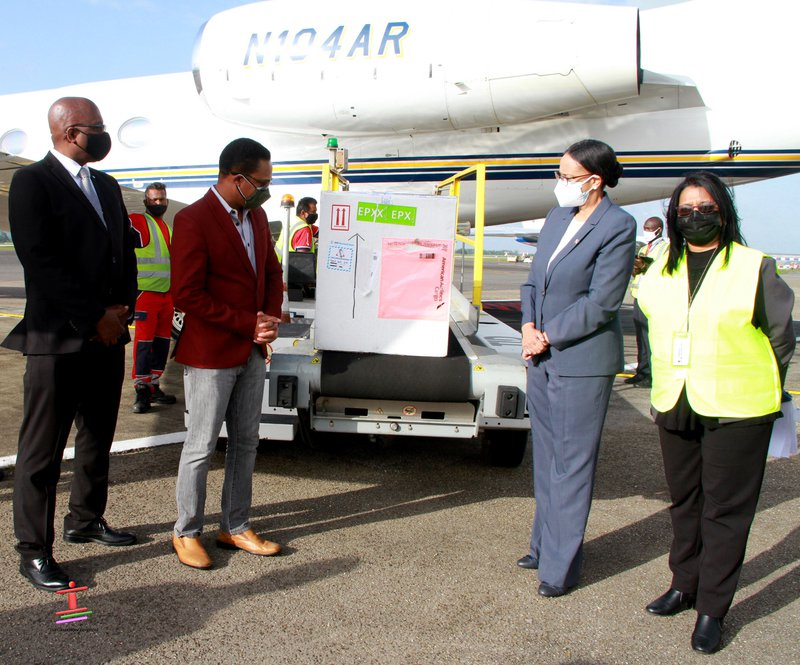 Health Minister Kim Wilson previously said, "Bermuda currently has more AstraZeneca Covid-19 vaccine stocks than we are likely to use before its expiry date, 30th June 2021, and we are seeking to assist our neighbours to the south by sharing doses that are in excess of our requirements."
Premier David Burt added, "I am glad Bermuda can play its part in the Regional effort to stabilize the pandemic response. I have communicated with Prime Minister Dr Rowley, and he has confirmed that this donation will be put to good use in support of their local vaccination programme. We are United in combatting the pandemic, and it is a moral obligation to help those in need where we can."
The Letter from Prime Minister of Trinidad and Tobago follows below [PDF here]:

You can find more information on the links below and also on our dedicated website BermudaCovid.com, which is the most comprehensive resource and historic record available of Bermuda's handling of the pandemic.
Read More About