The Berkeley Institute recently held its graduation ceremony for the class of 2021 at the National Sports Centre, with school Principal Keisha Douglas offering words of congratulations and encouragement as the students prepare to move forward.
At the graduation ceremony, Principal Douglas said, "Good morning graduates of the class of 2021, parents, faculty, and staff, to our Premier, the Minister of Education, Permanent Secretary, Commissioner and all other Government Ministers and Senators, Chairman of the Berkeley Educational Society, Mr. Sinclair White, and associated members, Chairman of The Berkeley Board of Governors, Mr. Craig Bridgewater, and fellow Governors, colleagues from the Ministry of Education, family, friends, corporate sponsors, community representatives and supporters. Welcome again to everyone!
"Wow, what a year this has been! As a matter of fact, these past 15 months have been a rollercoaster for our graduates, their parents, their teachers and our support staff.
"Due to the global pandemic, graduates, your senior school experience has been nothing like we expected or imagined it to be. However, you have risen above it all, and because of the hard work and dedication of every single graduate here today, we are now here in this moment.
"The class of 2021 has faced many trials and we will never truly know the impact of the Covid-19 pandemic and its correlation to our student's ultimate success.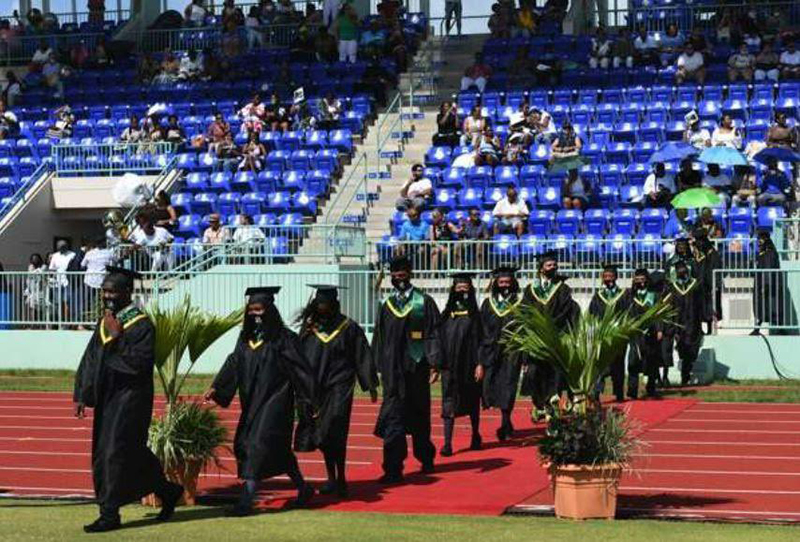 "Notwithstanding this, our graduates remained resilient. They adapted to the restrictions and overcame the challenges of being senior students during a pandemic. For every single one of you who walk across this stage today, enjoy the moment. Because on this day, you all have earned it, something that no matter what happens next, nobody can ever take this accomplishment away from you.
"As we all have heard about a million times now, that infamous 13-letter word – unprecedented – yes, we are truly living in unprecedented times. But the word unprecedented does not have to be associated with just Covid; unprecedented simply means never done or known before.
"I never thought that I would have to attempt to match my mask with my outfits and shoes/ We have worn masks, sanitized our hands, had our temperatures taken, used Zoom nearly every day, rotated graduates on campus two or three times a week, sheltered at home, participated in alphabetized shopping days and quarantined at some point for many, to name a few.
"Most disappointing, we were unable to hold our annual Sports Day so that Green House could officially win back the cup, showcase a school production, participate in the Bermuda Day Parade with our marching band and to host our traditional, one-of-a-kind annual Cotillion Ball. Despite all the rites of passage that you have missed, class of 2021, it's important to remember that not even a pandemic can take away from all that you've accomplished as Berkeleyites.
"I often say, Covid has actually been a blessing and a curse; the blessing comes from doing things differently, anew, for the first time and actually creating new ,and in some cases, better traditions. And above all, class of 2021, you have made history. You lived and worked through a global pandemic, which in most cases will not happen for another 100+ years.
"The Berkeley Institute celebrates 123 years as an academic institution. We stand on the shoulders of our founders and as a school, we continue to provide a rich heritage and a tradition of excellence.
"We are excited and honoured by your presence as we celebrate the many achievements of the graduating class of 2021. The class of 2021 is comprised of 139 exceptional students who have proven that when you keep the end in view, you can achieve anything.
"Students, this morning we celebrate your achievements and your accomplishments.
"At this time, I would like to share some of our Graduation data with you. We have a total of 139 graduates.
"40 of our graduates have been accepted at top colleges and universities in the UK, USA and Canada. 26 plan on attending the Bermuda College, 10 are joining the workforce, while the rest are truly undecided at this time.
"Seven students [Gabrielle Romaine with Distinction, Ethan Figureido with Merit, Egypt Cann with Merit, Owenea Roberts with Merit, Raina deFontes, Andrew Cheeseman, and Armari Maybury] graduated from the Bermuda College with Associate Degrees on Thursday, May 20, 2021. They have already received their diplomas during the Bermuda College's drive-by celebration.
"Of note, these young people in our Dual Enrollment Programme navigated both finishing their requirements at Berkeley and simultaneously acquiring their Associate Degrees at the College.
"Most remarkable, Ethan Figureido and Gabrielle Romaine were awarded The Distinguished Dean's Award by the Bermuda College.
"Five students [Kaelin Paynter, Nasyde Guerrero, Aiden Lopes, Keyahjae Simons and Te'juan Phillips] graduated from the Bermuda College with Applied Technology Certificates on Thursday, May 20, 2021. They have already received their certificates during the Bermuda College's drive-by celebration.
"Most noteworthy, Kalein Paynter, who graduated with Distinction, received the award for Most Outstanding Applied Science Technology Graduate.
"We have three students [Carla Encarnacion De Leon, Britney Outerbridge and Mya Peets] who are graduating with their Nursing Assistant Certification and seven others [Se-Lah Bean, Aaliyah Benjamin, Tyzayah DeSilva, Mya Furbert-Jacobs, Azaria Richardson, Kimora Rubaine and Aaliyah Strachan] who are set to complete their Certification by August 2021. We wish them continued success.
"This year, 11 graduates will receive a collective total of $3,500 in Berkeley Panther Pride Award Scholarship funds.
"Additionally, we had 22 students receive scholarships and awards at our fourth annual Scholarships and Awards Ceremony, held virtually on Saturday, June 26, 2021 totaling approximately $60,000. Thank you sponsors and community partners for helping to offset university fees for our graduates. Your generosity is so appreciated.
"The Berkeley families are forever grateful and we will continue to foster our strong relationships with our community partners. Additionally, our students have received numerous coveted scholarships from the private sector from companies or entities such as ABIC, Centennial Foundation, and BHB, to name a few, and university admission scholarships totaling approximately $280,000 to date.
"Seven students [Gabrielle Romaine, Ethan Figureido, Egypt Cann, Selah Tuzo, Nazarah Bridgewater, Sara Costa and Seth Hardtman] will be awarded Advanced Honours, Summa Cum Laude.
"Five students [Daria Symonds, Shania Wedderburn, Owenea Roberts, Raina deFontes and Kaelin Paynter] will be awarded Advanced Honours, Magna Cum Laude.
"Four students [Chasity Armstrong, Andrew Cheeseman, Andreaz Glasgow and Amari Maybury] will be awarded Advanced Honours, Cum Laude.
"This is our fifth year awarding Advanced Honours Certificates. 110 graduates will be receiving The Berkeley Institute Certification having maintained a cumulative GPA of 2.25 and above. 123 graduates will be receiving the Bermuda School Diploma [BSD] having maintained a cumulative GPA of 2.0 and above.
"Four students will be receiving the Bermuda School Certificate [BSC]. Five students will be receiving the Bermuda Alternate School Diploma [BASD] from our Functional Academics programme.
"We have four students who have completed their senior school career in an alternate setting at the Berkeley Cultural Center and will receive Penn Foster diplomas this morning.
"We have our very first cohort of students with autism graduating today. What magic the three of them have brought to our school campus. We have seen each of them flourish and grow personally, academically and socially. We have been truly blessed by their presence. Our students and staff have welcomed them wholeheartedly, embraced them, supported them and have been awe-inspired by them. The success of our ASD programme is one of our greatest accomplishments as a school.
"The class of 2021 has a total of 139 students; unfortunately, 20 students [12 males and 8 females] have not met the requirements to graduate alongside their peers today.
"These students must either earn additional required credits or raise their cumulative GPAs to 2.0 or above. We will always keep them in mind as they attempt to complete their senior school diploma requirements.
"We wish them every success as they contemplate their next steps. Some will attend summer school and others will return for an additional school year. No matter the circumstance, we will ensure that we support our students until they too reach this milestone. It is our hope that we can celebrate these 20 students at a later date once they have graduated. Students, please keep the end in view.
"The class of 2021 graduation rate is 87.4%. The graduating class consists of 66 Men of the Years to Come, representing 47% of the graduating class, and 73 Women of the Future, representing 53% of the graduating class.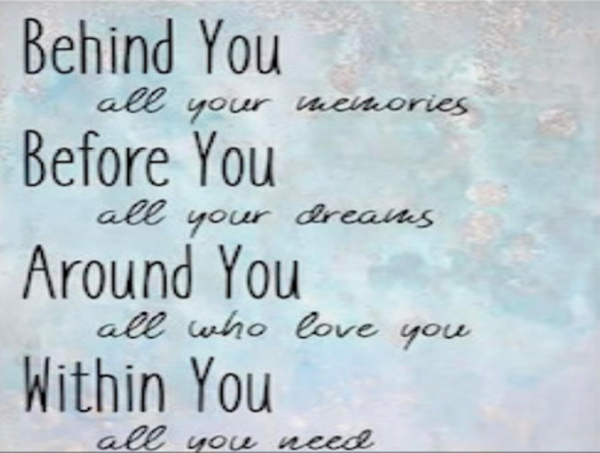 "There are 78 young men in the year group; therefore 85% of our young men are graduating today There are 81 young women in the year group; therefore 90% of our young women are graduating today.
"Students, successful people are not gifted; they just work hard, then succeed on purpose. Thank you for being purpose driven in order to be counted as a graduate of The Berkeley Institute's class of 2021.
"The National Sports Center is filled with persons who have supported your educational journey. They have witnessed the many long nights, the missing assignments, the Zoom lessons, the struggle or the efficiency with which you worked. Parents, guardians, family members, friends and supporters, we know this last year in particular has not been easy for our students. We salute you and we thank you for trusting us with your most prized gift: your children and our students!
"Education is a shared commitment between dedicated teachers, motivated students and enthusiastic and supportive parents or guardians that have high expectations.
"Faculty, staff, and in particular our S4 Team, thank you for your commitment and dedication to our students. Parents, they were not an easy bunch, but together, we weathered the storms. We demanded their best and did not accept any excuses. We consistently encouraged them to dig deep and to and give their best at all times and they delivered. Teachers, we appreciate and applaud your efforts. You never wavered with regards to setting high expectations for students and holding them accountable…
"Thank you for honouring Principal Douglas' mantra this past school year: 'relationships before rigor, grace before grades, patience before programmes, love before lessons.'
"Class of 2021, we will miss you, but we are extremely pleased to see you leave your Berkeley days all behind you because we know that after you make your mark in the local and global communities, oft as you can you will come back again.
"Class of 2021, I will leave you with the words of Thoreau: 'Go confidently in the direction of your dreams! Live the life you imagined!'
"Congratulations, once again. Go forth and continue to make us proud of your accomplishments! Respice finem – keep the end in view."

Read More About