The National Museum of Bermuda [NMB] will hold a virtual opening for their newest exhibit, Traces and Pastimes — a contemporary art installation by Bermudian artist Gherdai Hassell  — on Wednesday, July 14 at 5.30pm.
A spokesperson said, "On Wednesday, July 14 at 5:30pm AT, the National Museum of Bermuda [NMB] will hold a virtual opening for their newest exhibit, Traces and Pastimes.
"This contemporary art installation by Bermudian artist Gherdai Hassell is part of NMB's year-long community education programme Tracing Our Roots/ Routes [TORR]. The exhibit launch will be held via Zoom. To register for the virtual exhibit opening launch, visit here. Public, in person access to the exhibit will be open from Thursday, July 15.
"In Traces and Pastimes, Ms. Hassell explores ancestry, cultural identity, memory and time through large scale digital collages and biodegradable flagging tape sculpture. Her work focuses on her own discovery of her family history which she can trace back to West Africa. Inspired by film storyboarding, she incorporates personal, family and 19th century photographs, maps, documents, and archival materials to create narratives that explore identity and nostalgia and connections to family history and pastimes.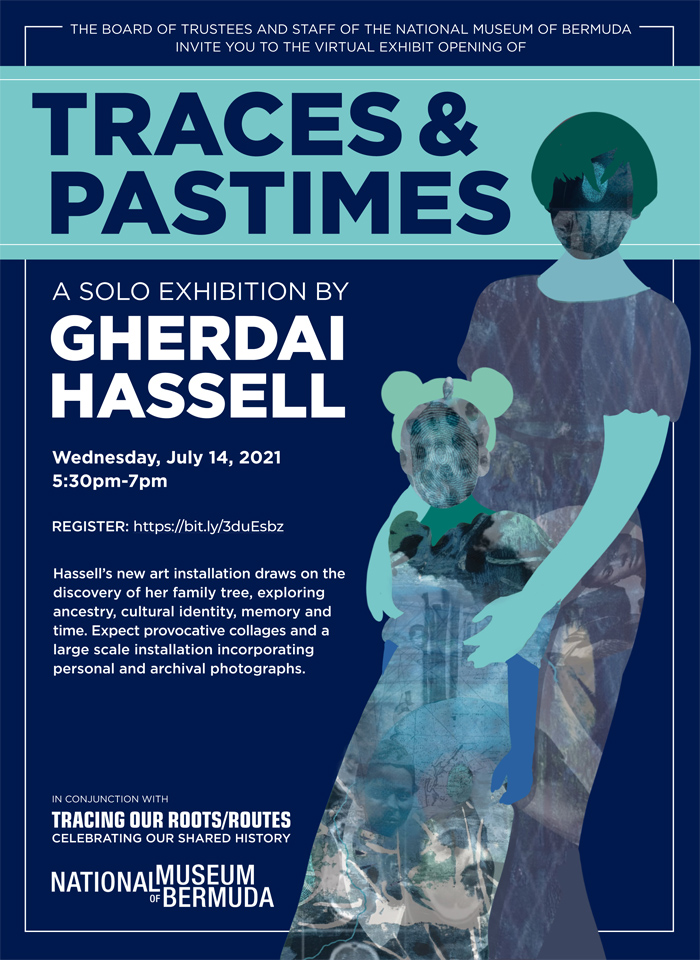 The artist says of her project: "The installation is a trace of who, why, what and where we have been. We are all interconnected. The present connects the future and the past. Here, now [the present], is a reflection of home and family, and a space to explore layers of identity, collective experience and meaning."
"The Museum's Tracing Our Roots/Routes [TORR] programme is free for all and includes online presentations, workshops, resources and Traces and Pastimes to help us better understand and connect with our collective past. Local and international experts provide participants with the tools and strategies to research and document personal, family stories.
"The first event was hosted by Kenyatta Berry, American genealogist, author, attorney and television host of PBS's "Genealogy Roadshow". She provided tips on how to interview living relatives, use genealogy methodology, and access US and immigration records for those who left Bermuda for the United States. The second featured local experts Jane Downing [NMB], Ellen Hollis [Bermuda National Library], and Mandellas Lightbourne [Bermuda Archives] who shared information about how to find and use local resources in Bermuda to discover family history.
"The third webinar featured a panel of experts from the Smithsonian Institutution who explored how personal stories and objects play an integral part in the development of a museum's collection, specifically the National Museum for African American History & Culture, exhibits, and community archives. The most recent webinar featured local education expert and NMB Trustee, Dr. Janet Ferguson, who illustrated how personal stories and memories are anchored in everyday personal objects, and demonstrated how to create a polished, written piece that documents those memories.
"Each of these events was recorded and can be found here in addition to accompanying toolkits on how to research your family history.
"Ms. Hassell's installation takes the TORR programme to another level of community engagement and is an example of how the National Museum is using contemporary art as an entry point to learn Bermuda history.
"Ms. Hassell is Bermudian and now lives and works between Manchester, UK, and Hangzhou China. She graduated from the University of North Carolina at Greensboro in 2013 and is currently an MFA candidate at the China Academy of Art."

Read More About
Category: All, Entertainment, News