Minister of Public Works Lt/Col David Burch held a press conference this morning [July 1] to "recognize many individuals from various organizations who have successfully obtained new certifications."
Minister Burch said, "Good Morning, As part of Phase 1 Water Wastewater Infrastructure Master Plan, the Bermuda Land Development Company Limited and the Water and Sewage Section in the Ministry of Public Works has worked together to arrange an internationally accredited certification course for Small & Medium Butt Fusion Operators from McElroy Manufacturing Inc. for welding of high-density polyethene pipe [HDPE].
"HDPE is a type of flexible plastic pipe used to transfer fluid and gas across great distances. It is often used to replace ageing pipelines, such as those currently on the former Base Lands at Southside. The material has a high impermeability and a robust molecular bond that makes it suitable for high-pressure pipelines. HDPE pipe is used across the globe for applications such as water mains, gas mains, sewer mains, rural irrigation, fire system supply lines, electrical and communications conduit, and stormwater and drainage pipes.
"The principles of Heat Fusion are heating two surfaces to a designated temperature and then fusing them by applying force. This process is a widely accepted process that combines two thermoplastic pipe pieces with heat and pressure.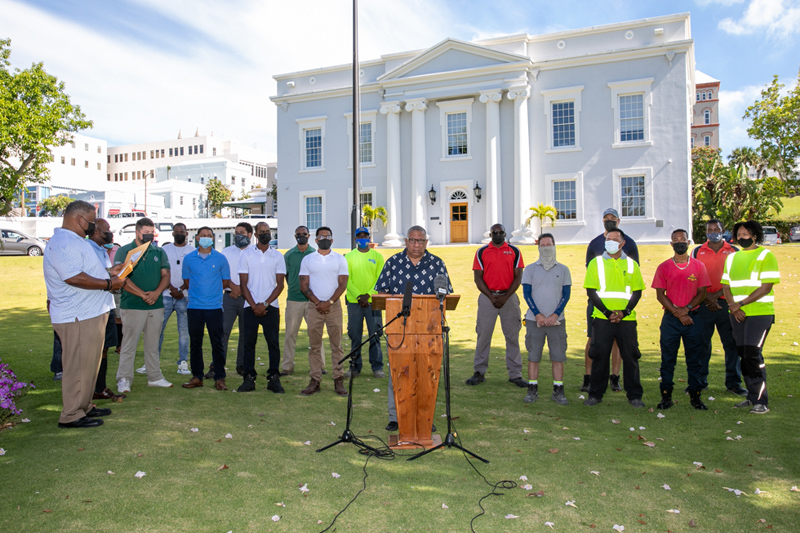 "This technology is not new to the island. It was first introduced around 20 years ago by the Water and Sewage Section of the Ministry of Public Works to replace a pipeline that needed repair in the western part of the island. This material and the fusion process is an integral component to the success of the Water and Wastewater Infrastructure Master Plan. In Phase 1 alone, the project will require the fusing of over 100,000 linear feet of HDPE pipe sizes ranging from 2″ to 8″.
"This is set to become the industry standard for installing buried water and Wastewater infrastructure on the island. It will help ensure a more secure run of pipe that will be less prone to failures or the reduction in flow and pressure, which eventually occurs over time with other types of pipes. More importantly, this will ensure a consistently high-quality level of potable [drinking] water being delivered to businesses and residences.
"There are only 3 companies on island who can carry out this work – so in order to expand the number of those able to bid for this work – the BLDC & the Water & Sewage section of the Ministry of Public Works organized this certification.
"Last year, all pre-qualified contractors for the Water and Wastewater Infrastructure Master Plan were invited to nominate one [1] person and/or one [1] alternate from their company to participate in the course. Those participating companies are as follows:
1. ACS Excavating, Trenching and General Trucking
2. Ascendant Technologies Ltd.
3. BCM McAlpine Ltd
4. Bermuda Land Development Company Limited
5. D&J Construction
6. Greymane/ BAC
7. Invisible Trenching Limited
8. Island Construction Services
9. Port Royal Golf Course
10. Public Works [Water and Sewage Section]
11. RJS Excavation
12. Smith Hauling & Excavating, and
13. Wellbottom Plumbing Services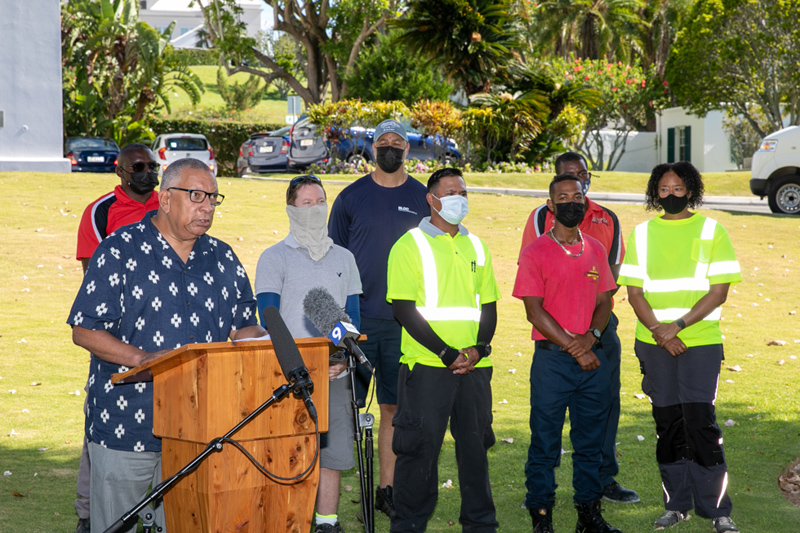 "As a result, two classes or cohorts were held on June 10th & 11th and on June 14th & 15th, respectfully, at the large warehouse on Ships [Marginal] Wharf. Each cohort had twelve participants, for a total of twenty-four participants.
"The course that was run is structured based upon the American Society for Testing and Materials International Standards [ASTM] and combines an online training portion followed by hands-on training. It is broken down as follows:
1. Online Study: students had access to review all the online material and Study before the hands-on portion.
2. Onsite Practice: every student was responsible for performing fusion joints in the machines under the guidance of the instructors.
3. Evaluation/certification: students take a written test and will be evaluated onsite to perform a fusion joint in each piece of equipment.
"All students who passed the written and hands-on test will receive certification.
"I am pleased to inform you that out of the 24 participants, 16 successfully received either certification in Manual operation or the full McElroy Small & Medium Butt Fusion Operator certification, which is valid for two years.
"Before I announce the successful participants and present them with their certifications and IDs, allow me to share the next steps the team is looking to implement.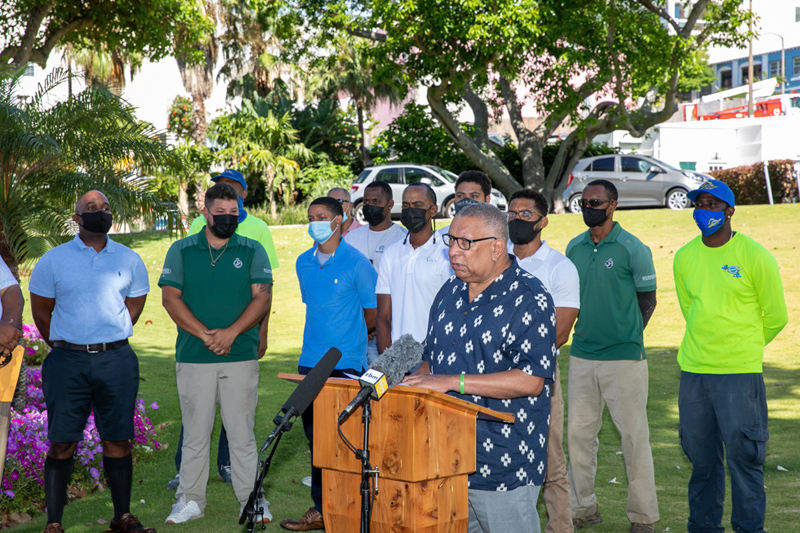 "This process is set to become the new local industry standard for installing buried water and Wastewater infrastructure. For more than 39 years, McElroy has been the only pipe fusion machine manufacturer to offer equipment to fuse Polyethylene Pipe and advanced training continuously.
"Course offerings are meant to enhance efficiency, productivity and safety in the proper use of McElroy machines. McElroy University classes are structured so that the skills learned and the machines used in each class closely match the machines found on pipelining job sites. McElroy University has uniquely qualified course instructors that possess years of industry experience.
"There are now plans to have the instructors from McElroy return to offer more courses in Butt Fusion Welding and Electro-Fusion Welding of HDPE pipe.
"Electro-Fusion Welding involves a fitting with implanted metal coils being placed around two ends of HDPE pipes that are to be joined, then current is passed through the coils. Resistive heating of the coils melts small amounts of the pipe and fitting, and upon solidification, a joint is formed.
"McElroy University also has an Inspector Qualification School created in response to demand within several industries for a training course designed for the polyethylene pipe fusion inspectors.
"In the Inspector Qualification School, the theory of butt fusion of polyethylene pipe is explained and the process used to join it. Information is provided on inspection checklists and a discussion of the critical factors involved in the pipe fusion processes. This includes butt fusion, electrofusion, socket fusion and sidewall fusion. Students also receive an in-depth explanation of the use and analysis of McElroy DataLogger® records.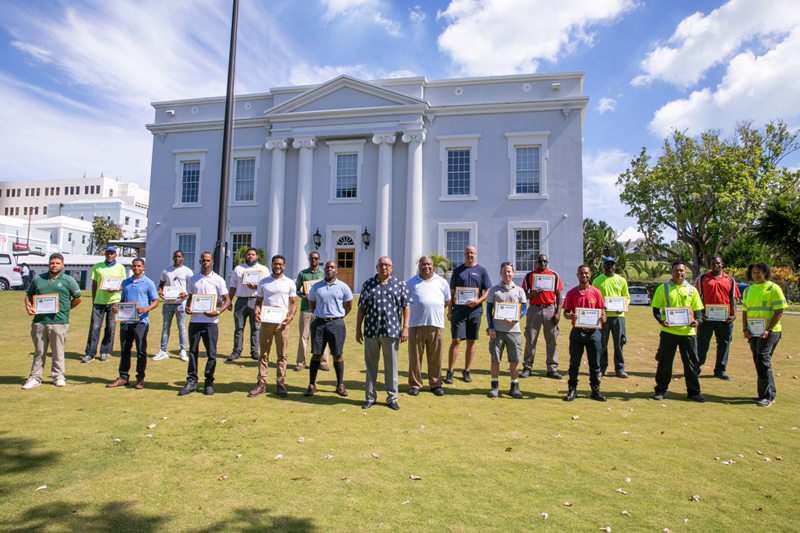 "The Ministry of Public Works envisions that this Inspector qualification training will benefit inspectors, project managers, consulting engineers, quality assurance managers, and sales professionals.
"There have been preliminary talks with the Department of Work Force Development and the Bermuda Economic Development Corporation to broaden this training opportunity to more people interested in this industry.
"Let me offer my public thanks to Mr. Stephen Tucker – Infrastructure and Special Projects at BLDC and Mr. J. Tarik Christopher, Principal Engineer [Water and Sewage] in the Ministry of Public Works for organizing this training. I'd also like to warmly congratulate the 16 successful candidates who passed the course.
"The ultimate goal with all of these courses is to expand and strengthen the industry. It is the kind of initiative that addresses the country's needs of getting people trained, certified, working, earning and providing for their families while their valuable labour is transforming Bermuda's infrastructure for the better. This work will allow us to advance the Phase 1 Water & Wastewater Master Plan with concurrent trenching and laying of pipe over the next several months and remain on course for finishing ontime and on budget.
"Now I will present the certifications and ID's to the successful participants of the first Small & Medium Butt Fusion Operator certification course from McElroy University."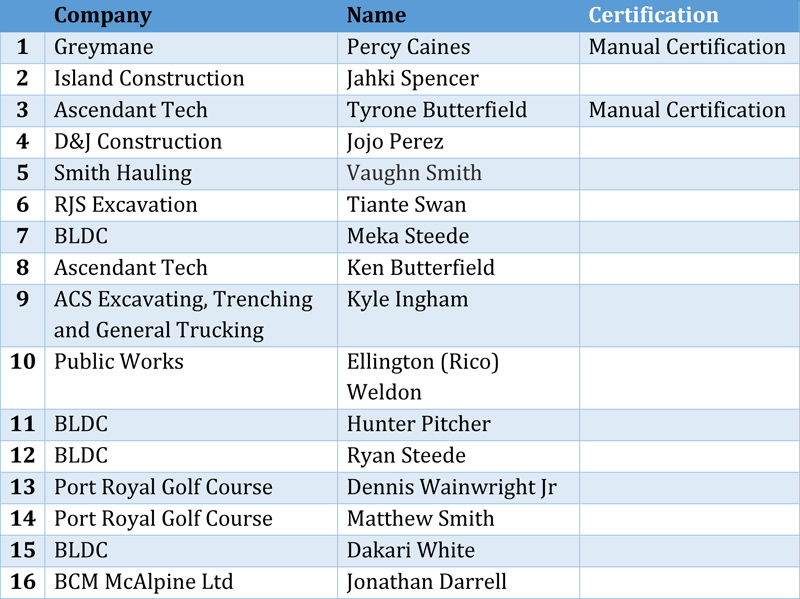 Read More About