[Updated] A ribbon cutting ceremony was held this afternoon [July 15] at the new location of the Molecular Diagnostic Laboratory [MDL]. We will have further information as able and in the meantime the live video replay is below.
Update 5.47pm: Premier David Burt said, "Good afternoon ladies and gentlemen of the media:
"Thank you for being here today as we celebrate the opening of the new Molecular Diagnostic and Research Laboratory. I'm joined at this afternoon's press conference by the Minister of Health, the Hon. Kim Wilson, Minister of Public Works, the Hon. David Burch and MDL Director and Government's Scientific Advisor, Dr. Carika Weldon.
"Dr. Weldon had a vision when she returned home to help her country by utilizing her scientific expertise, as well as her desire to help other young Bermudian interested in this field. The Government was proud to support that dream, and saw the leadership that Dr. Weldon could provide help to Bermuda to manage through the pandemic. She quickly and successfully set up a testing regime that helped save lives and keep her country informed of the situation we were facing with the coronavirus. Bermuda's coronavirus testing regime has consistently remained one of the strongest around the world, ranking us in the top ten since last year.
"As of yesterday, MDL has processed some 325,000 coronavirus tests. Dr. Weldon has trained young scientists and lab assistants who have done an outstanding job to provide Bermuda with a world-class testing facility that is the envy of many countries worldwide. Some of these countries have even reached out  to us, to try to better understand the model we have in place and how we can process and turn around the results so quickly and efficiently.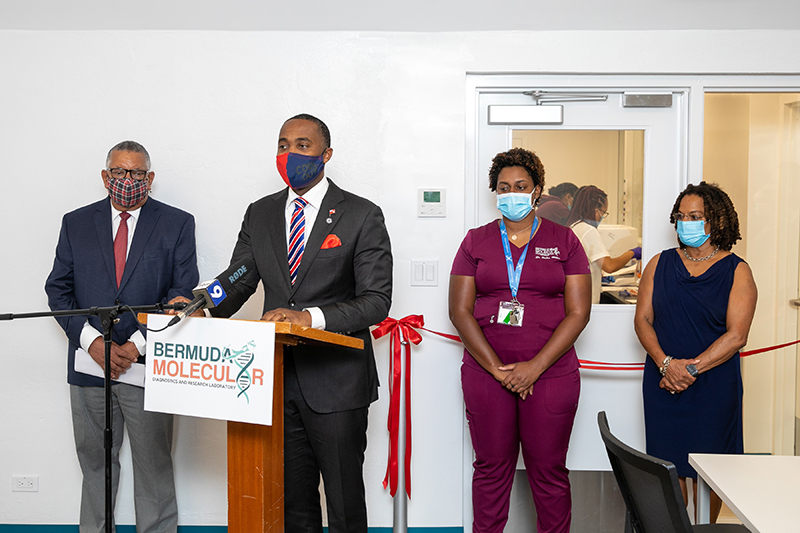 "I am incredibly proud that thanks to the efforts of so many dedicated Bermudians we have the resources we need to do critical scientific work here for ourselves. We have to believe in the talents of our highly educated and trained young Bermudians, knowing they have and will continue to do the job that is expected of them.
"The Molecular Diagnostic and Research Laboratory is an example of how public-supported institutions can help to reduce healthcare costs while providing valuable opportunities for Bermudians to advance.
"This is in line with the Government of Bermuda's commitment to seeing both of those issues become a reality, reduced healthcare costs, and Bermudians being provided career opportunities in their own country.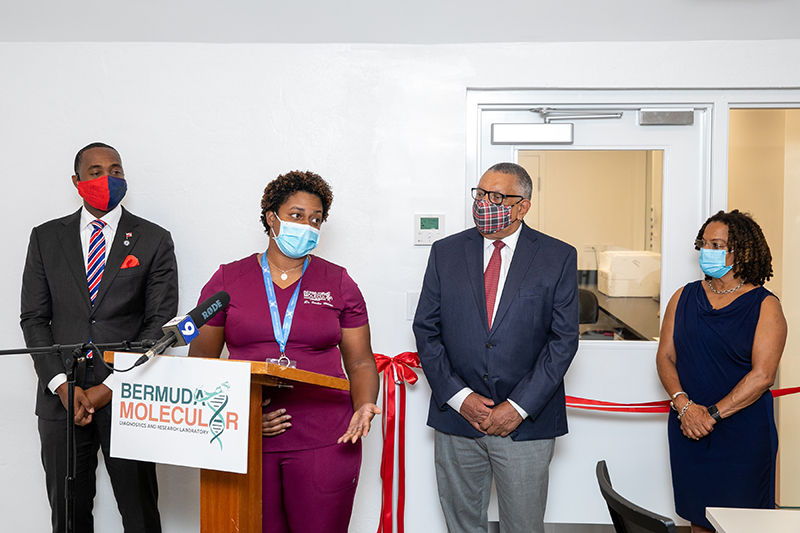 "I wish to extend my thanks and appreciation to everyone who has made today possible. Specifically to the hard and dedicated work of the Ministry of Public Works,  who made sure that MDL was provided with a temporary home at Southside and working with the Ministry of Health to provide a second temporary home after we set up the drive-thru facilities last year, and also the work that was done to make sure that this state-of-the-art lab is now ready so that MDL can move forward with its accreditation process.
"And, Dr. Weldon and her team must be congratulated for the work they do every day as well as for the work undertaken to redesign this building to be the new home for coronavirus test and in the future other vital testing here in Bermuda.
"Thank you. Now I turn it over to the Minister of Public Works, whose team has worked diligently to make sure that this home is ready for MDL."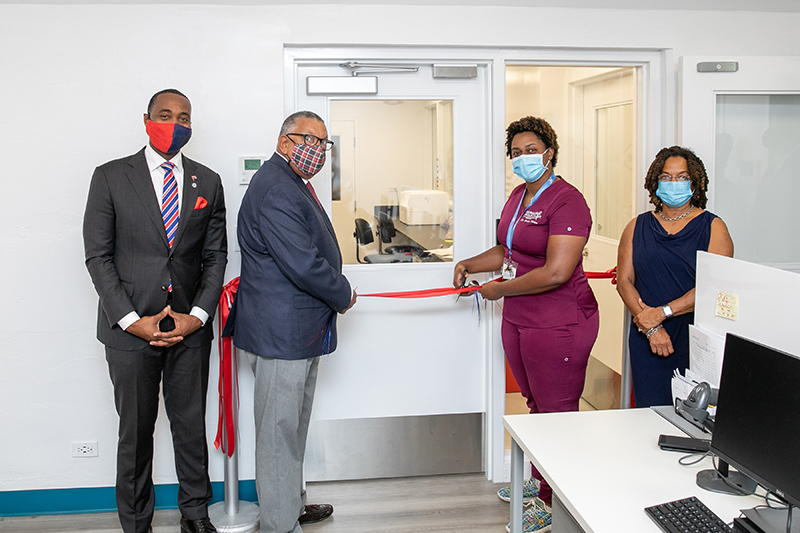 Minister of Public Works Lt/Col David Burch said, "Good Afternoon, I am pleased to be joined by the Premier, the Honourable E. David Burt, Minister of Health, Honourable Kim Wilson, my Warwick colleagues Minister Lawrence Scott and MP Neville Tyrrell and Dr. Carika Weldon and members of the Bermuda Government Molecular Diagnostic Laboratory.
"This journey began in April 2020 when the Government – faced with a raging, deadly pandemic – the likes of which have not been experienced in over 100 years – and working under the most adverse conditions and circumstances, launched the Bermuda Government Molecular Diagnostic Laboratory in Southside.
"Through sheer innovation, determination, and leadership – we created a testing facility from scratch. The first of its kind in our island's history. Led by our very own Dr. Carika Weldon the Southside Drive through commenced operations on 24 April 2020.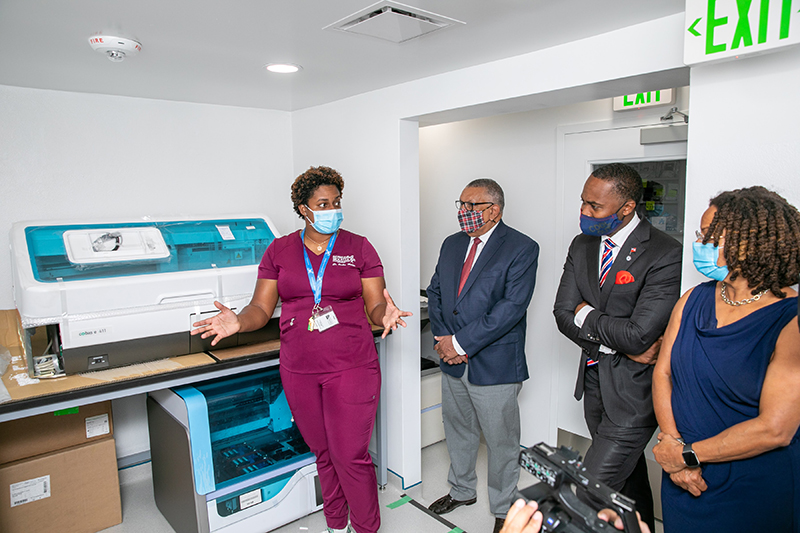 "Over the past 15 months, the Bermuda Molecular Diagnostic Lab has become a pioneering leader in both Bermuda and the region – processing over 325,000 samples. Consistently remains in the top 10 in the world in relation to tests done per capita.
"And here at home, it became our best tool in the fight against Covid-19.
"But more than that – the MDL has become a home to a community of talented young Bermudians who volunteered to participate in the testing and lab work.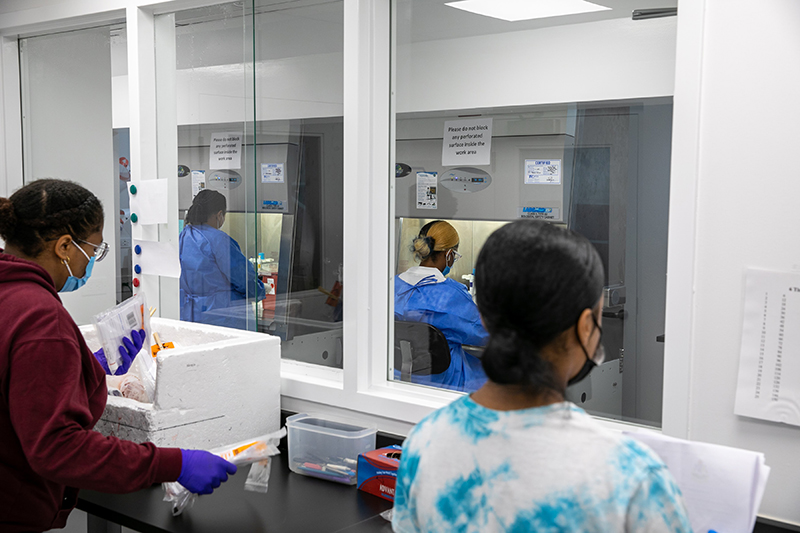 "This 7-day, 16 hour daily operation relies on the hard work of around 20 of Bermuda's finest, dedicated young people. And we are so very proud of what they have accomplished.
"So it was only fitting that the Government decided to provide this team of dedicated professionals with a permanent first class facility to help them continue their critical work. So this is a particularly special day for us at the Ministry of Public Works – to see this project to fruition.
"We are also joined by representatives of some of the contractors and workers involved in this project and towards the end of my remarks I will list them.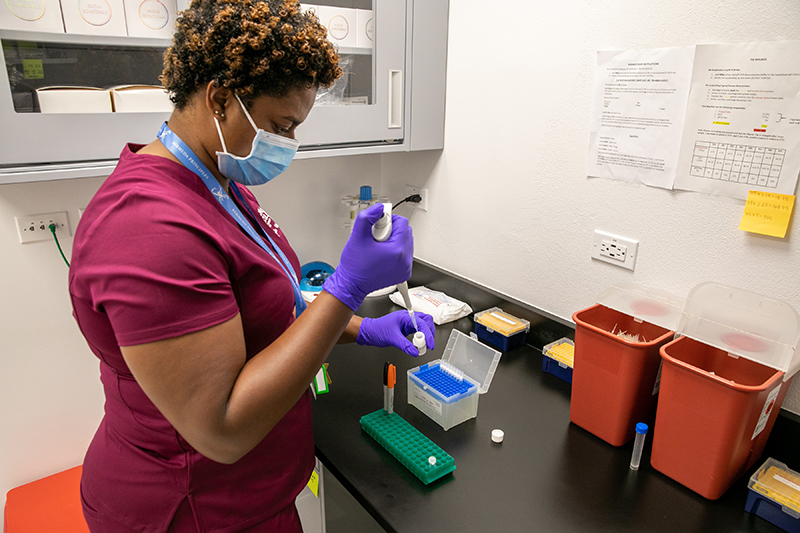 "As you may be aware, the refurbishment of the former Warwick Community Centre building into a state of the art MDL Facility is part of the Ministry's Short Term Economic Stimulus Programme that was launched in December 2020.
"This Economic Stimulus initiative, valued at $13.3 million, is aimed at providing employment and building opportunities for small to medium sized contractors. I should note that these projects are mostly infrastructure improvements and have not added any further burden to the government operational expenses.
"The Bermuda Government MDL Facility renovation project was one of the contracts that have been awarded as part of our economic stimulus programme, with Greymayne Contracting Ltd. being the successful company engaged to oversee the project.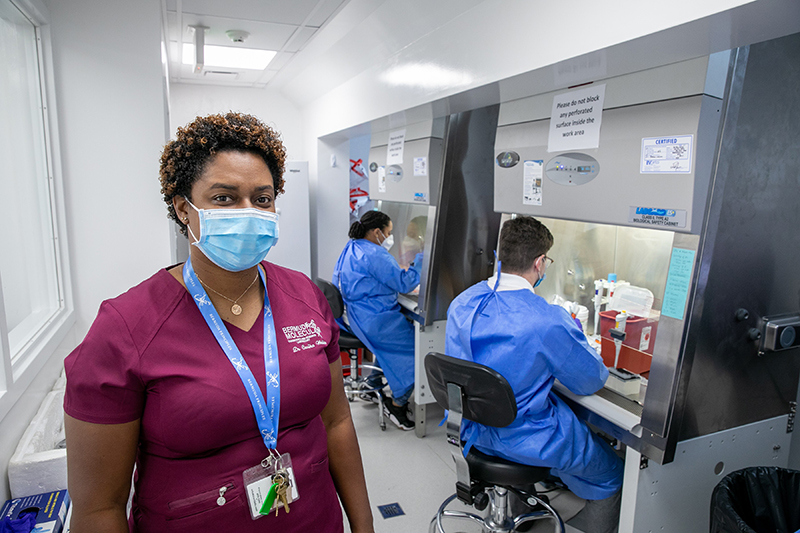 "Overall, we are very pleased with the response to the Stimulus Programme thus far from both contractors and employees – which I will be speaking to further tomorrow in the Hose of Assembly – all of whom want to get to work and help improve our economy.
"And the completion of the Bermuda Government Molecular Diagnostic Laboratory is a fine example of what can be accomplished when we all work together for the benefit of the people of Bermuda.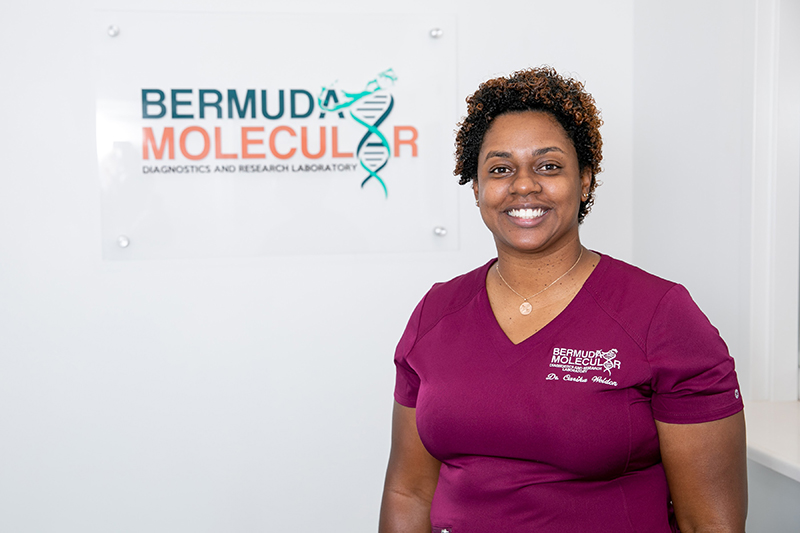 "I wish to take a moment to recognise each of the companies, in addition to Greymane, that were involved in seeing these renovations through to completion.
Air Care
A+ Carpentry
East End Asphalt
Eminence
Intelligent Excavation Limited
P&M Electrical
Primeworks Painting
Redeemed Construction
2Tech
"I'd also like to recognise our key Government personnel involved in this project Acting Buildings Manager, Mr. Sheridan Ming, Project Manager, Mr. Stephen Squire, Electrical Engineer, Mr. Jamar Dill and Network Engineer, Mr. Eugene Bassett.
"Before handing over to Dr. Weldon – let me thank her for her tireless efforts in getting the lab up and running but also particularly for her dedication, enthusiasm and guidance to all the young people who have participated and continue to do so in this effort. Thank you."
Read More About