A Bermudian entrepreneur is offering weekly residential trash collection, with the service available in St. George's, St. David's, Smiths, and Hamilton Parish and starting at only $9 a week.
The service is being offered by Secure BDA, a small business owned by Kenten Trott which was founded in 2019 and has been operational since June 2020. It was initially started as a trucking and transportation company, however has evolved to provide enhanced services.
"The services we provide include security assessments, property management, residential security solutions, maintenance, landscaping, general trucking, and most recently waste management," Mr Trott told Bernews.
"Our mission is to provide professional, punctual and reliable service to our valued customers. We will be the first and only call they have to make for the security, maintenance and protection of one of their most valued assets, their home.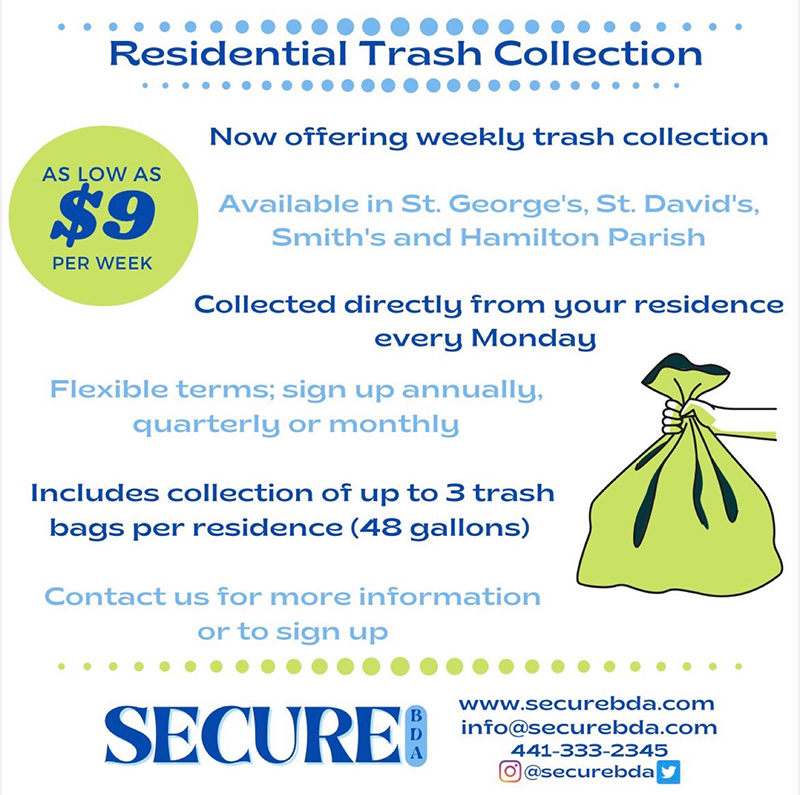 We asked Mr Trott about the trash collection service and he explained, "In regard to the residential trash collection, it was an idea that I had for a while.
"This is a first for Bermuda as no private business has previously offered weekly residential trash collection for a monthly rate. The Bermuda Government already provides weekly trash collection, so this can be an add on service or the customer can choose to utilize my services exclusively.
"One of the benefits of using Secure BDA is that the trash is collected right from the residence at a designated location every Monday evening [trash should be out by 5:00pm]. It includes up to 3 bags of trash [48 gallon bins] and customers can use the trash cans they already have. A number of customers have indicated that due to the convenience and amount of trash they accumulate, they will be using this service.
"The reason for selecting Monday evenings is because the Bermuda Government collects trash for Eastern Parishes every Friday morning. This would mean customer's trash accumulates on Friday, Saturday, Sunday, and by Monday evening most homes will have at least 2 or 3 bags of waste. Secure BDA will come to collect that waste, and dispose of it responsibly at the designated facility. As Bermuda is such a small place, we want to increase the frequency of trash collection to keep our island home beautiful.
Mr Trott added, "I chose to commence in the eastern parishes in order to get the service started and gauge interest. When I initially posted the advertisement, I thought maybe a few people would respond, however, the response has actually been substantial. A number of customers have signed up for the service, and I get inquiries on a consistent basis. Once I obtain my customer base for the weekly residential trash collection, there are a number of additional services that will be offered."
"For more information about Secure BDA, the services we offer, or to sign up for weekly residential trash collection; visit www.securebda.com, contact us on 333-2345, visit our social media @securebda [Instagram / Twitter] or send us an email at info@securebda.com."
Read More About