The Ministry of Home Affairs announced the beginning of the Draft North East Hamilton Local Plan 2021 public consultation period which starts today [Aug 2] will run until October, 8th 2021.
A Government spokesperson said, "Members of the public will recall the July 5, 2021 announcement made by Deputy Premier and Minister of Home Affairs, the Hon. Walter Roban of the Draft North East Hamilton Local Plan 2021 created by the Department of Planning.
"Since that time, the document has been available to view in its entirety on the Department of Planning's website. Effective today, members of the public are now invited to submit their comments by visiting www.planning.gov.bm."
"If you have not done so, I encourage all interested parties to review the document in full and provide your feedback", said the Minister of Home Affairs Walter Roban. "Your contributions will enable the Department of Planning to further enhance the plan thus ensuring the final version meets the needs of all area residents, businesses and the people of Bermuda for the foreseeable future."
For further information or to contact the Department of Planning, email nehconsultation@gov.bm or call 297-7756.
Screenshot extracted from the  Draft North East Hamilton Local Plan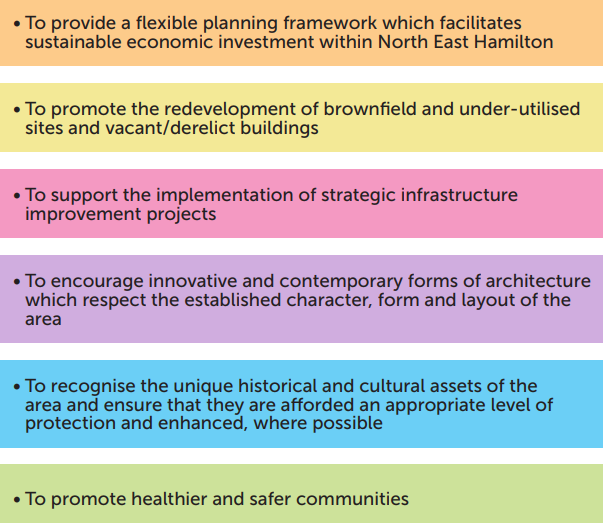 The draft states, "As a consequence of its socio-economic challenges, North East Hamilton has been identified as an area which merits a different approach to the use and development of land than the remainder of the City. Over the last ten years, a significant amount of research has been undertaken in order to devise a strategy which supports economic investment within the area and which is representative of the views of residents and business owners.
"This Plan represents the culmination of a conscientious effort to prepare an informed land use strategy which is intended to benefit existing residents and business owners in a sustainable and meaningful way.
"North East Hamilton comprises approximately 20% of the City of Hamilton's 177 acre land mass, spans 21 blocks, which are generally laid out in a grid-based street pattern, and contains a total of 270 buildings. The boundaries of the Plan area are defined by Victoria Street to the south, Pembroke Canal to the north, King Street to the east and Cedar Avenue to the west."
The Draft North East Hamilton Local Plan follows below [PDF here]:
Read More About