[Written by Dale Butler]
The Buna Gallery and Coffee House is very quickly becoming the culture centre of the Hog Bay level area only eclipsed by the National Museum in Dockyard. Every table was taken by enthusiastic patrons for the first Buna Tea Tuesday, featuring Dos Amigos [Wendell "Shine" Hayward and Keible Hart] and a bonus presentation of an Ethiopian Coffee Ceremony by Ajalnesh Dubale, an Ethiopian who has lived here for 12 years. Her scarf, now a dress, made out of native cloth, delighted the patrons.
Veteran saxophonist, Wendell "Shine" Hayward, kept hitting and holding high notes that the seniors applauded and loved: whether it was "Dance of My Father," or "Jerusalem," which led to the seniors demonstrating they can still dance and have a good time. Dancing should be made a priority when thinking of senior events because it brought back so many memories and it was exciting to see the floor filled with happy and energetic patrons.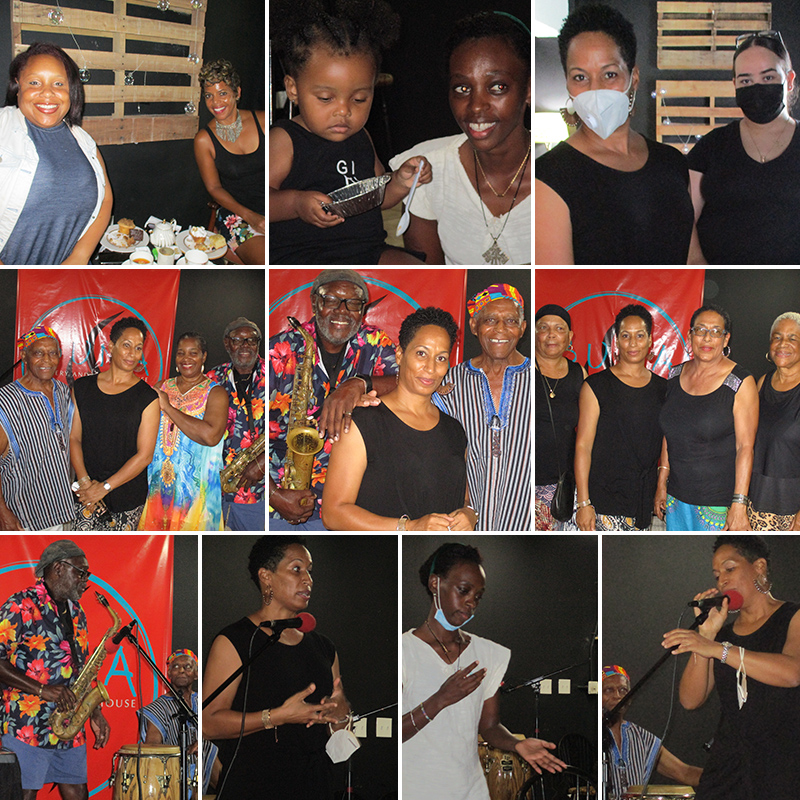 The coffee-making table was adorned with grass, spices, candles and containers for frankincense. The coffee demonstration was very interesting and I am sure it will be repeated. Presenter Ajalnesh did a fine job to inform and show us with her young aid, Charnha, the daughter of Bermuda Union of Teachers' President, Ms. Nishanti Bailey. Ajalnesh effectively took just 20 minutes to explain a ceremony that usually takes an hour and a half to complete. Here are a few interesting points she shared:
Jokingly she stated, "women do not not care about taste, just getting together for friendship and to chat". Of course they also love the coffee.
In Ethiopia if the coffee is great the word to use is mmm [sounds familiar]
Popcorn is eaten with the coffee
Bread as well. Oh, the bread was outstanding!
In Ethiopia the ceremony takes place twice a day to bring people together and they have four types of music: Tafita, Anchihoyee, Ambasel and Batti.
Some people just like the aroma and do not drink the coffee
Host and owner, Dr. Zhyon Dana Selassie and staff, Colleen WIlliams, MoZiah Selassie, MaLahku Selassie and Katrina Moran, were kept busy serving and ensuring the cake trays were full. Dr. Selassie indicated a number of future events that included:
a pop up thrift shop and the popular Soul Session on August 29th featuring Hana Bushara, Raven, Sinead the Flower backed by DIA at 7 p.m.
The major highlight of the afternoon was when the well-known Junius Burrows was acknowledged along with members of his family.
With a community library being developed and a Saturday children's story time on the horizon, Dr. Selassie should be saluted for the life brought into the parish. It was an afternoon filled with surprises; Paradise Band leader Wendy Flood Robinson had us in stitches with her jokes, Dos Amigos performed an island style version of John Legend's "Take All of Me," and joyous faces were seen everywhere singing "Smooth Operator." It was a great afternoon.
- Dale Butler is a former principal and Government Minister for Culture. He currently writes reviews for Bernews and previously wrote the popular "Eating with Ed" for the Bermuda Sun in the 1980s. As a former director with the Little Venice Group for 20 years he has a broad knowledge of food and service.

Read More About
Category: All, Entertainment, Music