Jessica Lightbourne, Lorene Phillips, and Sophia Casey have launched a new coaching and leadership development certification program.
A spokesperson said, "Determined to make professional coaching more accessible for everyone, three women have founded the International Coaching & Leadership Institute, the first Afro-Caribbean female-owned, coaching and leadership development certification program of its kind in North America & the Caribbean.
"The International Coaching & Leadership Institute, or ICLI for short, will offer International Coaching Federation [ICF] continuing coach education [CCE] units and transformational leadership certification programs to new and experienced coaches around the world. Headquartered in Bermuda, ICLI's ultimate goal is to better standardize and professionalize the coaching profession in Bermuda, the Caribbean and globally.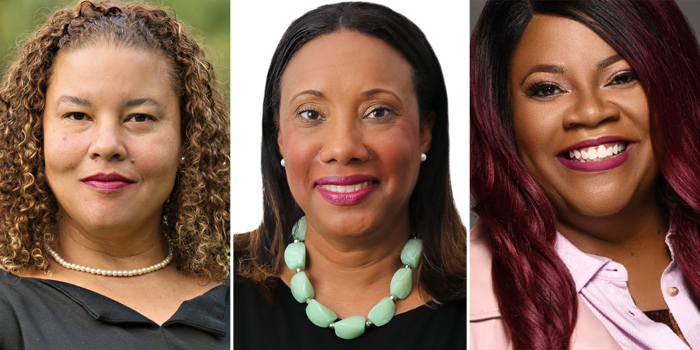 "Founded by Bermudians Jessica Lightbourne and Lorene Phillips, as well as American Sophia Casey, the women were motivated to start the organization after discovering Bermudian professionals didn't have a central place to go to obtain coaching and leadership skills training and development.
"Together, as ICF credentialed coaches, they developed an idea to provide a world-class, second to none curriculum, as well as virtual and in-person experiences, to nurture and support professionals — especially those from minority or marginalized communities.
"Research shows that a majority of leaders and managers desire to be better trained so they can use what they learn to improve their work culture and encourage employees to grow to their fullest potential within those organizations. According to the ICF Global Coaching Study, the number of managers and leaders that are using coaching skills is estimated to have risen by almost half [46%].
"As the only coaching certification entity in Bermuda, ICLI plans to expand its services to those in the US, Caribbean, and other international locations.
"Lorene Phillips, executive coach, former [re]insurance underwriting executive and one of ICLI'S co-founders, said it was vital to all three women to not only improve the coaching community for other coaches but to raise the standard of coaching in Bermuda and other parts of the Caribbean."
She said: "Bermuda is a global hub for international business and it is common for many of these international organizations to invest significant sums of money to bring in international coaches from overseas.
"Up until now, Bermuda hasn't been able to offer that same standard of coaching to fill that gap. That will no longer be the case. We knew we needed to be part of the solution and upscale the quality of coaching available in Bermuda and elsewhere. We all joined forces and were succinct and clear about what we wanted this institute to be."
Sophia Casey, an executive coach, corporate consultant, and author, asserts that "diversity, equity, inclusion, and belonging aren't what they do, it's who they are."
She said, "We have woven diversity into every part of our curriculum, mission, and values," she explained. "It's not an add-on. We want to support our coaches to go into the world with a diverse mindset so they can support colleagues and clients appropriately.
"Together, we are women from Bermudian, Jamaican, English, African American, and Native American heritage. We want this coaching and leadership development program to be inclusive of all kinds of people, which is why we've also made sure our curriculum and training is available to people who are deaf and hard of hearing."
A spokesperson added, "With a combined 25 years of coaching experience, the women said they have witnessed in their own professional lives how people of color can often lack the confidence and support to thrive in corporate settings. The women, however, maintain coaching isn't just for the elite or wealthy anymore. It's something professionals can invest in for themselves, rather than waiting for an HR department to authorize it.
"By making coaching more accessible to people of color, Mrs. Phillips said it could be a 'game- changer' for those who lack clarity or need strategic partnership to create new possibilities for themselves."
She said, "By providing training to other coaches, we are multiplying ourselves," she said. "There are three of us, which means we can only do so much on our own. However, with more coaches of color properly trained and certified around the world, that means when an executive pulls up that ICF roster online they will see more faces like theirs to support them. Right now we are a blip in that equation, and through ICLI we are working hard to improve that data."
Jessica Lightbourne, an executive coach, and former corporate lawyer added: "We hope this Institute will offer traditional white male and female executives who are unsure of how to integrate diversity into their businesses, an opportunity to learn to lead more effectively and make all employees feel a greater sense of belonging.
"We look forward to welcoming people from all socio- economic backgrounds into our courses and programs, as well as those who are truly committed to inclusivity, equity, and belonging. We know that the world is changing so rapidly right now and employees need their organizations to properly support them through those changes. Humans are not naturally built to evolve so quickly so we need as much support as we can get from our business leaders locally and internationally."
For more information on ICLI programs, visit trainingbyicli.com.
Read More About