[Written by Stephen Wright]
Scotland, on the face of it, seems an unlikely outpost for a Bermudian cricketer.
Dennico Hollis certainly thought so when his wife suggested they swap sun-drenched island life for the harsher climes of the Central Lowlands three years ago.
Hollis, however, is far from the first Bermudian cricketer to make the 3,300-mile journey across the Atlantic Ocean in pursuit of fresh challenges.
Alma [Champ] Hunt, Clarence Parfitt, Lionel Cann, Del Hollis and Treadwell Gibbons Jr are among those to have ventured north of the border.
It is Parfitt's name which chimes loudest among the Scottish cricketing fraternity, with Bermuda's greatest bowler playing an integral role in Scotland's rise to the fore of Associate cricket, first as a player, gaining a call-up to their national team in 1988, and then as Cricket Scotland development officer.
Not only did Parfitt recommend Hollis to Stenhousemuir, where the legendary slow left-armer bewitched, bewildered and befuddled batsman during his heyday, he is also the uncle of Hollis's wife.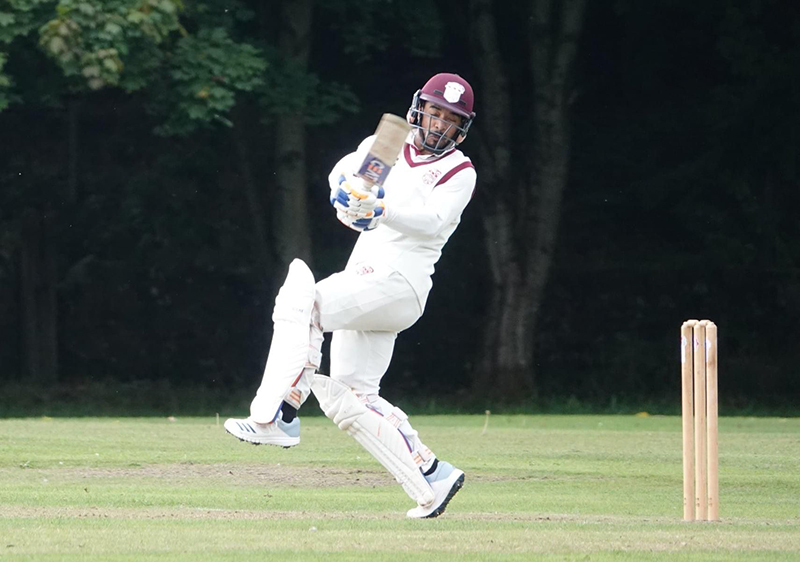 "Clarence is like the Sachin Tendulkar of Scottish cricket!" Hollis says. "It's amazing how huge this guy is here.
"I was playing a game recently and the umpire [Paul Hoffman, a former Scottish international] couldn't stop talking to me about Clarence.
"Clarence wanted me to play for his club, Arbroath [where Parfitt also played professionally before serving as an executive], but it's two-and-a-half hours away.
"When I first introduced myself [at Stenhousemuir], I mentioned Clarence and the committee members were ecstatic."
While cricket has a considerably lower profile in Scotland than it has in neighbouring England, Hollis has become something of a local hero in the town of Falkirk, about 20.5 miles northeast of Glasgow, where he lives and works as a cleaner at a local high school.
"My wife [Shanell Hollis] asked me out of the blue whether I'd like to move to Scotland. It took me by surprise, but when I thought about it, I was like, 'Yeah, why not," Hollis says.
"We've been welcomed with open arms. People in the community come up and say to me, 'Oh, I saw your name in the paper, who have you got today?' Small things like that make a big difference. I'm still getting fully acclimatised to the weather, though!"
Aside from the conditions, there are other stark cricketing contrasts between the two countries, as Hollis explains: "The game is more professional here; it's close to the semi-pro environment. In Bermuda, we have issues with players cursing the umpires, fights between players. You don't get much of that here. There's less tolerance for that type of behaviour.
"It's a better standard of cricket too. Every club has a professional and an overseas amateur, although this year that's been difficult because of Covid."
An elder statesman in a youthful dressing room, Hollis has enjoyed his most productive season wielding the willow, scoring 310 runs at average 25.83; his highest score of 83 not out is a career-best.
The 33-year-old, who stepped down as vice-captain after the final game of the season, a 44-run win over East Renfrewshire in which he top-scored with 52, also claimed 12 wickets at a respectable average of 25.67. His side finished sixth in the Western Division One, the second tier of the Scottish game.
Although Hollis's solid performances have mostly fallen under the radar in his homeland, his fortunes have been followed closely by a trio of trusted Bermudian cricketing luminaries.
"Irving [Romaine], Lionel [Cann] and Clay [Smith] have kept in touch regularly," says Hollis, who has thrived batting higher up the order at No 3.
"They have played a massive role in my success this season, encouraging me from behind the scenes, giving me words of wisdom.
"Batting-wise it's been my best season. I'm the first non-professional player [for Stenhousemuir] to score more than 300 runs in a season for six years.
"I've been vice-captain for the past two years and it's been a real honour. I've stepped down because I want to focus on scoring runs and taking wickets."
Hollis's passion for the game is palpable. As is his desire to force his way back into the Bermuda national team fold.
His last outing for Bermuda came in 2016 against Denmark in the ICC World Cricket League in Los Angeles, when Bermuda retained their Division Four status.
"I have still tons left in the tank when it comes to international cricket," he says. "I can only do my part over here and score runs and take wickets.
"I'm assuming the door is still open for me. I'm also eligible for selection for Scotland as a British citizen, but I don't want to take that route. I want to play for Bermuda."
Such is Hollis's eagerness to catch the eye of Herbie Bascome, the Bermuda coach, he has re-joined Bailey's Bay for next season with the Eastern Counties Cup in mind.
He still also hopes to realise his childhood ambition of representing St George's in Cup Match, having twice been named as a reserve.
"I want to play Eastern Counties" he says. "To play, you have to register back with the club [Bay], as I've never lived in the area.
"I've been registered with St George's for the past three years and it's a shame I haven't been able to play for them. Covid has messed a lot of things up and I'm not a fan of quarantining in hotels. I've also had to take into account my commitments with work and my club [Stenhousemuir].
"Hopefully next summer, I can fit in the Eastern Counties and a few league clubs before the Scottish season. If Bay get to the Eastern Counties final, I can travel back in August for two weeks, squeeze in two more league games, the final County game, and come back and finish my season at Stenhousemuir."
Hollis is also encouraging ambitious young Bermudian players to consider Scottish cricket as an option to help fast-track their development.
"Bay president Stephen Outerbridge has asked me to have a word with the [Stenhousemuir] committee to see he can send out a few young players for a three or four-month stint. It's important to give these guys some overseas exposure," he adds.
For now, Falkirk is home for Hollis. However, it seems Bermuda, and particularly Bermudian cricket is never far from his thoughts.

Read More About