LOM Financial Group recently underwent a rebrand in advance of the company's 30th anniversary.
Headquartered in Bermuda, LOM also has offices in the Bahamas, Cayman and the UK. The rebrand launched earlier this month includes a new logo, brand identity, website: www.lom.com and brand purpose focused on ocean conservation.
Scott Lines, CEO and Chairman of LOM Financial said, "LOM has stood the test of time and we have our talented, dedicated team and loyal clients to thank for our continued success. In 2022 we will be celebrating 30 years of business in the private wealth management industry. To mark this milestone we embarked on an evolution of our brand, one that better represents where the company stands today, and acknowledges how far we have come."
"LOM's new brand identity includes a whale tail insignia with the year 1992, when the firm was incorporated in Bermuda. The whale tail symbolises our place within the offshore sector, as well as our commitment to ocean conservation in each of the locations that we operate. As a future-facing company it is our responsibility to act on the critical concerns of our generation and the next.
"Ocean conservation is an urgent global issue that is magnified in the jurisdictions we serve, and it demands our support. We are committed to supporting nonprofits in Bermuda, Bahamas, Cayman and the UK that are making a significant impact in ocean conservation: BZS, The Humpback Whale Project, BREEF, The Guy Harvey Ocean Foundation and the Marine Conservation Society.
"We will contribute annually to these nonprofits making a difference to the health of our oceans, the largest ecosystem on our planet that supports all forms of life and absorbs nearly a third of our carbon emissions."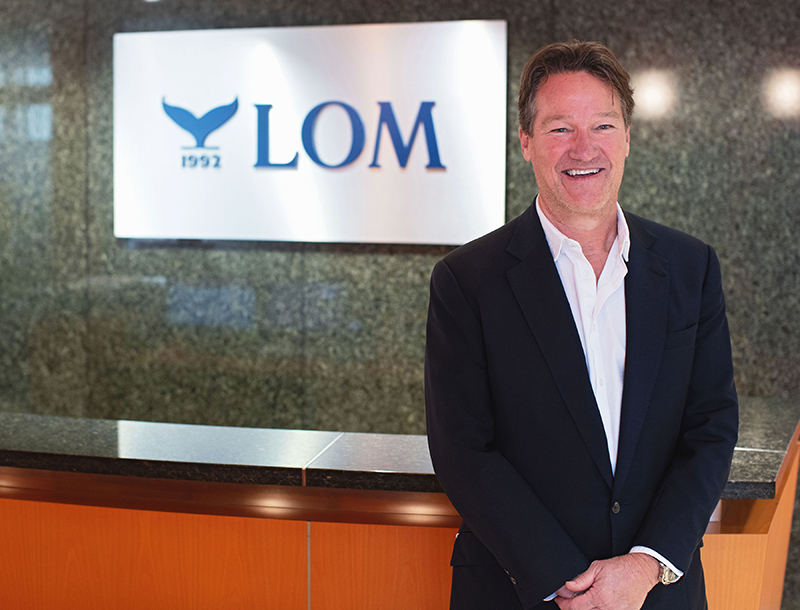 LOM's rebrand rounds out a significant year for the company which saw its assets under administration grow to over $1.7 billion. The company also recently received the 2021 Global Banking & Finance Review Award for Best Wealth Management Company in Bermuda, recognizing innovation and achievement within the Global Financial community.
Mr. Lines commented, "We are pleased to have had such a successful year, especially in light of global events. Without our talented and experienced team of advisors and asset managers this would not have been possible."
"Notwithstanding the market turbulence brought by the Covid-19 pandemic, LOM has experienced significant growth over the past few years. We are now focused on deepening our involvement in the Caribbean and South American markets where we are actively recruiting talented staff, with the goal to provide the best service and performance found anywhere."
Mr. Lines asserted, "High-level, personalised service is LOM's primary objective. Our advisors provide customised investment strategies tailored to our clients' individual needs while delivering consistently superior performance. We are in a very favourable position and hold a positive outlook for another solid 30 years in the offshore financial services industry."
Read More About