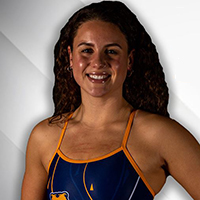 Bermuda's Madelyn Moore and her Northern Colorado Swimming and Diving team continued their strong showing in the Intermountain Shootout, with Moore winning another three events, to follow up on her four wins during the first day of competition.
The University's report said, "Northern Colorado relays stayed perfect as the Bears continued to impress on the second day of the Intermountain Shootout. Across the eight separate duels, the Bears walked away with seven wins on Saturday.
"The same winning foursome that capped off Friday evening with a win in the 200 medley relay didn't disappoint in the 400 medley on Saturday morning. Katelyn Bergin, Chelaine van der Westhuizen, Payten Irwin and Madelyn Moore took care of the competition with a 1:45.51.
"Madelyn Moore kept her perfect streak going in the sprints, securing the best time of the afternoon in the 100 free with a 51.01. Pavanello swam a 53.28, the fifth-fastest time of the day.
"Northern Colorado relays had been virtually unbeatable in Grand Junction, the 400 free relay made it official. Pavanello, Ali Jackson, Lily Mayer and Moore combined to swim a 3:29.28, outdueling everyone in the pool.
"When the dust settled, UNC had picked up seven wins of a possible eight in the unique early-season format."

Read More About