WindReach will be hosting a virtual conference in recognition of the United Nations International Day of Persons with Disabilities on Friday, December 3.
A spokesperson said, "Common Ground 2021 is a virtual one-day conference that will focus on 'encouraging advocacy.' People with disabilities have been fighting for their right to be heard, both in their own lives as well as in the greater community. This fight continues to this day and we want to bring their voices and needs to the forefront.
"Having direct input in one's life has a clear effect on overall health, well-being, and quality of life. Learn how you can have an impact on the betterment of individual lives, and the community, as a whole. Attendees will have opportunity to hear from a variety of local experts, as well as two overseas guests, one of which was a past participant in WindReach programmes and the other is an American Speech-Language Pathologist and disability advocate.
"The full speaker line up includes Dr. Alick Bush, Alyssa Frick, Ashley Harris Whaley, Ash Brady-Kelly, and The Honourable Minister of Social Development & Seniors, Tinée Furbert."
Alyssa Frick, WindReach's Life Skills Occupational Therapist, said, "All of our speakers provide a wide breadth of knowledge and experience on their various topics. We are delighted to have some returning speakers as well as ones that can offer fresh perspectives. This conference has something for everyone; disabled individuals, their support networks, business owners and the community at large can all gain new skills and knowledge to help improve the experience of disabled people in Bermuda."
The spokesperson said, "This free conference is generously sponsored by Anchor Investment Management, Ascot Group and Everest Reinsurance. There is no registration fee and individuals are able to Zoom in for one or all five of the hour-long sessions from 9am to 3pm.
Link and password to conference is here.
Webinar ID: 884 3993 2781
Passcode: 897230
Facebook event page is here."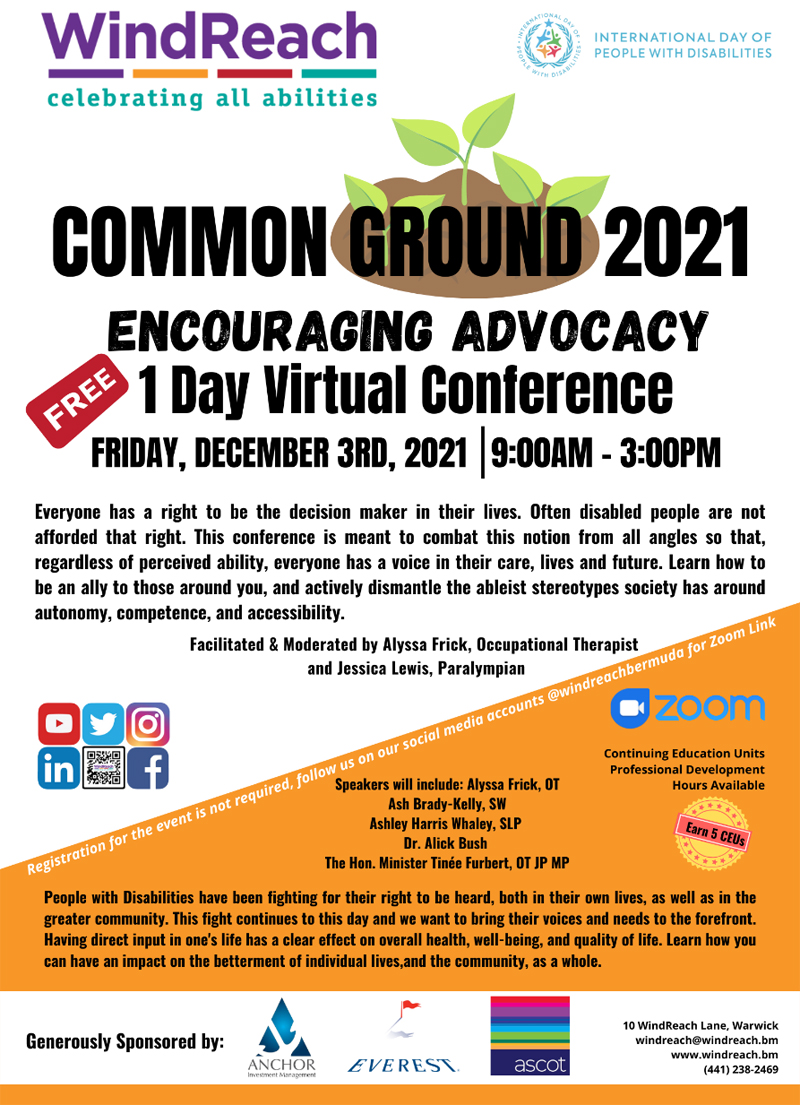 Read More About
Category: All