WISTA Bermuda has launched a new event series "WISTA Bermuda – 30 Minute Dialogue", and their inaugural dialogue focused on "seafarer's welfare in the age of Covid-19 and keeping the global economy moving."
A spokesperson said, "WISTA Bermuda [a local chapter of WISTA International] is a networking organization whose mission is to attract and support women, at the management level, in the maritime, trading and logistics sectors.
"On a global scale, WISTA members have access to an incredibly diverse network of executives in the shipping and trading field on whom they can call for referrals, advice or business collaborations. WISTA Bermuda wants to continue to empower and leverage the knowledge of industry experts to create meaningful change for the industry.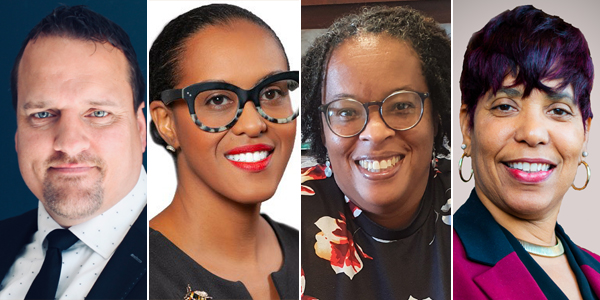 "For the inaugural dialogue, WISTA Bermuda was honoured to have Dr. Jason Zuidema Executive Director of the North American Maritime Ministry Association on hand to discuss two critical issues: seafarer's welfare in the age of Covid-19 and keeping the global economy moving.
"Seafaring is synonymous with demanding working conditions, potentially perilous tasks, long contracts, limited crew changes, restricted shore leave, minimal access to medical care, confinement, lack of connectivity during voyages and extended isolation from loved ones. These are just a few of the hallmarks of the profession that contribute to undermining seafarers' mental health and wellbeing.
"Some of these factors are generic across the occupation, others may be more related to specific ship types/trades, shipboard positions, nationality of the crew and company procedures. These unique characteristics set seafaring apart from other occupations and heighten the levels of stress and fatigue that often ensues. The extraordinary times we're living in, with seafarers unable to disembark ships or be repatriated because of the Covid-19 pandemic, has only served to magnified these issues."
Angelique Burgess, President of WISTA Bermuda noted that "the impact of the Covid 19 pandemic has had a tremendous effect on the health and safety of seafarers worldwide. They've had to experience an emotional roller coaster ride over the past year and a half including being stranded on ships for months beyond their contract, airline travel restrictions that made it difficult for the seafarers to return home and resulting fatigue and mental health issues. Organizations like the North American Maritime Ministry Association provide vital advocacy for the seafarers, especially during these challenging times".
A spokesperson noted, "Dr. Jason Zuidema is Executive Director of the North American Maritime Ministry Association [www.namma.org]. NAMMA is an association representing seafarers' welfare organizations in more than 50 ports around North America, including the Bermuda Sailors' Home. The goals of the organization include professional development and networking for its members, but also providing a common voice for seafarers' welfare to increase collaboration with ports, government, labor, and the wider maritime industry.
"Dr. Zuidema has been involved in the seafarers' welfare since 1997 and previously taught at Montreal's Concordia University. He currently serves also as General Secretary of the International Christian Maritime Association, is a trustee of ISWAN, is producer of the Ship Welfare Visitor Course online for the UK's Merchant Navy Welfare Board and serves as 'voluntary association' representative on the International Port Welfare Partnership project.
"While the shipping sector has long been concerned about seafarers wellbeing and supply chain management, the pandemic has made these issues of more urgent focus for everyone. Dr Zuideman touched on seafarers being at the mercy of the deployment plan of the ship operators in registering for vaccination programs, the overall increase in repatriation cases on the grounds of illness and the real world impact of these issues.
Dr Jason Zuidema shared with attendees that "A critical part of managing the pandemic for all countries has been to keep supply chains moving. That is not just about taking care of ships, ports trucks, and cargo, but about people. Seafarers, especially, have sacrificed much to make sure ships continued to run on time, delivering the goods we need. We have a duty to help draw attention to their importance as key workers so they can get crew change, shore leave and vaccinations."
The dialogue was open to local representatives from every maritime discipline. Attendees included WISTA Bermuda members, representatives of Polaris Group of Companies, Shipping Registry, Meyers, Bermuda Sailors Home, Bermuda Sloop Foundation, Bermuda Coastguard unit, Marine and Ports, Csm Bermuda Forwarders Ltd., Winchester Global Trust, Shoreline Ltd. and Bermuda Container Lines. The forum provided an opportunity to gather, learn and develop important relationships with thought leaders in the maritime sector.
As Carmen Tucker, WISTA Bermuda board member underscored "cooperation among maritime partners is vital and the pandemic has fueled a greater need for it. We must continue to work together and remember that no act of kindness is too small".
"Dr. Zuidema's commentary was thoughtful and revelatory" remarked Tammy L Richardson-Augustus legal counsel and press officer of WISTA Bermuda.
"The industry is mindful of the importance of seafarer wellness. Crew wellbeing was at the heart of 'Day of the Seafarer 2018' and there is already a regulatory framework [eg. ILO MLC 2006] and various initiatives on safety culture, enhanced onboard connectivity etc.
"However, amid growing concerns about mental health at work in general, WISTA Bermuda wanted to shine a bright light on these fraught issues [amplified by the pandemic] as we pay tribute to the unsung heroes of our global economy".
WISTA Bermuda is a chapter of Women's International Shipping & Trading Association [WISTA International] a global organisation formed in 1974, for female executives and decision-makers around the world. WISTA International serves as a connector for its network of more than 3,800 female professionals from all sectors of the maritime industry.
WISTA Bermuda is one of 54 other national WISTA Associations which provide in-country and regional networking, skill-building opportunities, corporate visibility, and also facilitate relationships within the industry.
A spokesperson explained, "WISTA Bermuda works toward:
Minimizing the existing gender leadership gap in the maritime, trading and logistics sectors.
Building a community among its members, facilitating the exchange of contacts, information, and experiences
Promoting the creation of business relationships among its members
Facilitating the professional development of its members
Providing liaison with other related institutions and organizations worldwide
"WISTA Bermuda 30 Minute Dialogue series is intended to raise discourse and deepen people's understanding of the maritime industry. To become a member of WISTA Bermuda, to be included on our mailing list for future dialogues and/or to suggest topics you want to learn more about, please contact Carmen Tucker [ctucker@wedco.bm] or Jennie Kelly [jkelly@consolidated.bm]."
Read More About