[Written by Stephen Wright]
Kamau Leverock and Delray Rawlins hope to spearhead the Florida Scorpions' push for the title in the US Open T20 Cricket tournament.
The Bermuda pair are backing their side to be among the challengers in the ten-team competition, starting today at the Central Broward Regional Park in Fort Lauderdale, Florida.
Leverock views the tournament as an opportunity to put himself in the "shop window" for other T20 franchise leagues and further refine his leadership skills as the Scorpions vice-captain.
The all-rounder, who led Bermuda at the T20 World Cup Americas Qualifier in Antigua last month, told Bernews: "There are a lot of actual captains in the Scorpions squad. You have Kyle Coetzer, the Scotland captain, and Steven Mullaney, the Nottinghamshire captain, so to learn from them in a leadership role is quite exciting.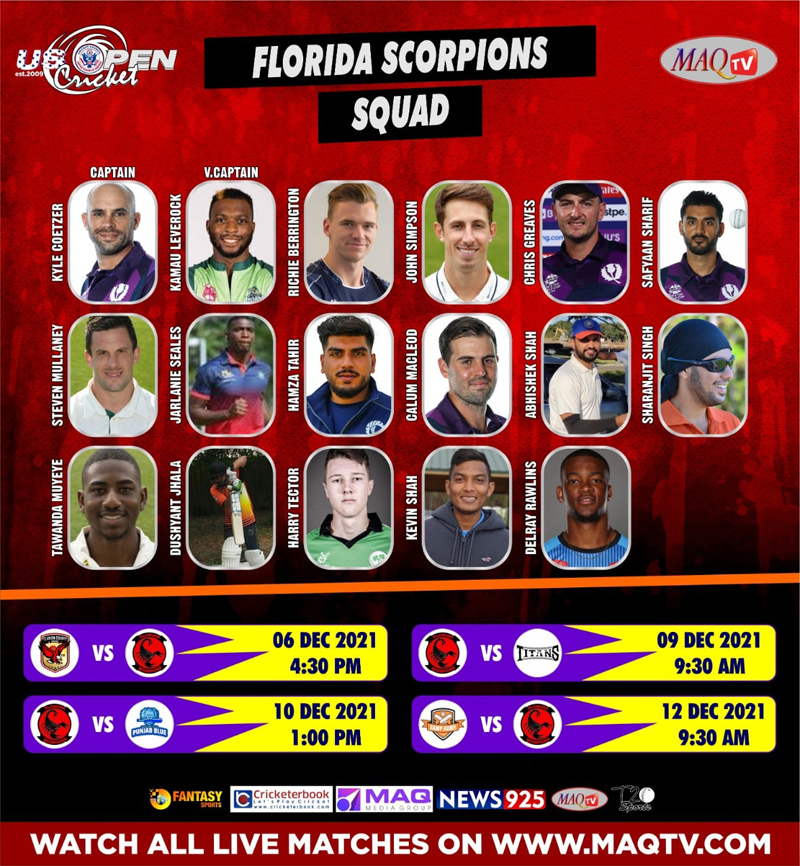 "I would access my captaincy as quite green [at the T20 World Cup Americas Qualifier, where Bermuda were eliminated]. I didn't have a complete training session with the team due to flight cancellations.
"The opening game against the USA was my first as captain, and I felt I did alright, but with a few more games under my belt, I reckon it could have been a bit better."
The Scorpions are in Group B with Samp Army, Clarion County Eagles, Punjab Blues and Titans Cricket Club. They face the County Eagles in their opener tonight.
Group A consists of US All-Stars, Cavaliers 22 Yards, NDCC Royals, Brampton Pacers and Yankee Royals.
Leverock, who played for Vancouver Knights in the inaugural Global T20 Canada in 2018, is confident the Scorpions can progress to the semi-finals as one of the top two teams from their group.
"For the past two years, I've been trying to get involved in this tournament, and thankfully it came through for me," he said.
"It's always nice to get more experience under your belt in these types of competitions.
"We have a few Scotland guys who have played in the recent T20 World Cup and John Simpson [who plays for Middlesex] and Delray who have played in The Hundred in England. We have a good chance of a successful tournament.
"These competitions are about networking and showing people what you can offer. Even in games where your team is struggling, you can show glimpses of what you have. I have at least four games to show one or two glimpses of what I can give to a team."
USA Cricket became an associate member of the International Cricket Council in 2019 and has ambitions to become a full member by 2030.
In 2024 the US will co-host its first major cricket tournament when it stages part of the men's T20 World Cup.
Leverock believes the game in the US is on an upward trajectory and that competitions such as the US Open T20 can only accelerate its popularity.
"There's always been a desire to increase the popularity of cricket in the USA," the 27-year-old added. "There's a lot to gain because of the size of its economy.
"USA Cricket has invested quite heavily in its national team because they know if they make a World Cup, it could open the floodgates for the game in the US."
Rawlins was in devastating form when he played in the US Open T20 two years ago for Paramveer Tigers, hitting a 35-ball hundred, including 14 sixes, in their victory against Smashers.
However, the Sussex all-rounder had to withdraw from the competition last year after testing positive for Covid-19 and missed out on the Tigers' title triumph.
"I was pretty gutted to miss out on another trophy," Rawlins told Bernews.
"A few West Indies players like Chris Gayle and Johnson Charles were part of that team, and it would have been nice to have experienced playing alongside them.
"Every year, the tournament seems to be attracting better players, which can only be healthy for the competition. The standard is going to be pretty good."
Rawlins said he is excited to team up with Leverock, his Scorpions roommate and hopes more Bermuda players will have opportunities to showcase their skills in the US Open T20.
"Kamau is a lifelong friend, so to play alongside him again will be fun," said Rawlins, who helped Sussex reach the semi-finals of the T20 Vitality Blast last summer.
"I've chatted to Tre Manders and Allan Douglas about this tournament, and I hope there will be more opportunities like this for Bermuda players, especially the younger lads who are coming through the system.
"If you look at the recent [T20 World Cup Americas Qualifier] tournament, those guys showed how skilful they are. Hopefully, we can get more exposure by winning a few more games, and those guys will get the praise and the shine that they deserve."
Although Rawlins endured a disappointing season in red-ball cricket for Sussex last summer, his T20 form has been of a high standard for club and country.
"I'm always looking to improve, and hopefully, I can learn a few more tricks of the trade from the guys in my team like Mullaney," he added.
"I carried my good T20 form into Antigua [for Bermuda] and managed to get a few runs. I probably should have scored more in the games against Canada and the USA and won those matches for the boys. On another day, things could have gone differently for us."

Read More About