Meritus Trust is promoting Sara Schroter and Gina Pereira to the role of co-Managing Directors.
A spokesperson said, "Diversity and Inclusion has [finally] dominated the conversation in companies and boardrooms worldwide over the past year or so. Organisations are talking about it and even creating initiatives that speak to it, but few are truly practising what they preach.
"In our community, as diverse as we are, there are far too few women at the senior level and even fewer Bermudians of colour in the top leadership positions. This is why the news at Meritus Trust, promoting two Bermudian women to the role of co-Managing Directors, is so significant.
"Effective immediately, Sara Schroter, Managing Director, Corporate & General Counsel, will lead the corporate functions and governance, while Gina Pereira, Managing Director, Client & Fiduciary Stewardship, will lead the client side of the business. This dynamic pair will offer the best of both worlds, as they both have a proven track record of excelling in their areas of expertise.
Gina Pereira and Sara Schroter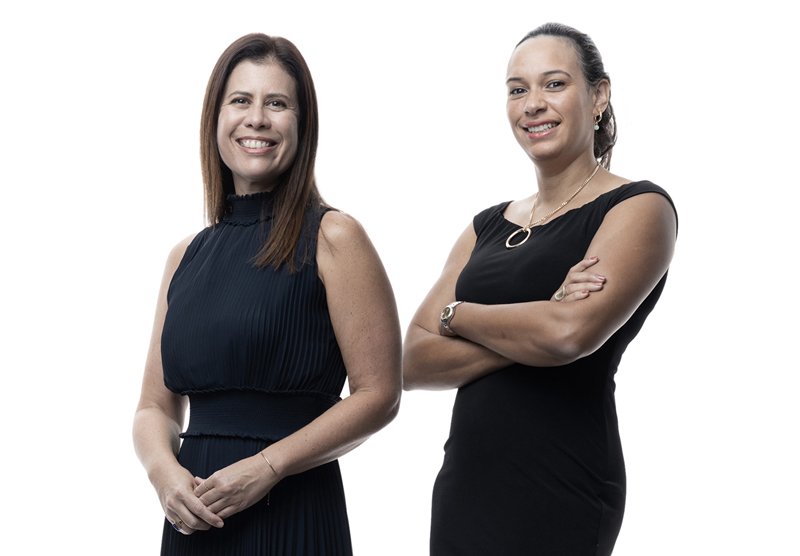 "In terms of recent notable achievements, Sara was the first female Chartered Director in Bermuda, and Gina was awarded the prestigious STEP Private Client Award.
"Since its creation, Michelle Wolfe, one of the founders and driving forces behind Meritus, continues to be an integral part of the company's continued success as she steps up to her new role as Chair & Family Counsel. She will be stepping back from the day-to-day administration, allowing her to provide higher-level strategic input and counsel to deliver on behalf of clients on a whole new level."
Ms. Wolfe said, "I'm now in a role where I can provide the most value to our clients, and we are primed to serve their expanding needs, with a wider breadth of expertise. With Sara and Gina at the helm, Meritus is ready for the future and leading the way with strong people and strong commitments."
The spokesperson said, "Last year, Meritus announced its enhanced commitment to responsible stewardship of wealth, philanthropy, living with purpose, and mentoring the next generation of trust professionals."
Ms. Pereira said, "We believe living with purpose is about taking ownership of the impact of our decisions on all stakeholders and giving back in many ways – through philanthropy, mentoring, and training. We're doing our part to help develop the next-gen of Bermudian trust professionals. Several members of our Team are under 30, including an intern.
"Besides teaching them, it is critical that we empower each of them to grow to their full potential."
The spokesperson said, "With that sort of forward-thinking and action, it's no surprise that Meritus was named #4 in RG's Top 10 Employers of the Year Awards because they believe in inclusivity and putting their people first."
Ms. Schroter said, "Diversity is a central part of our culture and how we work at Meritus. We believe our differences make us stronger together. We use our collective perspectives to close gaps and drive inclusion – in our office, with our families, around our community and the globe. We believe that inclusivity is the catalyst for a lot of positive things."
The spokesperson said, "Meritus is also very excited to announce the promotions of Barbara Patterson to Senior Client Director, Mairi Redmond to Fiduciary Director, and Dorothy Gazzard to Fiduciary Director.
"It's great to talk the talk, but better to walk the walk. Congratulations to Meritus on their follow-through in the advancement of Bermudian women, inclusivity, and the next generation."

Read More About