Bermuda Is Love will be holding a Free Clothing Giveaway at Elliot Primary School on Saturday [Aug 27], from 10.00am to 4.00pm, where they will be giving away clothes for all ages, genders, and sizes.
A spokesperson said, "The purpose of the Free Clothing Giveaway is to provide free clothing to as many people as possible, and reduce the impact of fast-fashion and consumerism in our society.
"Firstly, clothing is a basic human need and a human right, and Bermuda Is Love believes that every person should have equal access to free clothing because it is necessary for survival, hygiene, and protection.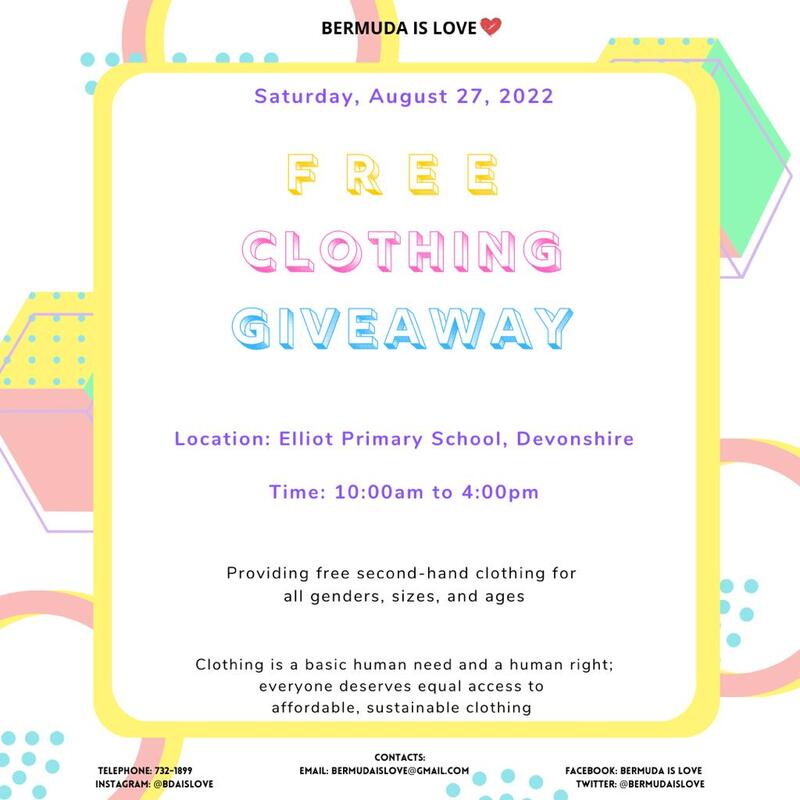 "Further, the right to clothing helps to maintain self-confidence and dignity, by giving people the opportunity to represent themselves how they want to be seen. By ensuring that everyone has access to clothes we can empower individuals to feel stronger and more confident, so that they can move toward self-sufficiency.
"This is also a reminder that what you wear should not, and does not define you, and that every person should be treated with respect and afforded basic human rights, regardless of who you are or what you wear.
"Secondly, the fast fashion industry encourages a throw away culture because many clothes are cheap and not built to last. The fashion industry is the second most polluting industry on Earth and produces 10% of world emissions, which adds to climate change.
"We encourage the public to buy less clothing, buy ethically and sustainably, buy second-hand, up-cycle your clothes, donate what you do not wear, and treat your clothes with care to extend their life.
"We are thankful for all the donations that we have received from the community in order to make the Free Clothing Giveaway possible. Unfortunately, we are unable to take any more clothing donations at this time.
"Please follow us on our socials to find out how you can get involved."
Read More About
Category: All