Bermuda's Under 14 football team made a spectacular start to the 2022 Caribbean Football Union [CFU] U14 Challenge Series in the Dominican Republic, recording a 9 – 0 win over Dominica.
With the victory — Bermuda which is in Tier 2, Group 1 along with Barbados, Dominica, French Guiana, and St. Vincent & the Grenadines — jumped to the top of the standings after the first day of action.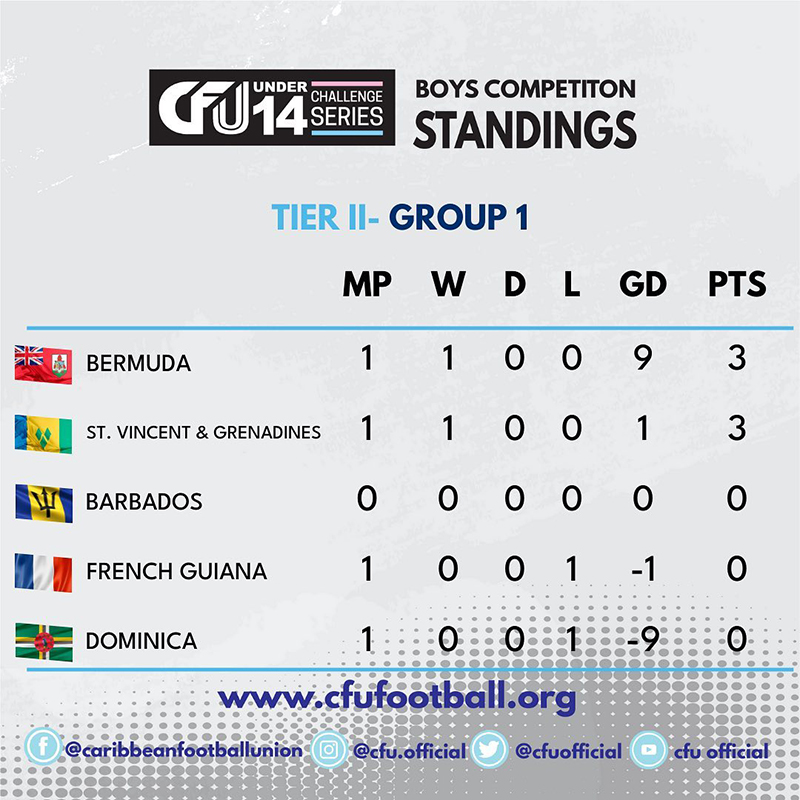 The match report said, "Bermuda ran a clinic in their opening Tier II Group 2 match of the 2022 CFU Boys' U-14 Challenge Series, shutting out Dominica 9-0 when the two sides met at Estadio Panamericano in Santo Domingo, Dominican Republic on Saturday.
"The Bermudians dominated the first half with great passing and possession, which resulted in them scoring their first three goals in under five minutes. The first goal came from Logan Jiminez in the 2' while the other two goals came from a Roger Williams brace in the 3rd and 5th minutes. Williams had the opportunity to get the first hat-trick of the tournament, but the ball went wide of the goal post.
"Kennahz Fray further extended Bermuda's lead in the 17th minute. Ajay Bellot, the Dominican custodian effected a brilliant save in the 35th minute to prevent Bermuda from extending their lead just at the halftime mark.
"The second half resumed with the same energy as the first, with the Bermudians continued dominance of the game," the report noted. Azende Trott-Smith made it 5-0 and Fray securing the first hat-trick of the tournament when he scored in the 45th and 47th minutes.
The match report added, "Dominica's woes worsened when Chance Marshall received a red card in the 57th minute. With one man short, Bermuda continued to take advantage of the Boys from the Nature Isle. Tiago Correia scored in the 65th minute. The final goal came from a beautiful strike by Keori Leverock in the 66th minute."
Major win!! Check out the highlights from the #Bermuda U14 football team's 9-0 victory over Dominica in the CFU Challenge Series pic.twitter.com/1HUunX44Lt

— BernewsSports (@BernewsSports) August 14, 2022
Bermuda's U14 squad includes Jai Simmons, Caleb Grant, Patrick Dill, Cameron Adkins, Mosiais Mills, Dakayo Leverock, Michael Burcher, Logan Jimenez, Sami Carolo, Callum McIntosh, D'ari Coddington, Kennahz Fray, Keori Binns-Leverock, Cavin White, Xenai Williams, Cairo Tucker, Tiago Correia, Azende Trott-Smith, Syhon Goater, and Roger Williams.

Read More About