[Updated] The Premier's comments regarding sovereignty "were not only untimely, but they were also inappropriate." Opposition Leader Cole Simons said, adding that to "take advantage of a global stage and push his own agenda shows that he is clearly lacks sensitivity, protocol, statesmanship and and foreign diplomacy."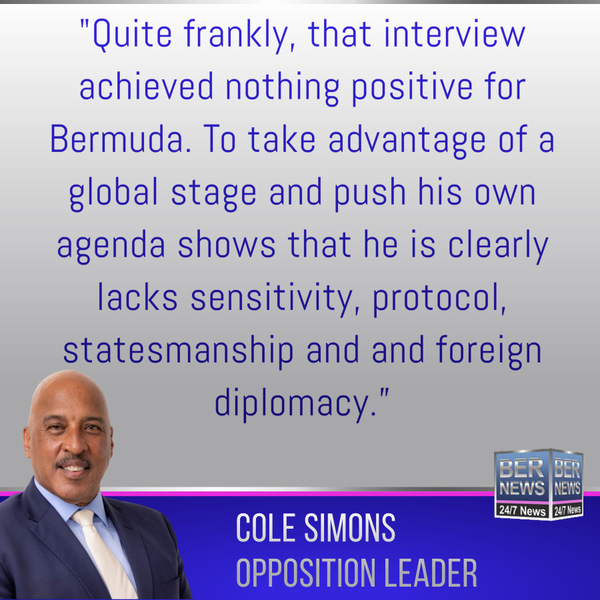 In response to a question during his interview with the BBC asking "how does the monarchy remains relevant to Bermuda in 2022," the Premier said, "I think that is certainly a question for another day, I think that it is a day for reflection of the Queen's long life and service, but what I would say is that our relations are with the United Kingdom Government and it is for the United Kingdom themselves to choose their path. Bermuda is still an Overseas Territory, our next step is certainly to be a sovereign state and whatever form that sovereignty takes will be a matter for discussion on another day, but today was a day to reflect on the Queen's life of service."
Opposition Leader Cole Simons said, "I've heard many comments about the remarks Premier Burt made to a reporter on the British Broadcasting Corporation station last night during the funeral coverage of HRH Queen Elizabeth II.
"Undoubtedly, it was a funeral of one of the most famous and well-respected global leaders. With an unprecedented level of 4.5 billion people watching from around the world, I cannot for the life of me understand why Premier Burt would make a statement about Bermuda's sovereignty. Despite circumventing the process of a referendum in Bermuda, to hear the sentiments of Bermudians, his comments were not only untimely, but they were also inappropriate.
"Quite frankly, that interview achieved nothing positive for Bermuda. To take advantage of a global stage and push his own agenda shows that he is clearly lacks sensitivity, protocol, statesmanship and and foreign diplomacy.
"If I were in his shoes, and given Bermuda's economy, and the state of our domestic affairs, I would have embarked upon a path of international diplomacy in London. I would have sought ideas and recommendations from other Commonwealth or Overseas Territory leaders to seek their ideas on how they address their flailing economy, the increased cost of living, the high-cost of healthcare and increased crime. That would have been more productive for Bermuda than talking about the PLP's aspirations for independence.
"Given the state of Bermuda's economy, and domestic affairs, I would have used the opportunity to highlight common challenges and solutions to the issues that countries around the world all face. But to talk about sovereignty is crazy. It was a lost opportunity.
"Now on the topic of sovereignty and independence, let's think about these questions:
"How is independence going to address Bermuda's cost of living crisis?
"How is independence addressing our healthcare costs?
"How is independence going to stimulate our economy?
"How is independence going to reduce our $4 billion dollar debt?
"How is independence going to address Bermuda's housing crisis?
"How does independence address crime and stabbing incidents amongst our young people?
"Independence does not improve race relations in Bermuda; Independence will not put money in the pockets of the many hard-working men and women of this country. Independence does not help our senior population who face tough times daily by having to choose between food, or healthcare.
"Premier Burt, your presentation last night was a lost opportunity," Mr Simons concluded.
Update 9.16pm: A PLP spokesperson said, "The PLP encourages the Leader of the Opposition to watch the entire 5-minute interview, where the Party Leader answered a question on Bermuda's relationship with the UK.
"Almost all persons who watched the entire interview when it aired live last night were proud of the way our Party Leader represented Bermuda as he spoke about the events he attended in London.
"For clarity, the Progressive Labour Party's position on sovereignty is well documented and has not changed since 2005. Our position is that upon becoming a sovereign nation, the Head of State of a sovereign Bermuda would be the head of the Commonwealth.
"However, we believe that Bermuda should have the ability to make international trade agreements, to benefit Bermuda's economy unfettered by the United Kingdom Government – which no one in Bermuda votes for.
"The PLP would encourage the outgoing Opposition Leader to watch the entire interview before signing off on a statement written by his political consultants that doesn't mesh with reality and is out of touch with the sentiments of many Bermudians."
Read More About