After pausing their "in-person preaching in early 2020 due to the pandemic," Jehovah's Witnesses noted they "recently started their in-person preaching again."
A spokesperson said, "On November 5th and 6th some of the best triathletes from around the world will be swimming, biking and running their way through the streets and waters of Bermuda as the World Triathalon Championship Series [WTCS] makes its way back, and no doubt, throngs of Bermudians will be cheering on their favorites. You may also notice something else among the crowds of visitors and fans – Jehovah's Witnesses and their Bible-based literature carts.
"Witnesses all over the world halted their public, in-person preaching in early 2020 due to the pandemic and only recently started their in-person preaching again.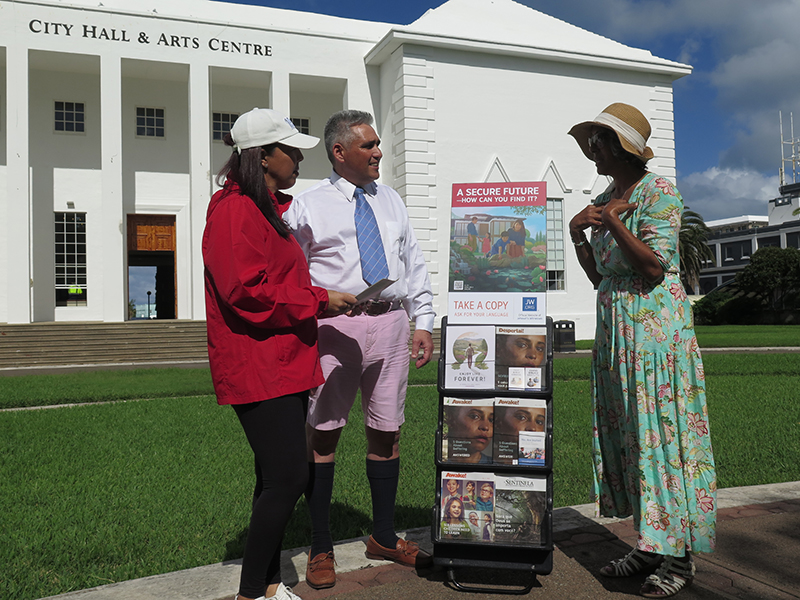 "It's exciting because I love people," said Marco Lopes of Paget Parish. "With all we have gone through these last two years, our community needs comfort and hope. It is a joy being out there again speaking with our neighbors."
"We believe that the early decision to shut down all in-person activities for more than two years has saved many lives," said Robert Hendriks, U.S. spokesperson for Jehovah's Witnesses. "We're now ready and eager to reconnect with our neighbors once again – person-to-person, face-to-face. It's not the only way we preach, but it has historically been the most effective way to deliver our message of comfort and hope."
"We are hoping to help our fellow Bermudians as well as our international visitors," said Alexander Mosley, local Spokesperson for Jehovah's Witnesses. "We try to do as Jesus says at Matthew 22:39, 'love [our] neighbors.' And that includes our international friends as well."
Mosley said the time is right to reach out again to people in-person in Bermuda. "The visitors come from many backgrounds and even different countries. "Our website, jw.org, is in over 1,000 languages. So, being able to share that with people from different language groups is very encouraging."
"The Bible-based literature is free and will be located opposite Hamilton City Hall and the Athlete Registration area, adjacent to the bus terminal.

Read More About
Category: All