[Written by Vejay Steede]
Having endured two straight Christmas seasons under Covid protocols and restrictions, primary schools are currently trying to catch up, and simultaneously create lasting memories for students and families who have greatly missed our traditional Bermudian Christmas festivities.
To the East, the St. David's Primary [SDP] community have been engaging in a very special program which started on the first of December, and will run until the last day of school on December 16. Dubbed simply, "The 12 Days of Christmas," the program has featured several special activities that have been intertwined into the students' schedules each day.
Ornament making, card designing, cookie decorating, ugly sweater grub day, and Christmas hats and socks day have all been a part of the 12 Days, and the students, staff, and parents have all thoroughly enjoyed indulging in this wonderful community initiative.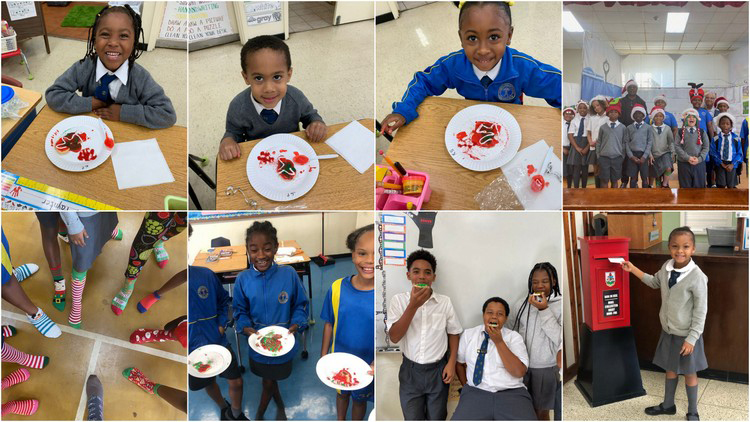 Deputy Principal, and Primary 5 Teacher, at SDP, Mrs. Andrea Isaac, expresses the typical enthusiasm for the return of school Christmas activities when she describes the 12 Days initiative:
"The 12 Days of Christmas initiative, thought of by our PTA Treasurer, Ms. Simmons, has helped to celebrate the magic of the season that makes it so festive in the minds of our children.
"They have engaged in learning about Christmas traditions from around the world, decorated cookies, designed a special Christmas message for the residents at one of our senior residences, made ornaments, and had hot chocolate.
"This week, to round out the 12 days, the students will have a few themed grub days and get their letters in to Santa just in time to have a visit from him on Friday."
PTA Treasurer Ms. Trudy Simmons came up with the initiative, having looked at the calendar and realized that the period between December 1, and the last day of term [December 16], contained exactly 12 school days:
"The 12 Days of Christmas initiative popped into my head because I was trying to come up with something different, and then I looked at the calendar – from the 1st of December to the last day of school on the 16th – I realized it was actually 12 school days; so, I said, 'this is perfect for the 12 days of Christmas!'
"So, once I realized that, I brainstormed with the PTA Executive for ideas for activities. We normally do the sweaters and the socks, but I wanted to add something different, so we were able to come up with the several fun activities, including exploring how other cultures celebrate Christmas, Christmas caroling, and making and presenting Christmas cards to seniors."
The rationale behind this whimsical program was deeply rooted in getting back to our strong sense of community during the Christmas season, and teaching our children how a school Christmas was when we were young; and even as recently as pre-COVID times. Ms. Simmons expounds:
"It was important this year that the students celebrated Christmas due to the restrictions that were in place for the past two years. Some of our students hadn't even experienced what Christmas was like in school because, if they were in P1 or P2, for example, they didn't know what it was like to experience Christmas in school at all – so it was important that our children got to experience that.
"I thought it was very important that the kids had an awesome experience this year as we're just coming out of this this COVID climate. We wanted them to experience what Christmas was like in school for us – I remember our days when Christmas was a big deal, so I wanted it to be a big deal for them as well; so that's why it was important for this initiative to go forward this year."
The effort to bring a full Bermuda school Christmas back to SDP has been a rousing success, with parents engaging in school activities, students reveling in the attention and joy that has engulfed the school, and the entire St. David's community showing up to make this a very special Christmas for the most important citizens of all!
"From the feedback, the parents are very excited – they were able to donate their time and their resources to the 12 days of Christmas. So, when we had our hot cocoa day, and the cookie decorating, we had parents that actually came in and assisted with these activities. We had a movie and popcorn day, and parents donated popcorn and baked goods – so the parents were excited!
"And then, of course, the kids are very excited that every day they would do something different: Monday was Christmas socks and Christmas hats, Tuesday was ugly Christmas sweaters, Wednesday they are presenting their Christmas card to the seniors, and Thursday is a special Christmas assembly.
"Of course, on Friday, the last day of school, and the 12th day of Christmas, will be the Christmas celebration, and, with that, classes are individually hosting Christmas parties – and then, of course, we're going to have Christmas gifts for each kid."
Finally, Ms. Simmons outlines the PTA's recognition of the amazing work the teachers at SDP have done this year, and throughout the pandemic, by having them send lists to Santa as well:
"When it came to the teachers, the teachers also had a wish list that they provided to us so that we could support anything that they needed. The teachers have given us a wish list, which includes software that can assist them with classroom learning; there's also science needs that they have, and dictionaries, headphones – things like that – we're looking to provide as well. So, the PTA just wanted to give, not just to the students, but to the teachers as well."
Principal, Mr. Gladstone Thompson has been delighted to see the community return to the school building:
"I appreciate the parents' leadership in the 12 days of Christmas initiative. It is always great to have parental involvement at the school level. The parents asked if it was feasible, and we gladly obliged. The parents have been on campus to follow through with assistance, and it really feels good to have such supportive parents at St. David's Primary."
With all that has happened to our small island home in the past few years, it's truly heartwarming to see such a conscientious effort to build our community back with the warmth and support that we've been forced to forgo in recent times.

Read More About