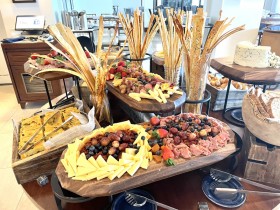 [Written by Dale Butler]
Bermuda's newest hotel, The St. Regis Bermuda Resort, situated near the historic Fort St. Catherine in St. George's Parish, opened in May 2021 and has been well received by locals and tourists. I have not vacationed there, but I've heard glowing reports about the beauty of the facility and venue. The golf course is in great shape, and I feel my game will continue to improve one shot at a time.
Golf has always been followed by lunch, and they have not disappointed me and the rest of the team. With an anniversary in December, I decided to break my normal pattern and give them a try. I was not disenchanted with their Night Brunch Menu, served family style. What a feast, with eye-catching and colorful presentations that were mouthwatering to the point where I missed many of the explanations because I just jumped in.
Food has become an art, and in too many instances dishes look appetizing but lack taste. The St. Regis plates pushed all of the right buttons and were complemented by excellent service and first class drinks. Ten dishes were served at my table. Here are just a few examples that made me say "Wow! Outstanding! More! Bravo!":
Tora Tora Sushi Bites
Savory Waffles
Mini Fish Tacos
Asian Orange Chicken Skewers
Grilled Lamb Chops, and more, accompanied by Caramelized Brussel Sprouts
Mashed Potatoes
Truffle Mac + Cheese and
Pulao Rice
I thought I was in heaven. With superb ambience, a DJ who had perfected his selections and the volume, outstanding knowledgeable and friendly service, the bartender with his Candy Cane Cosmo and Bermudian Eggnog Delight, and the chefs are worthy of praise. I left totally satisfied. The Night Brunch Menu isn't on the regular schedule. So, I suggest you check when making reservations, and if you have to wait, what can I say: you are likely going to see me there. The cost of the buffet was $85: definitely worth it.
For the first time in my life, I celebrated Christmas dinner in a restaurant. Christmas brunch has grown significantly as our population ages and we wish to give mom a break and allow granny, with her critical eyes, to have a treat. St. Regis did not disappoint: from the warm welcome at the door to the complimentary drink, and then the food that was well presented, with many options to cater to locals and international guests. Executive Chef Awanish Joshi did not ignore this menu:
Turkey and Stuffing, and even added Bermuda Fishcakes
Mediterranean Lamb
Basmati Rice
Mushroom Couscous with Caramelized Onions
Chicken Breast stuffed with Spinach
Mushroom Sauce with Toasted Almonds
Mixed Seafood Stew with Saffron Sauce, to name but a few, and
Sushi which has become a Bermuda favorite over the years.
My brunch plan started with soup and quickly moved to sushi and roasted vegetables and after five plates, sampling the dishes mentioned above, it was time for turkey, which was cooked to perfection with great stuffing and gravy. All dishes were delightfully presented and seasoned to perfection. Desserts were delicious, colorful and plentiful. After another feast I thought I might need a wheelchair to leave, but I jumped to my feet, reluctant to leave yet another first class meal.
General Manger Leslie Prea visited all tables, ensuring guests were happy. I got to meet the Executive Chef, who listened attentively to my brief feedback. Based on comments I had overheard during my six plate journey, I would say this was a great success, and St. Regis has very quickly taken its seat at the table, representing a beautiful beach resort with all of the ingredients that would make you return again and again. With all of this and more, I am not surprised that it has already won the Conde Nast 2022 Traveler Hot List Award.
In closing, I extend happy New Year greetings to all. Additionally, I give thanks to readers for their feedback and I look forward to more culinary experiences in Bermuda.
- Former educator, Minister of Government, author, researcher, playwright and festival expert, Dale Butler learned a great deal and appreciated having over 20 years' experience with the MEF Ltd. group of restaurants, and also writes book and music reviews for Bernews.

Read More About
Category: All, Business, Entertainment