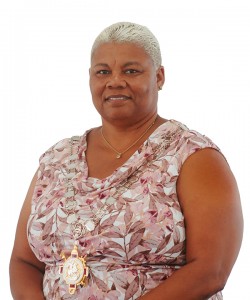 St George's Mayor Quinell Francis will lead the St. George's Preservation Authority [SGPA], it was announced today.
A spokesperson said, "We are pleased to announce a significant development in the leadership and preservation efforts within the Historic Towne of St. George. On May 11th, Quinell Francis, JP, was reelected to the position of Mayor of St. George. With this reappointment, a new and inspiring direction is set to be charted for the future of our Historic Towne.
"In a testament to her dedication and expertise, Mayor Francis has been entrusted by the governor to lead the special committee, the St. George's Preservation Authority [SGPA], focused on safeguarding the architectural heritage of the Towne of St. George as well as overseeing the aesthetic beauty of lands within the preservation zone.
"Mayor Francis, alongside the reformed committee, is determined to uphold the values that have made the Towne of St. George a cherished historical gem and internationally recognized as a UNESCO World Heritage Site.
"Joining the SGPA are Corporation of St. George's council members Elizabeth Christopher, Allen Van Putten, and Alfonso Harris, who bring a wealth of experience and commitment to the cause. These individuals will work alongside the highly respected members of the Bermuda National Trust, including Henry Ming, Linda Abend, and Dr. Charlotte Andrews.
"The SGPA's role is pivotal in maintaining the Historic Towne's character and preserving its architectural heritage. The committee plays a vital role in the consultation process for all planning applications related to projects within the preservation zone. This zone encompasses several remarkable historical buildings, including the esteemed Globe Hotel, Bridge House, and Tucker House, all of which have been rated as Grade 1 heritage structures.
"We are also pleased to inform the community that the SGPA's website has recently undergone updates to provide enhanced resources for residents, property owners, and stakeholders. The updated website now features a listing of buildings categorized as grade 1, grade 2, grade 3, and grade HM within St. George's. For those seeking guidance on making alterations to their buildings, the website offers a wealth of information, including frequently asked questions (FAQs) and insights into the rationale behind the grading of various structures.
"Mayor Quinell Francis, JP, and the newly appointed council members are committed to fostering a future where the historical significance and unique charm of the Historic Towne are carefully preserved for generations to come. We invite everyone to explore the updated SGPA website and engage in this important initiative that stands as a testament to our shared commitment to the Historic Towne's architectural heritage."
Read More About