Local video game company Bermuda Island Games announced the 2nd Annual Junior Video Game Bootcamp, in partnership with dCyfa Communications.
Founder Adrian Lodge said, "After the success of the first event, we had no choice but to do it again and do it bigger. Last year we were oversubscribed and could only accommodate up to 30 students, this year we've switched locations to Berkeley which can hold up to 40, and we're already full!"
The spokesperson said, "The Junior Video Game Bootcamp focuses on coding and video game design using popular platforms Scratch, and Roblox Studio, to allow kids to create their own games. The all-day event is scheduled for the mid-term break, Saturday October 21st. Thanks to our sponsors Barritt's Ltd, BEDC, the Government of Bermuda Economic Development Department, and Rize Technologies we are able to put the event on for a nominal amount of $20/ticket.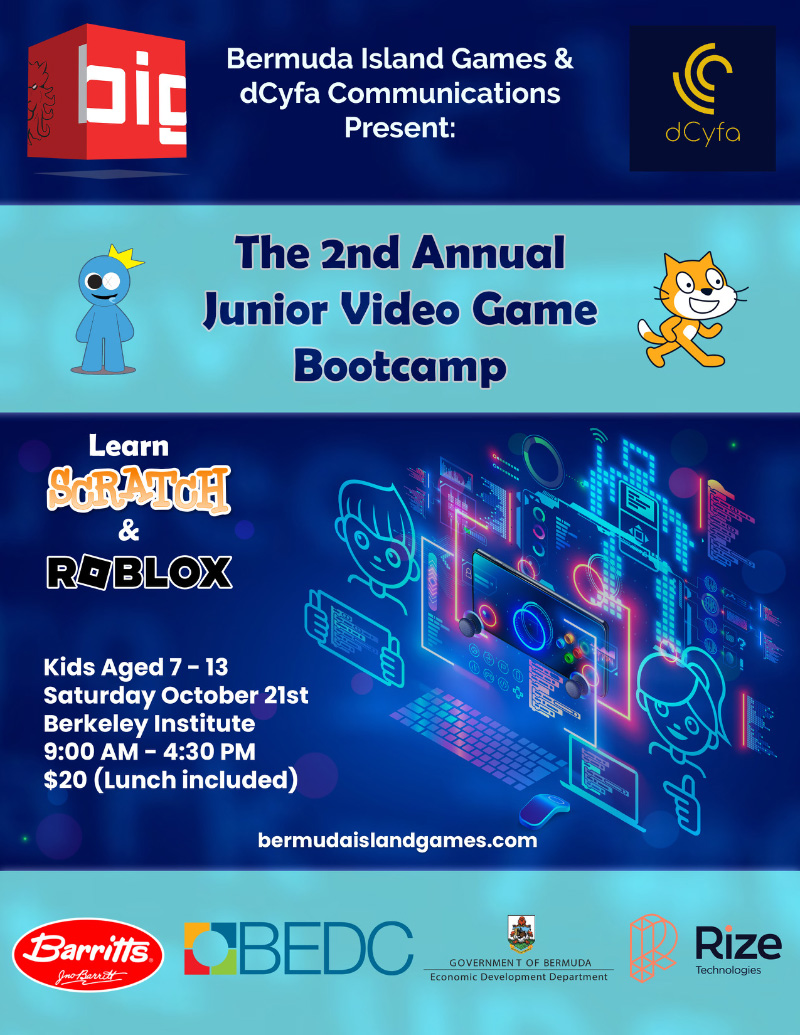 Mr Lodge added, "One of my favorite quotes is that 'sharing knowledge is a way to achieve immortality'. Many people give back by donating to charity or walking from point A to point B, but I have always preferred helping those eager to learn, and seeing what they can create using the tools provided."
The Minister of Economy and Labour, Jason Hayward also championed the event by stating, "Through the Economic Development Department, the Government of Bermuda is pleased to collaborate once more with Bermuda Island Games.
"Its work in nurturing the future generation of technologists and game designers in Bermuda align with Bermuda's Economic Development Strategy, which prioritises the empowerment and professional development of its people. The strategy emphasises equipping Bermuda's workforce with the essential skills to stay competitive, and we recognise that this begins with the students of Bermuda."
To learn more about the bootcamp, and various other events being put on by Bermuda Island Games you can visit the website www.bermudaislandgames.com.

Read More About
Category: All, Business, technology