[Written by Stephen Wright]
After 16 years working as cabin crew for British Airways, Keivin Richardson-Crane Pimentel has "clipped his wings" and moved into teaching, sharing his knowledge and experiences as a lecturer at Richmond upon Thames College in London.
The Bermudian is not stepping entirely into the unknown.
He will still work in aviation to a degree as a travel and tourism lecturer, a position he started on September 8 at the Twickenham-based college.
"It's been a big change," Mr Pimentel told Bernews. "I've gone from living out of a suitcase and being exposed to different cultures to switching to a 9-to-5 [job]. It's a good change, though."
The 38-year-old enjoyed a decorated and distinguished career at British Airways.
He joined the airline as a part-time customer service agent in 2005 before pursuing his dream of becoming cabin crew and joining British Mediterranean in 2007. He then transferred to British Airways in 2012 and became their first Bermudian inflight manager.
More recently, Mr Pimentel was part of British Airways' first-ever flight with an all-Black crew.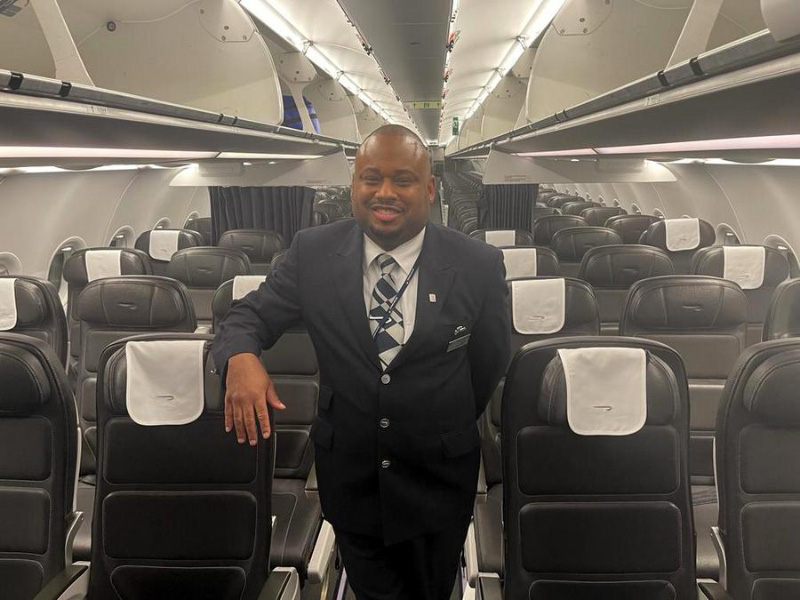 Shortly after that Barbados flight, Mr Pimentel was invited by Richmond upon Thames College to speak to their students about his career.
Although work commitments prevented him from doing so, he remained in contact with their teaching staff.
"In the summer, I saw a job advertised at the college for a travel and tourism lecturer," he said. "I was thinking about retiring from British Airways because I'd done 16 years.
"I was happy to develop in another role within the aviation industry; however, I always wanted to teach.
"I reached out and asked whether I had the right qualifications to apply, which I did, and did so, and was successful in obtaining an interview. Thankfully, I got the job."
Having spent lockdown during the Covid-19 pandemic gaining new skills through various diplomas and courses, Mr Pimentel has prepared well for his career change.
"I've wanted to pursue this career for a while, and that's why I studied during Covid," said Mr Pimentel, who moved to London 16 years ago.
"I've enjoyed relating to young adults and inspiring them. All the students have different strengths, and it's been fun sharing my knowledge.
"When people think of travel and tourism, they only think of cabin crew. They don't think of the engineers, the security guards, the caterers, the reservation agents, the tourism reps. That's my job to widen the range of what people think travel and tourism is all about."
Read More About