[Part of Women's History Month Series]
With Bermudians only a micro-fraction of the more than 7 billion people in the world and female pilots making up less than 7% of all airline pilots worldwide, Bermudian pilot Emily Siggins holds a unique place in the aviation world.
She wanted to be a pilot since she was only 4 years old and after undergoing extensive training made her dream come true in 2009, and Ms Siggins currently works for Cape Air which has four main regions of flying – Northeast, Caribbean, Midwest and Montana.
"I am currently based in the Midwest and I am living in Marion, Illinois flying predominately into St. Louis and our other stations out here such as Fort Leonardwood MO, Kirksville MO, Owensboro KY and Decatur IL," she told Bernews.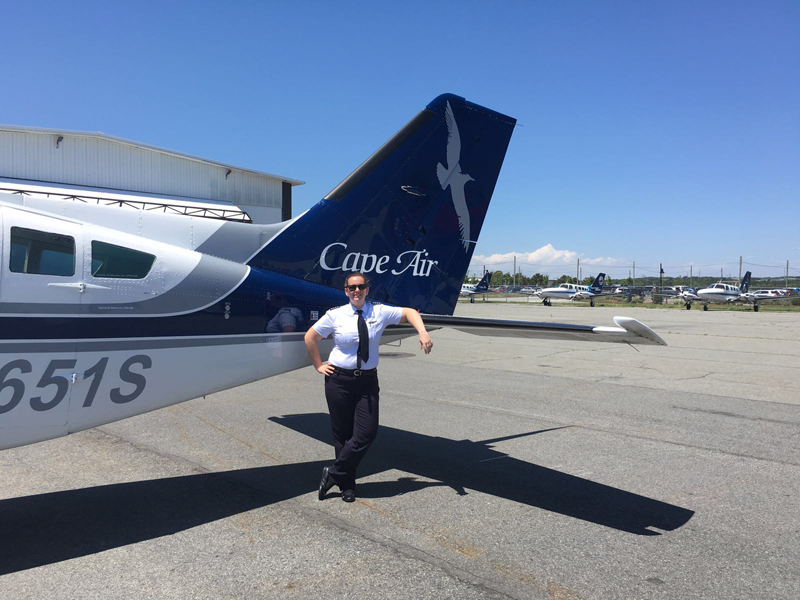 She is currently flying a Cessna 402C which is a light multi engine propeller plane, however she is licensed to fly most single and multi engine light aircraft, with the Bermudian pilot explaining that typically, the heavier the aircraft gets the more training required to fly them.
In addition to being a certified Airline Transport Pilot, Ms Siggins is also a Certified Flight Instructor, so is able to teach Private, Commercial, and Instrument courses in both single and multi engine aircraft.
Various aviation studies and websites point out that only 4 – 7% of pilots are female, and Ms Siggins says she "likes to refer to female pilots as the unicorns of the aviation industry."
"Being in a male dominated industry doesn't bother me at all because I'm in my dream career," she said, "I've experienced everything from passengers being excited to see a female pilot to passengers questioning their safety with a 'woman driver."
When asked is she aware of any other female Bermudian pilots, Ms Siggins said, "I know of at least one other female Bermudian pilot but she doesn't fly commercially like I do. If there are other female Bermudian pilots who fly for an airline, I am not aware but I would love to find out!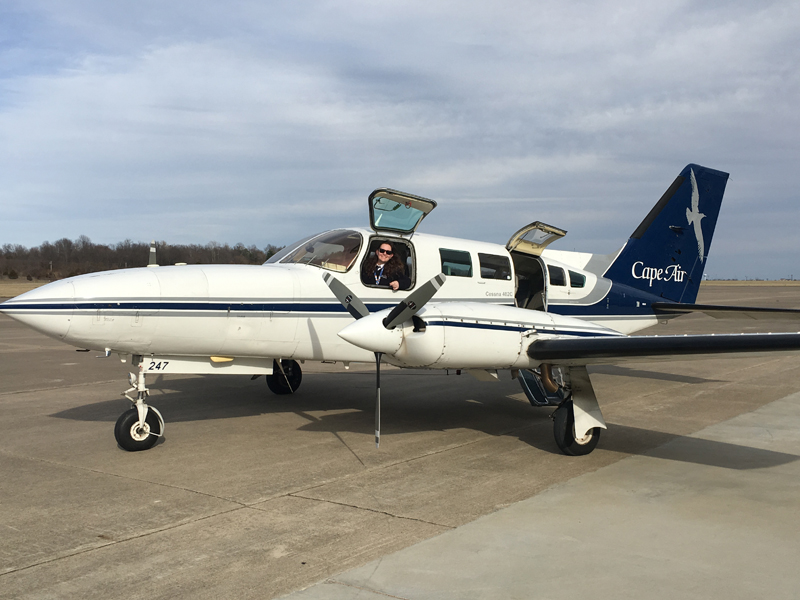 When asked if she talks with Bermudian pilots, Ms Siggins told Bernews, "I do! There are more Bermudian pilots out there than people would actually think of.
"We even have a Facebook group going called 'Bermudian Pilots' to keep in touch with each other about what/where we're flying.
"We even have members in there who are interested in aviation in hopes of encouraging them to pursue a career flying or otherwise in the industry. I have run into a couple of Bermudian pilots while flying in St. Louis. The flights we were operating actually took off one after each other that day."
"Aviation is a wonderful career," she added. "I encourage and hope more people explore it and see the endless possibilities, as cheesy as that sounds.
"The opportunities and benefits are absolutely incredible, especially for someone who was born and raised on a small island in the Mid Atlantic Ocean. You are able to travel all over the world!
"One of the most amazing things I've been able to do as a pilot was land at the shuttle landing facility at NASA," she said.
"Typically aircraft [except military] are not allowed to land here unless they receive prior permission and luckily my university was able to get this for a summer program they had and it was an incredible experience."
"I have always wanted to fly and become a pilot, so being able to do what I love is an absolute dream come true," Ms Siggins said, "Next on the bucket list is to fly into Bermuda for a commercial airline!"
In celebration of Women's History Month and International Women's Day, Bernews is featuring a series of profiles of exceptional Bermudian women throughout the month of March, you can click here to view the ones published so far, and look for additional features throughout the month.

Read More About