[Written by Stephen Wright]
Naquita Robinson, the Bermuda women's national team coach, has hailed her team's defensive unit as they prepare to face Saint Vincent and the Grenadines in the Concacaf W Gold Cup qualifiers tomorrow [September 26].
Robinson's side kept another clean sheet in a 2-0 win at home to the Dominican Republic in their qualifying opener on Friday.
It was their seventh successive clean sheet, five of which came at the NatWest International Island Games in Guernsey last summer, where the team won the gold medal.
In fact, Bermuda have not conceded since losing 1-0 away to the Dominican Republic in the Concacaf Women's World Cup qualifiers in April 2022.
That is more than 630 minutes without leaking a goal.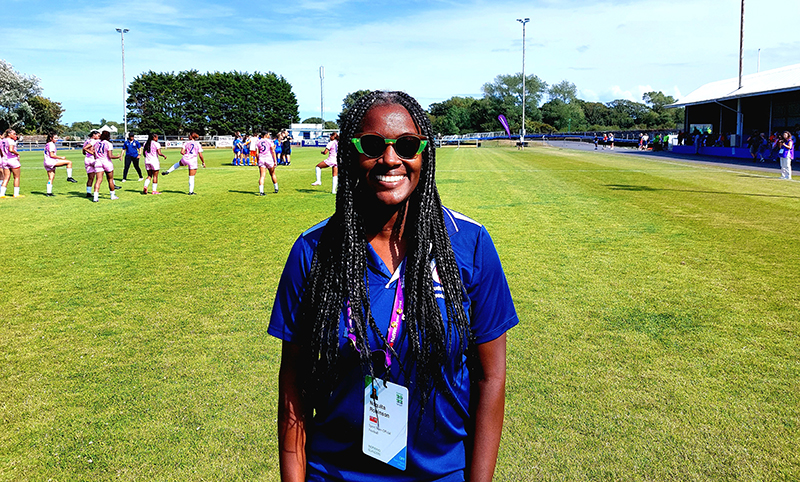 "Our defence is solid, works hard, and comes to fight," Robinson told Bernews.
"My Grenada defence is not the same as my Island Games defence, and my Island Games defence is not the same as my Dominican Republic defence.
"Knowing anyone can come in and we can keep it tight is fantastic.
"We've only conceded five goals in our last ten matches [four against Jamaica and one against the Dominican Republic]. That's amazing."
Bermuda have travelled to Saint Vincent for their second group C of League B qualifier, with Robinson challenging her team to claim their eighth successive victory.
"I couldn't have asked for more from my players [against the Dominican Republic]," she said. "They executed the game plan perfectly.
"The first game is always the most important. It sets the tempo. I was elated with the win.
"We brought the same energy and commitment to the cause that we had at the Island Games."
Although Bermuda are missing LeiLanni Nesbeth [hip injury] and Nia Christopher and Jaden Masters, who scored twice against the Dominican Republic, because of college commitments, Robinson believes there is more than enough quality in the squad to get the job done.
"We don't have conversations about who will be the toughest opponents," she added. "Our expectations will be the same. I'm not concerned about what Saint Vincent does. I want us to dictate the game.
"We're missing Jaden, LeiLanni and Nia, but I have total confidence in the other players.
"I've got Eva Frazzoni, Aaliyah Nolan, Ashley Tutas, Symira Lowe-Darrell, Khyla Brangman, Trinae Edwards, Jya Ratteray-Smith, Victoria Davis and Zakhari Turner."

Read More About