[Written by Stephen Wright]
Bermudian motorcycle racer Aeziah Divine is determined to make the most of his remaining Spanish MIR Racing Finetwork Cup races this season.
Divine returned to action for the fifth leg of the series at the Circuito Fortuna Motor Sport in Murcia last month after recovering from a hand injury, which ruled him out of three races.
The 13-year-old is one of 29 racers from more than ten countries competing in the championship, a platform for juniors to progress towards the MotoGP.
His next outing will be in Sanlúcar, Càdiz, on October 21 and 22.
"The series has been going well," Divine told Bernews. "I've been gaining a lot of experience and increasing my race craft from this championship.
"I'm happy and proud to be able to represent Bermuda because there are many different countries in the championship but no Caribbean or Atlantic islands.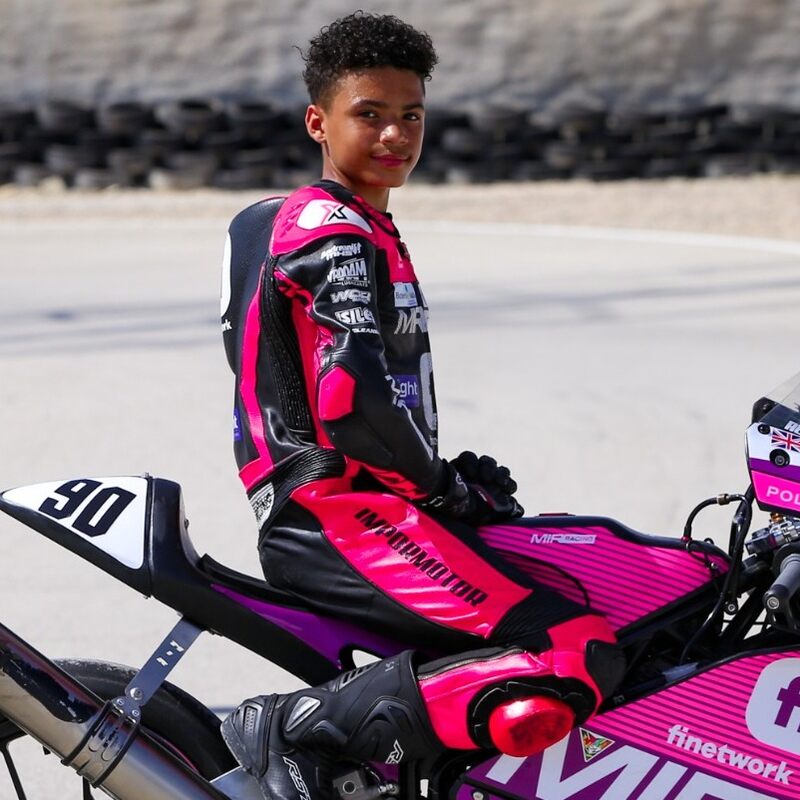 "All riders display their country flags on their front fenders, so I frequently get asked about the Bermuda flag."
Divine, who competes on a 17-inch wheel 250cc 4-stroke motorcycle, believes he has become a more well-rounded rider testing himself against some of the top youngsters in the world.
"I believe this championship can help prepare riders for the higher-level Talent Cup programmes," he said.
"It's a well-organised championship with many riders around your pace, so you are never riding alone.
"There were 29 riders in my last race. Many have won the FIM MiniGP and have represented their countries at the world finals. Other riders have come up from their national championships.
"Most of these riders plan to follow the pathway to the junior world championships [the International Motorcycle Federation FIM JuniorGP], so it's great to be on track with them at this level."
Next year, Divine will look to step up to a professional environment as he prepares for the FIM JuniorGP – a Moto3 World Championship feeder.
"My 2024 plans are to be finalised, but we are exploring opportunities for me to compete in the PreMoto3 class in the Spanish Superbike Championship or the British Talent Cup in the Bennetts British Superbike Championship," said Divine, who competed in the FAB-Racing Minibike Championship in the MK50 class last season.
"Both routes would be the ideal next step in preparing me for the FIM JuniorGP.
"Next year will be my first experience racing with a professional and established team with data, rider coaching, mechanics and sports psychologists."
Butterfield and Vallis, Aries Sports Centre and AceBoy Sports Group are Divine's sponsors. He has also thanked Bermuda Custom Mechanical, John Carreiro Sr, Red Laser and All Rise for their early support.

Read More About