Last but definitely not least, students at the Clearwater Middle School went back to school this morning [Sept 10]. While the rest of the island's school students started back earlier this week, Clearwater's opening was delayed by two days due to maintenance issues. Despite that, students and teachers Clearwater enthusiastically arrived at the East End school this morning ready to start the new school year.
The students are pictured below holding colourful school bags donated by VMware, a software company who was on island for a conference at Fairmont Southampton earlier in the year. The company donated to many of the islands schools stuffed with a USB drive, pens, pencils, rulers, dictionary, geometry set, agendas and a note pad. They also donated 12 Dell computers and 2 21′ iMacs to Clearwater Middle School.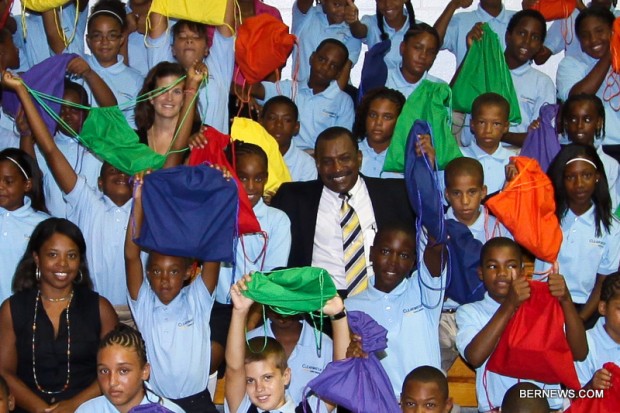 Students converged upon the school this morning, some of the M1 students a little quiet as they faced the day at a new school, while many of the older students were thrilled to see all their friends after the long summer break. Teachers, Principal Carlos Symonds and Deputy Principal Dr Derek Tully all bustled about as the students arrived, also looking pleased to be back.
Click to enlarge images:

Below Principal Carlos Symonds addresses the student body, starting off with prayer and welcoming the students and teachers back:
[Photos by Only the Best]
Related Posts