The Bermuda Society of Arts will hold their Fall Show, with the public opening being held tonight (Sept 3) from 6pm -8pm at the City Hall Arts Centre, with free admission. Artists works being displayed include Alex Allardyce, Dany Pen, Ed Przelomski, Jackie Stevenson and Sally Simons. The exhibition, sponsored by Trott and Duncan, Ignition, Freisenbruch Meyer Group, and Patterson Partners, continues to September 22nd.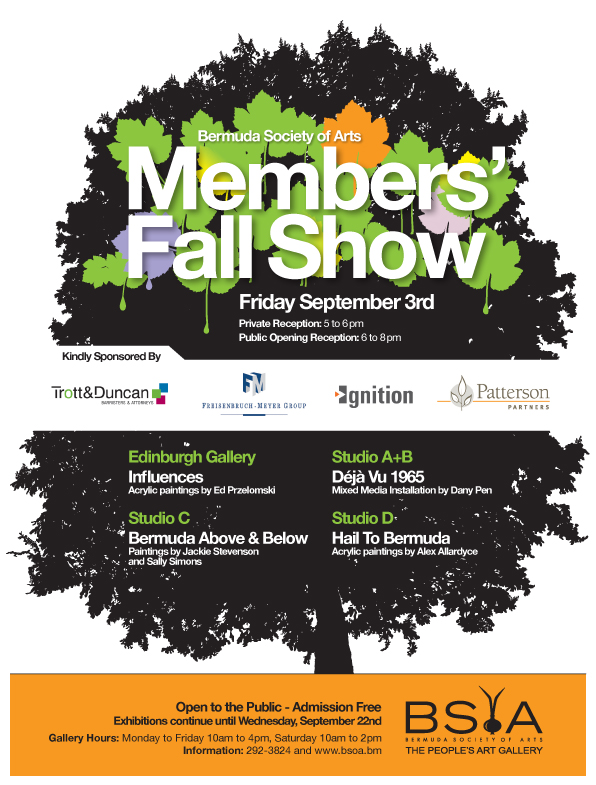 Alex Allardyce
Born in Scotland, Alex Allardyce has been painting from a young age and studied at Edinburgh College of Art and Glasgow School of Art, winning the Rowand Anderson Medal and the Keppie Memorial Travelling Scholarship on graduation. Currently based in London, where he works as an architect, writer, painter and graphic artist, he is a frequent visitor to Bermuda. Working in acrylic, his favourite medium, he is inspired by the light and colours of the Islands and has created a series of paintings in homage to Bermuda.
Dany Pen
Dany Pen is an Installation Artist born and raised in Toronto, Canada. She received her Bachelor's of Fine Art Degree from OCAD University in the Sculpture and Installation Program. As a mix-media artist, using a combination of digital media, photography and organic materials, her works often explores the connection between memory and history and our relationship to it as individuals and groups. She has exhibited in numerous Galleries in Toronto from Board of Directors, Xpace, Switch Contemporary, The Canadian National Exhibition, Toronto's CONTACT Photography festival and Toronto's Fashion Alternative (F.A.T). She received the Sculpture and Installation Faculty Chair award upon graduating from OCAD University, the Award of Recognition from OCAD and was the 2006 winner for the Art Gallery of Ontario's Shadow Ball Mask Competition.
Ed Przelomski
Ed Przelomski is an artist who has been working in Wilmington, Delaware, USA, for the past 18 years, and has visited Bermuda regularly for 15 years. In addition to his original art, Ed is the Art Director for Planning Factory International, a global special events planning and production firm. His responsibilities with the firm give him diverse opportunities to create original designs incorporating custom art, build 3-dimensional structures and to paint murals.
Read More About