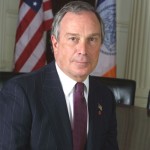 The managers of billionaire New York Mayor Michael Bloomberg's charitable foundation transferred more than $75 million overseas last year — including $15 million to Bermuda.
Mr. Bloomberg, a part-time Bermuda resident who owns a home in Tucker's Town, has been accused of paying lip-service to his own fiscal policies by funneling money to off-shore accounts whie New York and the US struggle to recover from the recession.
"The practice is not uncommon or illegal, but it clashes with Bloomberg's oft-repeated message that New York City and the nation depend on tax revenue to keep government running," said an Associated Press report after the the Bloomberg Family Foundation's 2009 tax forms were filed on Monday.
The Mayor of New York since 2002, Mr. Bloomberg earned his fortune from the financial news and information services media company that bears his name. His net worth is estimated at $18 billion by Forbes Magazine, and reports say he gave away $180 million last year to various charities.
Mr. Bloomberg's longstanding Bermuda ties were the subject of a media attention in New York earlier this year.
Read More About