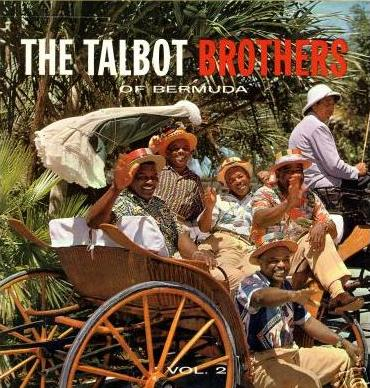 A leading scholar of popular music has been singing the praises of the legendary Bermuda vocal group the Talbot Brothers.
Described as "one of the foremost authorities on early rhythm & blues and vocal group music" by the Rock & Roll Hall of Fame & Museum in Cleveland, Ohio, American writer and lecturer Dr. Charlie Horner recently visited Bermuda on vacation — but soon found his professional instincts kicking in when he was exposed to the Talbot Brothers' harmonies.
The music historian, former radio personality and renowned collector is a particular connoisseur of  vocal harmony and found himself enchanted by both the Talbot Brothers' sound and their story while in Bermuda.
"The Talbot Brothers story began in a one-room cottage in Tucker's Town," Dr. Horner said recently on his blog. "Tucker's Town is now the playground for multimillionaires but before the 1920′s it was a mostly black community of small farmers and fishers.
"From these humble beginnings, came a family vocal and instrumental group that would become known worldwide.  Brothers Archie, Austin and Roy, along with cousin Ernest Stovell formed a quartet to sing in church.  One neighbourhood record player allowed the Talbots to listen to records by American artists, one of their favorites being the Mills Brothers.  It would be the 1940s before they had access to radio."
"The group started performing at local events and gaining in popularity.  Needing a bass fiddle, Roy built his own from a packing case and fishing line.  It soon became part of the group's act.  As tourism grew in Bermuda during the 1940s so did the Talbot Brothers' fame.  Brother Ross (Blackie) Talbot replaced Ernest Stovell and another brother, Dick (Bryan) Talbot joined the group, as did cousin Cromwell Manders.  The Talbot Brothers were now a sextet. In January, 1949, the Talbot Brothers decided to make some recordings.  The recordings were done in Bermuda and were produced completely by the Talbot Brothers on their own Bermuda label.  The original 78 RPM records were only sold in Bermuda, though many were bought by tourists who brought the back to the U.S., Canada and Great Britain as souvenirs.  Later the sides would be reissued in the US and Canada on labels like Audio Fidelity."
Two of the songs issued on the three-record 78 RPM album should be of strong interest to international vocal group collectors, said Dr. Horner.
He said the classic "Bermuda Buggy Ride" [listen to sample] sounds a lot like something from the American jive group Cats & A Fiddle. And the Talbots' version of the 1945 Nat Cole Trio song "But She's My Buddy's Chick" is "a great interpretation of the song, also in fine harmony".  Also of particular interest to harmony fans, he said, is "Hip Hip Hooray."
The Talbot Brothers went on to worldwide acclaim, appearing on Ed Sullivan's TV show and even performing at the London Palladium, he said.  "In Bermuda they are considered national heroes, even deserving of their own postage stamp. And Dr. Horner said while many of the Talbot Brothers recordings are categorised as calypso, many of their songs should be heard with an ear to vocal harmony –"Bermuda's Still Paradise" and "Sunset In Bermuda" in particular featuring some close, almost Four Freshmen-style harmonising.
"Unfortunately, all of the Talbot Brothers are gone now," he said.  "While in Bermuda, we were pleased to see many of the store selling the book, 'Bermuda's Famous Talbot Brothers' by Elizabeth Jones.  This 59-page coffee table book traces the history of the Talbot Brothers, including scores of photos from different stages of the group's career.  Also included with the book are a fabulous 30-minute narrated DVD with footage of the Talbot Brothers appearance on Ed Sullivan's TV show and two CDs of the groups better known recordings."
Read More About
Category: All, Entertainment, History, Music