Former Beatle John Lennon wasn't the only pop star who reconnected with his creative muse while in Bermuda.
The cult singer/songwriter Jonathan Richman — credited with writing one of the first proto-punk songs, "Roadrunner", and who later enjoyed a global hit with "Egyptian Reggae" – celebrated the transformative effects of his time on the island the with the 1985 song "Down In Bermuda."
Taking its title from the first line of the Bell Sisters' '50s hit "Bermuda", Richman's whimsical song is based on the time he and the first iteration of his band the Modern Lovers spent performing at the Inverurie Hotel on Harbour Road [now the site of a condominium development and The Wharf Executive Suites boutique hotel].
"Down In Bermuda" Appeared On Jonathan Richman's "Rockin' & Romance" Album  
Signed to appear as the house band during College Weeks in 1973, the Boston-based Modern Lovers were then a rough-around-the-edges, hard-driving rock band who modelled themselves after the Velvet Underground.
But appearing nightly alongside such local acts as the Bermuda Strollers, the ESSO Steel Band and the Fiery Limbo Dancers introduced Richman to the mellower cadences and good-humoured lyrics of calypso for the first time — and this had a revolutionary impact on his songwriting.
In a monologue Richman has now incorporated into his concert performances, he specifically cites the influence the Bermuda Strollers had on his future work — saying, the band made him realise just how "stiff" his own early rock compositions were by way of comparison.
After returning to the US from Bermuda, the first incarnation of the Modern Lovers broke up as Jonathan Richman decided to pursue calypso-influenced storytelling in his new songs. Other notable members of the original line-up who had appeared with him in Bermuda included keyboard player Jerry Harrison and drummer David Robinson, who later joined Talking Heads and The Cars, respectively.
Ted Ming and the Bermuda Strollers In Their 1970s Heydey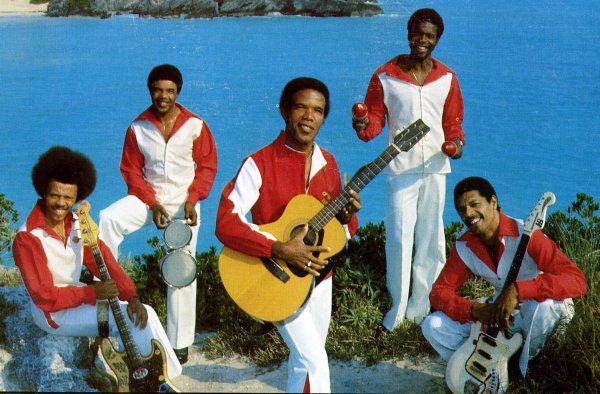 The band's debut album — although recorded in 1972 and 1973 — was not released until 1976, two years after Richman and his former bandmates had gone their separate ways.
A 2003 re-issue of the album — which spawned the hit "Roadrunner" and is now considered one of the most influential releases in rock and roll history — included some bonus tracks the band recorded at the ZBM studios while the Modern Lovers were in Bermuda.
Richman has continued on an idiosyncratic career path since the 1970s, eschewing mainstream rock and roll success for his own brand of playfully eccentric, calypso-inspired material.
He has revived the name the Modern Lovers for a variety of backing bands he has worked with over the years.
Jonathan Richman has enjoyed a resurgence of popularity recently  because of his contributions to Farrelly Brothers comedies, beginning as the guitar-strumming narrator of  the 1998 Ben  Stiller-Cameron Diaz  blockbuster "There's Something About Mary."
Jonathan Richman Bermuda Monologue
Read More About
Category: All, Entertainment, History, Music