Superstar Michael Douglas has much to be thankful for this Thanksgiving — particularly his improving health. Mr. Douglas and wife Catherine Zeta Jones today released a photograph of them and children Carys, seven, and Dylan, 10, visiting Disneyworld yesterday [Nov. 24] where they celebrated the recent completion of his treatment for Stage IV throat cancer.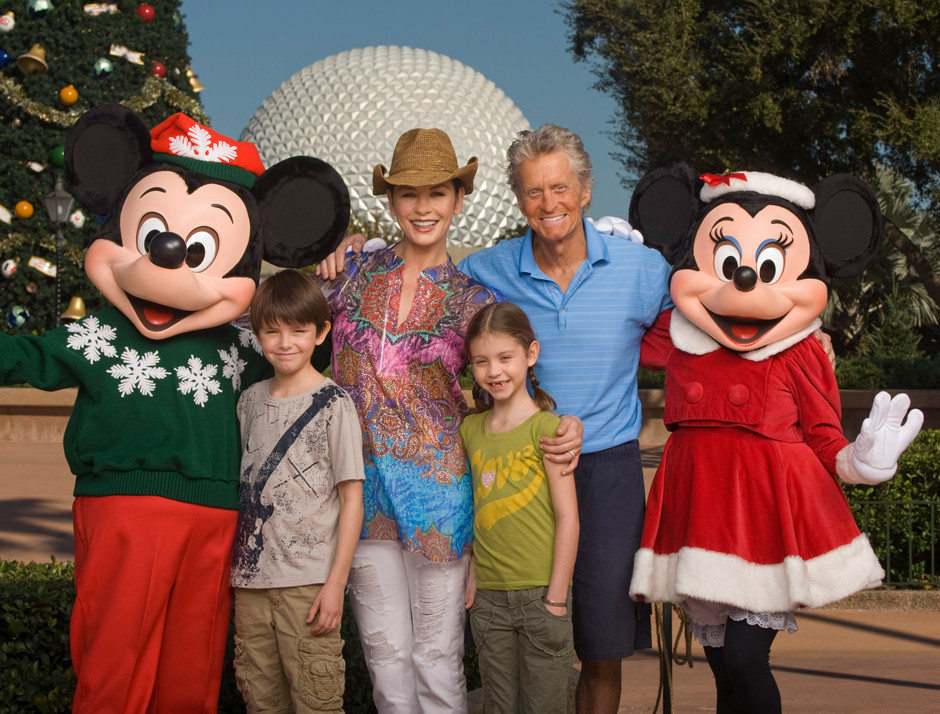 The celebrity couple lived in Bermuda between 2001 and 2009, raising their two children out of the public eye and enjoying the privacy Bermuda afforded them. The son of Hollywood legend Kirk Douglas and his first wife, the Bermudian actress Diana Douglas, Mr. Douglas once told "Architectural Digest" the island had been a sanctuary and home-away-from-home for him throughout his life – "My mother's Bermudian. Her family's been on the island since 1610, and I've been going all my life. In fact, I celebrated my first birthday here. There's real solace in returning to this tiny island where I have so many relatives, probably 70, in one place. To me, Bermuda is a real family spot".
The family moved from Bermuda to New York City last year so son Dylan, who has special needs, could receive the treatment he required. They still own a home in Warwick and visit regularly.
Two-time Oscar winner Mr. Douglas, 65, went public with his cancer diagnosis in August, saying he would be undergoing eight weeks of intense chemotherapy and radiation treatments. On August 31 he appeared on "The Late Show With David Letterman and discussed his cancer, his generally favourable prognosis – and the fact he had sent his wife and children to Bermuda just when it appeared Hurricane Igor was bearing down on the island.
In October, former Premier Ewart Brown urged Bermudian well-wishers to extend their best wishes to the ailing actor/producer. The then-Premier remarked: "Michael Douglas has entertained millions of people throughout the world but his contribution to Bermuda has been immeasurable. We encourage everyone to sign the get well book at the Cabinet Office as a national expression of gratitude and a tangible sign that our hearts and prayers are with him and his family as they go through this trying time."
Mr. Douglas recently said doctors were pleased with his positive response to the cancer treatments:  "I'll beat this. The tumour is shrinking," he said. "The odds are good. I'm not dealing with mortality issues until I hear otherwise."
Read More About
Category: All, Entertainment, Films/Movies