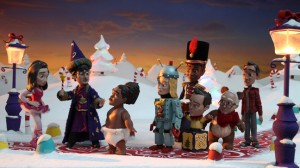 It's the most wonderful time of the year for fans of Bermudian animation legend Arthur Rankin Jr. Not only are the cherished Christmas specials he produced in collaboration with American partner Jules Bass all airing on network and cable TV all month – but the latest episode of NBC"s hit comedy " Community" is an animated seasonal tribute to Rankin-Bass productions.
All of the show's cast are portrayed in Rankin-Bass puppet form (see photo at left) in the episode when one of the characters wants to discover the meaning of Christmas. Series creator Dan Harmon told "Entertainment Weekly" that making an animated episode had been on his mind for a while and a Rankin-Bass homage seemed to be ideal for "Community's" Christmas episode. The show airs tonight [Dec 9] at 9 pm Bermuda time.
The series, starring Joel McHale, Chevy Chase and Donald Glover, is set at a Colorado community college and has becomes renowned for its pop culture references and parodies of popular movie and TV genres. Since it premiered last fall, the half-hour comedy has referenced "Animal House", "Sixteen Candles" and "Predator", just to name a few
"We rewatched all the Rankin/Bass specials. It's interesting to notice all these things that got magnified, and other things that got washed away in the tides of time but you pull these images and sounds into your heart as a child, and they stay there," Harmon told the magazine.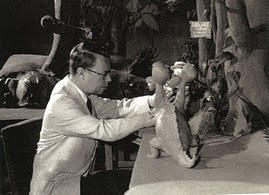 Harrington Sound resident Mr. Rankin (pictured at left working on one of his show) cornered TV's holiday market with an entire calendar's-worth of seasonal specials in the 1960s and '70s — including "Mad Monster Party (Halloween), "A Mouse On The Mayflower" (Thanksgiving) and "Here Comes Peter Cottontail" (Easter).
But the Christmas shows, including "Rudolph the Red-Nosed Reindeer," "The Year Without a Santa Claus" and "The Little Drummer Boy", have proved to be as enduring as they are endearing.
With their catchy musical numbers and whimsical stop-motion animation, these programmes have evolved into beloved Christmas traditions in North America – as well as Bermuda.
The Rankin/Bass holiday specials generally follow the misadventures of a few eccentric characters who, after encountering a series of bizarre circumstances, have to save Christmas. They've used this premise to explain the origins of Santa Claus and other Christmas customs in "The First Christmas" and they used this quirky premise to expand upon the original lyrics of a legendary song in "Rudolph the Red-Nosed Reindeer".
"Rudolph", the first Rankin-Bass holiday special produced in 1964, remains the highest-rated, longest-running show its kind in the history of US television. Other Christmas-themed shows include "Frosty The Snowman" (1969), the 1970 special "Santa Claus Is Comin To Town" (narrated by Fred Astaire and featuring Mickey Rooney as the voice of Santa) and "The Year Without A Santa Claus", which featured supporting characters Snow Miser and Heat Miser. The Miser Brothers have attracted a loyal cult following – there are entire websites devoted to them and Arnold Schwarzenegger (as the villain Mr. Freeze) led his minions in a sing-along to their theme song in the 1997 film "Batman and Robin".
Throughout the 1970s, Rankin/Bass created animated sequels to its classic specials, including  "Rudolph and Frosty's Christmas in July" in 1979. Among Rankin-Bass's other original specials was 1975′s "The Story of the First Christmas Snow" which told the story of a blind shepherd boy who longs to experience Christmas.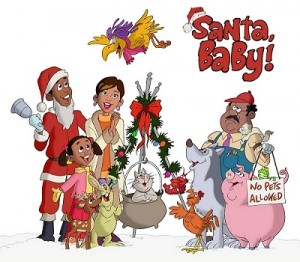 Their final stop-motion-style Christmas story was "The Life And Adventures of Santa Cluas", taken from a story by "Wizard of Oz" author L. Frank Baum and released in 1985. But Rankin and Bass teamed with Coca-Cola in 2001 for a final holiday television special, "Santa Baby!" Based on the popular Christmas song of that name, the one-hour cartoon featured  the voices of Gregory Hines, Patti LaBelle, Vanessa Williams and Eartha Kitt. In a nod to Mr. Rankin's Bermuda home, the story — although set in an American city — unfolded in a neighbourhood on Fractious Street. 
New York's Museum of Television & Radio in Manhattan honoured the Bermudian producer, writer and director in 2003. The museum ran a number of Mr. Rankin's animated television specials at an event called "Have A Holly Jolly Christmas" and Mr. Rankin was on hand to  discuss his early work with stop-motion animation and his relationship with partner and friend Jules Bass.
"The New York Times" has called the animated Christmas classics from Rankin-Bass "the best ever made". And the late actor-singer Burl Ives, who narrated "Rudolph", said his performance in that evergreen special became the best known of his entire career.
"When I lent my voice to Sam the Snowman back in 1964, I had no idea that special would air on network television every year since then," he said in the introduction to a book by Rankin-Bass historian Rick Goldschmidt. "When I tour the country, I am recognosed as Sam by everyone from airline down to the smallest of children. The popularity of that special overshadows my Oscar peformance in 'The Big Country' and my performance as Big Daddy in 'Cat On A Hot Tin Roof' put together.
"I loved that special … The role of Sam came natural to me as I love to sing to children because they love good songs and they are interested in some of the same things I am, like frogs, flies and bees. I worked on several projects with Rankin-Bass over the years, including the live action film 'The Bermuda Depths', and enjoyed making them all. But Rudolph is still the most popular of all. It really has gone down in history."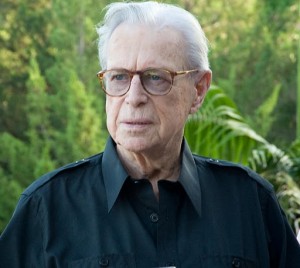 Mr. Goldschmidt was once asked how a 46-year-old stop-motion special starring a red-nosed reindeer, a cowboy riding an ostrich and a tree-topping abominable snowman continue to cast such a long shadow on the TV competition year after year? .
"I think it's style of the way it was made, the cast of voices, the songs, and just the feeling it gives you when you watch it," he said. "Magic is a word I would use. They found holiday magic when they created 'Rudolph' … Rankin-Bass are like Walt Disney and Hanna Barbara, a handful of animators who have done so much for the medium."
Mr. Goldschmidt, more than once described as not so much the keeper of the Rankin-Bass flame but the keeper of the glowing nose, went on to say "Rudolph The Red-Nosed Reindeer" was an undisputed triumph for the Bermudian filmmaker and his American collaborator.
"When I asked Arthur Rankin Jr. (pictured above at his Bermuda home) which project he thought was his greatest achievement, he replied 'I don't have a particular film or show but I guess if we have to put an epitaph on Rankin-Bass productions, it has to be  'Rudolph'," said the American TV historian who has written two books on the animation team.
[Photographs courtesy of Rick Goldschmidt]
Read More About
Category: All, Entertainment, Films/Movies