She jokes she waited until she was 65 to embark on a legal career so her hair colour would finally match the horsehair barrister's wig she will wear when she is admitted to the Bermuda Bar this afternoon [Oct 15]. But the self-mocking humour is deceptive. For Olga Rankin, her Call To The Bar at Supreme Court is actually an auspicious milestone in a life she views as an ongoing journey of self-discovery.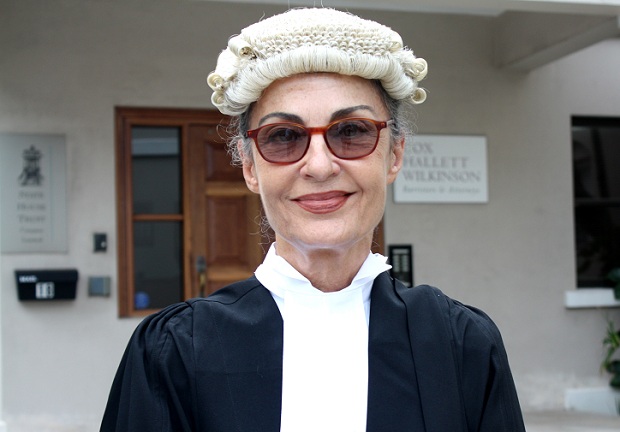 After graduating from Kent University with a first-class law degree in 2007, she returned to Bermuda and began her pupilage at Hamilton law firm Cox Hallett Wilkinson last year. Mrs. Rankin has spent the past 12 months engaged in the continuous professional development required before she could formally qualify as a lawyer.
The Greek-born wife of Bermudian animation and broadcasting legend Arthur Rankin Jr., for her to be starting a new profession at a time when her peers are reaching retirement age might seem both audacious and highly unconventional. But it's actually entirely in keeping with this former actor's lifelong habit of casting herself in new, sometimes unexpected off-screen roles. Unlike the characters in the classical tragedies she studied and performed in during her tutelage at Greece's National Theatre, the former Olga Karlatos has steadfastly refused to answer destiny's call. She has insisted on making her own destiny.
"There's an unwritten rule that states if advice comes from someone famous, old, or Greek, then it must be good advice," she said. "I suppose I technically qualify as all three — although I never thought of myself as famous — and my only advice is to never stop learning, never stop developing and never stop pursuing your dreams. You can achieve them, no matter how distant or unattainable they might seem when you start chasing them."
Mrs. Rankin knows whereof she speaks. She was born into an especially impoverished family in a destitute country emerging from the twin catastrophes of World War Two and a subsequent civil war. Mrs. Rankin grew up in a home where education was the overriding imperative and books the only luxuries. Her only legacy from her family was an implacable will and stern self-discipline. She continues to be guided by an inner compass whose true north is fixed on professional and personal growth.
"My mother, because we were poor, said we had no land on which to build a future," said Mrs . Rankin. "She said we needed to look on our brains as our land. If we could cultivate our intellects and our abilities, we could prosper. And she was right."
Her husband — the Rankin of the Rankin/Bass Production team responsible for a calendar's-worth of animated seasonal TV specials– introduced her to the term "obsessive-compulsive" when he became fully aware of this unyielding emphasis on learning. Her first husband, the Ethiopian-Greek director, producer and avant-garde trailblazer Nico Papatakis, used to call her a "monomaniac". There's truth, she concedes, to both descriptions, spoken more in bemused awe rather than as criticisms.
Her route to the law has been a long, indirect but perhaps unavoidable one. She had studied acting at the National Theatre in Athens on a scholarship and qualified for a full, four-year endowment at the University of California, Berkeley when Greece — and her life — were convulsed by a 1967 military coup. She and Papatakis fled to Paris shortly after the right-wing junta seized power — arriving in France shortly before the anarchic street revolution of May, 1968 broke out. When students and left-wing militants joined with striking workers in street protests, the unexpected convergence created a Pluperfect Storm of nation-wide destabilisation, unrest and bloodshed.
Mrs. Rankin has lived through the consequences of having the rule of law violently erased by extremists who bookended the ideological spectrum. These were defining moments for her and instilled an abiding respect for constitutionalism, equality before the law and fair play. Since then she has maintained an almost professional interest in not only social justice but the instruments of justice.
Based between Paris and Rome, she went from being a talented but complete unknown to becoming a fixture in European films and television during the 1970s and early '80s. Her zeal for self-improvement was channeled into her work — developing and enhancing her largely untested skills, refining her craft and generally "keeping the instrument tuned" as actors put it. She learned the nuances and practicalities of the actor's life, appearing in everything from high-brow art house fare to cult horror movies to keep bread on the table.
With her cat-like grace and precision of movement and piercing eyes looking out from behind a proscenium of raven-black hair, she brought an ethereal quality to every role she played. And an almost palpable vulnerability. Like all great actors, she learned the true art of performing doesn't involve pretending to be someone else: it's about exposing facets of yourself. Although she was something of a superstar in Euro-cinema, she never viewed herself as anything other than a working actor — she's refreshingly free of actorly vanity and self-importance. Her exposure on this side of the Atlantic was limited — but had star-making potential.
She enjoyed a stand-out role alongside Gregory Peck in the 1983 mini-series "The Scarlet & The Black". And the Artist Formerly And Once Again Known As Prince personally requested she play his mother in his semi-autobiographical blockbuster movie "Purple Rain" (she can be glimpsed alongside on-screen husband Clarence Williams III in the music video for "When Doves Cry" the breakaway hit from the film's soundtrack and Prince's commentary, in part, on his parents' passionate, turbulent but ultimately abusive relationship).
She retired from acting after marrying Arthur Rankin and moving to Bermuda. But her successful career had not represented the summit of her ambition. The passion for learning, for personal excellence, for not just mastering but dominating new skills and subjects, remained inextinguishable. She decided to resume her abruptly terminated academic pursuits at New York University, graduating summa cum laude with a Bachelor of Arts Degree in International Studies in 2003 and earning a Masters in Humanities and Social Thought the following year. Then she attended a Bermuda College seminar hosted by the University of Kent's Law School — and immediately felt she had found a professional focus for her wide-ranging but unchanneled academic and intellectual interests.
With her husband's encouragement, she applied to and was accepted by the university on what was quite literally an overnight basis. Then she boarded the first available flight to the UK and became the oldest adult student — by several decades — in her class at Kent.
"You can't turn back the clock but you can wind it up again," she joked about finding herself in classes with students young enough to be her grandchildren.
She had few difficulties adapting to her new classmates, new environment and an entirely new field of study and completed her Bachelor of Law degree with characteristic alacrity. The law, as she had anticipated, proved to be a perfect match for her ideas, ideals and enthusiasms. Her instinctive but unarticulated conviction that a society requires a system of jurisprudence founded in justice, equity, and public right had been reinforced after she married her Bermudian husband and came to an island which accelerated its cultural and economic evolution using the law as a dynamic mechanism for social advancement in the 1950s, '60s and '70s. The role of lawyer was not one she was perhaps fated to play but does seem to be the logical culmination of the destiny she has created for herself.
She returned to Bermuda after completing her post-graduate Legal Practice Course (which she passed with a commendation) at the College of Law in the UK. When she arrived back home, Mrs. Rankin was uncertain whether he freshly-minted credentials would necessarily translate into a fresh career. She was acutely aware age might be more of a determining factor when it came to her employment prospects than her sterling qualifications. But Cox Hallett Wilkinson had embarked on a vigorous corporate programme of identifying, recruiting and developing Bermudian talent ("Young and older talent," Mrs. Rankin gratefully noted) and she was invited to do her pupilage at the firm.
"CHW bestowed a huge honour on me," she said. "The partners, staff and associates of the firm — all of the people who had faith in me, who gave me an opportunity — are the ones I will never be able to thank enough. You cannot achieve anything in this life without people helping you. And they have all helped me immeasurably."
Given her iron discipline, broad-ranging interests and seemingly infinite capacity for re-invention, there are doubtless more roles in Olga Rankin's future. But right now, she is happy to subordinate them to her career as Bermuda's oldest newly-called lawyer.
"When I was about to start out on my legal studies, I did say to myself, 'I can't do this, I'm too old'," she said. "What really got me to move forward is something I think younger people also need to be reminded of. Aesop told the fable of the braggart who said he could produce witnesses in faraway Rhodes to his supposedly huge leaps in a sporting competition. One of the people he was boasting to said 'Here is Rhodes' — in other words, do it. Here and now. Show us what you can do. Rhodes is really within us and we must always be ready to jump. I believe in action. You can never be too old."
[Photo courtesy of Alex Scrymgeour]
Read More About