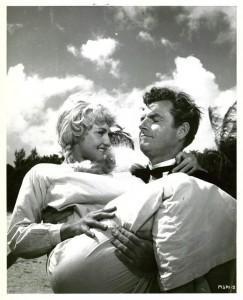 She arrived in Bermuda in 1956 as a virtual unknown to play a castaway Edwardian servant girl in a film being shot here and found stardom — and, indirectly, love with Sean Connery — as a result of her time on the island.
Diane Cilento, the Australian actress who was propelled to international celebrity after appearing in the Bermuda-made film "The Admirable Crichton" and later became known as "Mrs. Bond" to a generation of tabloid readers after her 1962 marriage to 007 actor Mr. Connery, died in her native Queensland on October 7. She was 78.
Directed by British veteran Lewis Gilbert — best known for "The Poseidon Adventure" and three James Bond films and a mentor to Bermudian actor Earl Cameron who he cast in his dramas "There Is Another Sun" and "Emergency Call!" – "The Admirable Crichton" [re-titled "Paradise Lagoon" in the US] was largely filmed on location in Bermuda.
Based on a 1902 play by "Peter Pan" author J.M. Barrie and starring Kenneth More [pictured with Ms Cilento above on South Shore], Sally Ann Howes — the future Truly Scrumptious in 1968′s "Chitty Chitty Bang Bang"– and Cecil Parker, "The Admirable Crichton" was a satire on British class conventions and focussed on an uppercrust London family and its household servants who are shipwrecked on a deserted island.
Traditional roles are reversed when it becomes clear butler William Crichton has the skills and resourcefulness to keep everyone alive. Within a few months, the social order on the island has been reversed: Crichton, who becomes affectionately known as "Guv", takes control of affairs, while his former employers become his willing and eager servants.
The movie's principal locations were Grape Bay and other beaches along Bermuda's South Shore.
Released to enthusiastic reviews and healthy box office returns by Columbia Pictures in 1957, the movie made Ms Cilento an international star for her scene-stealing supporting role as the maid Eliza.
Ms Cilento went on to have a long career in movies and the theatre and won an Oscar nomination for her performance in the bawdy 1963 comedy "Tom Jones."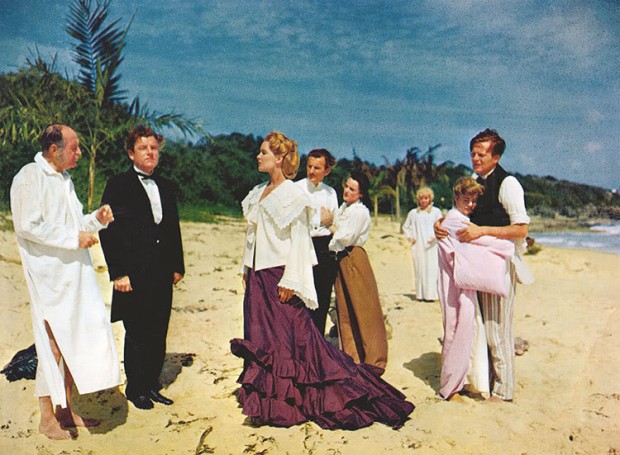 She first set eyes on Sean Connery in 1957 at the glitzy London premiere of "The Admirable Crichton". She had married a beautiful young Italian in London, only to discover that their lives were controlled by his wealthy family.
The British premiere offered two weeks of freedom from her domineering Italian in-laws. "I was footloose and fancy-free," she says, "but pregnant by my Italian husband".
Her strongest memory of that night was "the presence of a tall, funny actor with two gold eyeteeth, who leapt about firing off a barrage of one-liners in a broad Scottish brogue. He walked with the forward-leaning, slightly pigeon-toed gait of a body builder", she recalls, "and his thick eyebrows met between his eyes. He looked dangerous, but fun."
Scenes from the Portuguese-language dub of "The Admirable Crichton"
She was told by her agent it was Sean Connery, her next leading man in ITV's upcoming production of "Anna Christie".
"There was no question of romance," she says, "I was about to disappear abroad to have my baby, but Sean and I became friends."
In 1962 she divorced her husband of seven years, Andrea Volpe, and married Mr. Connery, who began his career as James Bond in "Dr. No" that same year. She divorced Mr. Connery in 1973 and 12 years later married British playwright Anthony Shaffer.
She and Mr. Shaffer lived in Queensland, where she ran a successful open-air theatre in the rain forest. Mr. Shaffer died in 2001.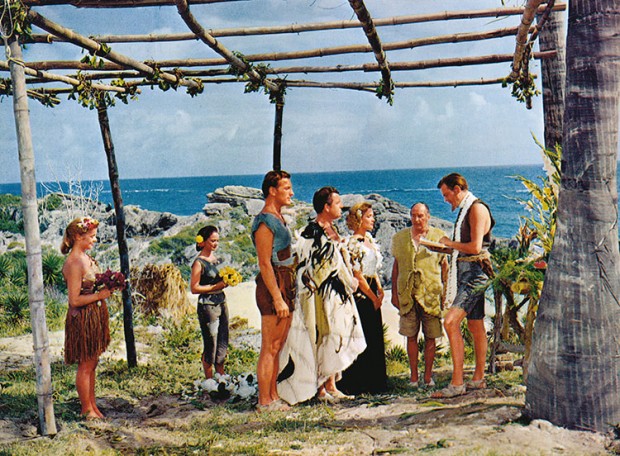 Read More About
Category: All, Entertainment, Films/Movies, History