Bermudian author Colwyn Burchall Jr. held a book signing last night [Dec 17] for the second book in the 'Icon Series' – "Freedom's Flames: Slavery in Bermuda and The True Story of Sally Bassett."
Mr Burchall said the book "looks at why Sally Bassett "took the actions that she is alleged to have taken. What was going on in Bermuda in the 1700s that might have driven an elderly mulatto enslaved person to attempt to poison her grandaughter Beck's owners."
A symbolic figure in Bermuda's history, Sarah Sally Bassett was a slave 'owned' by the estate of Francis Dickinson of Southampton in the 18th century. Despite maintaining her innocence to her death, she was burned at the stake after being found guilty of attempting to poison a slavemaster.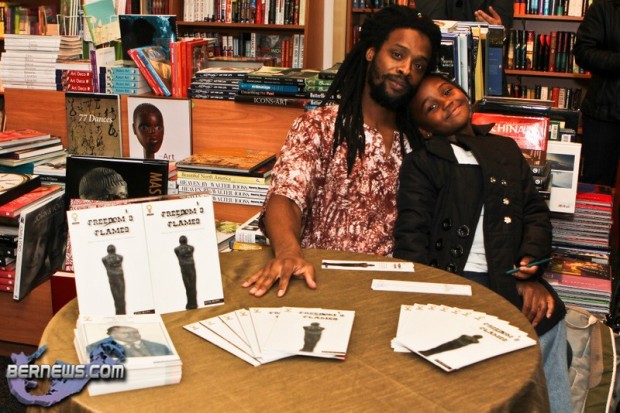 Mr Burchall, a former educator who presently divides his time between freelance writing and working as a stay-at-home dad to his two year-old son, holds degrees in Philosophy and Literacy Education from Mount Saint Vincent University in Canada.
This is the second book of the series to be published, after "Look for Me in the Whirlwind: A Story of Marcus Garvey," which was released in December 2009. The third book of the series, "Dame Lois: Mother of the Nation" is tentatively scheduled for release in 2011. Mr Burchall hopes to release approximately ten books over the next few years.
Mr Burchall said "This effort is really about all of us. I created the Icons Series because I honestly believe that our homespun history matters and should never be forgotten. Dr. Gordon is hugely important, as are Dame Lois and Dr. Ball. There are many lessons that our young people can learn through a comprehensive study of their struggles, triumphs and challenges. Ultimately, my aim is to build a bridge linking Bermudian children, the word and the world that they will help to shape in ways that are meaningful, entertaining and empowering."
Read More About