Dr Katherine Michelmore, Deputy Leader of the the Bermuda Democratic Alliance [BDA], said the party "wants a new Bermuda for all Bermudians, where our core values and leadership principles can be openly embraced by the majority."
She continued on to say that "Our share of the vote came close to that of a much longer established political entity, and was a solid first performance."  In the recently held by-election the BDA's candidate received 70 votes [15%], to the UBP's 78 [17%], and the PLP's 310 [67%].
Dr Michelmore said "With regard to negative comments regarding our MP's at the by-election, this is a non-issue. The BDA did not have the luxury of determining the date of the election, and 2 of our MP's were off island on pre-arranged commitments which could not be rescheduled. Our 3rd MP had extenuating circumstances which made it impossible to attend."
"Sylvan Richards was strongly supported throughout the day by our leader, myself as deputy leader, our chairman and other key members of our Caucus and by BDA volunteers. Perhaps the detractors should be recognizing how many "unpaid" individuals were willing to sacrifice time and energy at personal expense, to support our BDA candidate in his desire to create a new Bermuda for all Bermudians."
Mr Richards, and supporters, are pictured below at the polling station: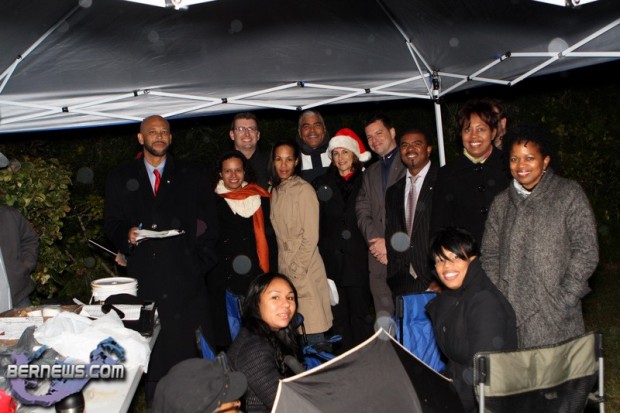 "Real change in Bermuda is needed but many in our Island find it difficult to acknowledge that. It is a reflection of human nature to cling to old habits, old rhetoric and old doctrines because that makes people feel comfortable, even when it is not the best option. Of course we respect the choice made by the electorate, but we believe Sylvan Richards represented that opportunity to send a message – that all is not well with the Country right now and that the Official Opposition is unable to rise to the challenge to make real change," said Dr Michelmore.
"We realize we will need to capture more hearts and minds to effect the change we desire, and we are committed to working to realize that goal. It is our belief that the UBP has been floundering as an opposition party, and it is clear that this impression galvanized the BDA founders to step forward to offer an alternative. Sadly for the UBP, despite many capable and effective MP's, the UBP has become enmeshed in its negative historical legacy, and as it currently exists cannot offer Bermuda a viable alternative. Kim.Swan has criticised us for being of this opinion, but that is because it is a message the UBP leadership does not want to hear but many have said."
"Ultimately the BDA wishes to change the Government, and is prepared to work with those who recognize that real change is essential and are willing to recognise the obvious. We have not gunned for the UBP as Mr Swan is saying, but there must be severe disappointment in the UBP that forty odd years gets you eight extra votes over a one year old entity. Nevertheless it is important that the Government is held to account and that the country is given a strong Opposition. We will work towards that goal. Given the large numbers that did not vote, political parties have lots to do to enfranchise every voter."
Read More About