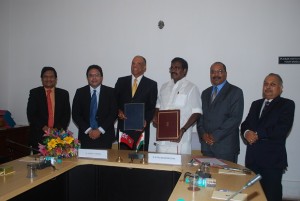 India's beleagured government defended itself today [Jan. 25] against charges it was allowing hundreds of billions of dollars to be siphoned from the economy into off-shore bank accounts — citing its recent agreement with Bermuda as an example of its intent to crack down on tax evasion and avoidance.
Days after India's Supreme Court criticised what it called the "mind-boggling plunder" of the country's wealth by tax evaders, Finance Minister Pranab Mukherjee insisted the government had previously been handicapped by international legal restrictions.
Mr. Mukherjee said India had now successfully concluded negotiations on tax information exchange agreements with what he described as "10 renowned tax havens" — including Bermuda — and had embarked on similar negotiations with 65 other countries.
"No sovereign country is going to share information unless there is a legal framework in place," he told a news conference.
Estimates for the amount of illicit money deposited secretly in overseas bank accounts by wealthy Indians and corporations range from $500 billion to $1.4 trillion.
Former Premier Dr Ewart Brown signed a Tax Information Exchange Agreement with India while he was in that country attending the Commonwealth Games in October. Dr. Brown is pictured above at the signing ceremony with [from left] Mr Sudhir Chandra, Mr Ven Subramanian, Minister of State for Finance Mr. S. S. Palanimanickam, Minister Glenn Blakeney and Mr. Sanjay K. Mishra.
This TIEA marked Bermuda's 23rd such international agreement. It provides for a full exchange of information on criminal and civil tax matters between Bermuda and India consistent with Organisation for Economic Cooperation and Development (OECD) standards. The TIEA  was the first accord signed by India.
In December India's Finance Ministry announced it was embarking on an international probe of hundreds of off-shore "financial structuring deals" undertaken by Indian companies in various off-shore jurisdictions including Bermuda.
.
Read More About