[Updated w/video and photos] At approximately 10:15pm this evening [Jan 23] a car smashed through a wall and flipped over on Harrington Sound Road opposite the junction with Lolly's Well Road in Smith's Parish.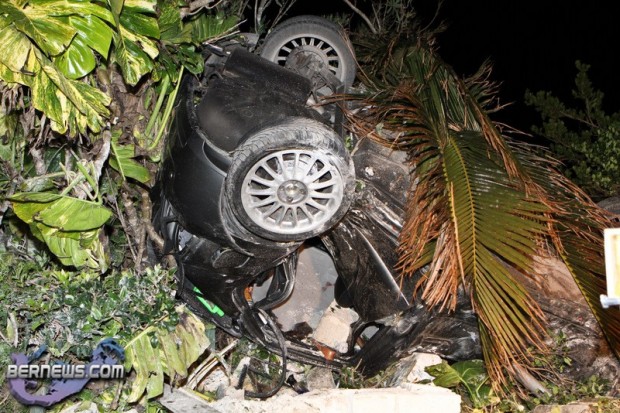 The car was being driven west along Harrington Sound Road, and appeared to damage a fence, a hedge, a wall and demolished a moongate before flipping upside down.
It appears that two people were injured in the accident with one man being trapped for a few minutes before he was able to crawl out with assistance from a passing motorist who had stopped to assist. He was taken by ambulance to King Edward Memorial Hospital with injuries that did not appear to be life threatening.
The Fire Service attended to assist in extricating the man trapped in the car but he was able to get out before they arrived. The road had to be closed to traffic while emergency service personnel attended the scene. We will update with official information as able.
This is the second time this month a car accident in which the vehicle 'flipped over' has occurred in the Harrington Sound area, following an incident on January 3rd.
Update 5:00am: At 2:30am a crane came and removed the car, and it was transported away. Additional photos and video of the car being hoisted and removed is below.
Update 2:50pm: Official statement from the Police:
Around 10:30pm on Sunday, Police attended a reported single vehicle road traffic collision resulting in injury on Harrington Sound Road in Smith's parish near the junction with Lolly's Well Road.

It appears that a car was traveling along Harrington Sound Road when the driver, a 32 year old Smith's parish man, lost control. As a result the vehicle went over an embankment and overturned. The driver was injured and taken to King Edward VII Memorial Hospital via ambulance for treatment. The passenger, a 26 year old Warwick man, was also injured; however he declined medical treatment.

The car was extensively damaged. Inquiries into this incident are underway. Police are appealing for any witnesses to this collision to contact PC Darren Harvey on 295-0011
Photos by Only the Best, click to enlarge:
Update 5:00pm: The driver has been airlifted overseas for further medical care.
Read More About
Category: Accidents and fires, Accidents/Fires, All, Cars/Bikes, Most Popular, News, Photos