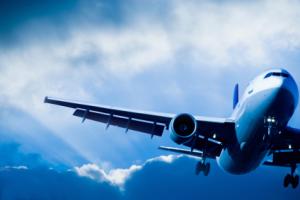 Minister of Transport Terry Lister today [Mar.31] announced that the L.F. Wade International Airport has completed the modernization of its local airspace by adopting Global Positioning System [GPS] technology to create more precise, safer, and fuel efficient landing approaches for aircraft arriving in Bermuda.
This new technology places LF Wade International Airport directly in sync with a comprehensive overhaul initiative by the FAA to modernize America's aging and congestive national airspace.
A spokesperson said, "The initiative, known as NextGen, is designed to make air travel to and within the United States, more convenient and dependable, while ensuring flights are as safe, secure and hassle-free as possible. While the plan ensures better air traffic control and greater fuel savings, it also introduces technology that allows for a greater likelihood of landings during inclement weather."
"Since the airport was first operated by the United States Navy, aircraft arriving in Bermuda relied primarily on Visual Approaches and limited navigational aid from airfield instruments when landing."
Airport General Manager, Aaron Adderley, suggested that while such approaches are common-place around the world, they are heavily dependent on fair weather conditions, meaning that when visibility was low, arriving aircraft increasingly had to divert to alternate airports along the US East Coast.
"One of the biggest objectives within our short-term strategic plan was to modernize our landing approach system," said Mr. Adderley.
"For the first time ever, Bermuda will have a state-of-the-art precision approach on both ends of the runway. There are 27 different satellites orbiting the planet that are providing the GPS technology we're using for aircraft to pinpoint their way to touchdown even during inclement weather when visibility is low. While not completely removing the possibility, these new approaches certainly minimize the likelihood of flights having to divert somewhere to the East Coast when the Island is experiencing severe weather conditions," said Mr. Adderley.
The Airport commissioned a study to analyze its landing instruments in 2008. The study concluded that the utilization of GPS technology would greatly enhance Bermuda's airspace.
Leading airspace design experts, Jeppesen, a subsidiary company of aviation giants, Boeing, were called upon to redesign Bermuda's landing approaches. Seven new, state-of-the-art, precision approaches were designed offering pilots a choice of various different routes to take when making their way from midair to touchdown.
Four of these mapped approaches using satellite technology, are known as RNAV or Area Navigation approaches, which enable an aircraft to fly a smoother, less rigorous course when making its final descent to Runway 12/30.
The seven new approaches ensure greater levels of safety and fuel efficiency, since aircraft can now line up further out and descend more efficiently into Bermuda.
While the new FAA-endorsed approaches reduce the likelihood of weather-related diversions, Mr. Adderley added that to ensure the continuation of flight arrivals during the most severe thunderstorm activity, when visibility is often at its lowest, additional runway lighting would be required to supplement the new approaches. The airport will look to pursue that as part of future enhancement works.
"Bermuda can be proud of the fact that L.F. Wade International Airport is one of the very first airports in the western hemisphere to have introduced the state-of-the-art global satellite technology featured in the FAA NextGen project," said Minister Lister.
"These new landing approaches are unique and ensure that we are in a position to assist the FAA in realizing its NextGen initiative. They've been great partners over the years recognizing the important role that Bermuda plays in the control of air traffic up and down the very congested East Coast corridor and this helps to strengthen that partnership," he added.
Read More About
Category: All, News, technology