The Department of Airport Operations today [June 25] provided an update on the Long Range Radar installation at the LF Wade International Airport.
The timeline set by the U.S. Federal Aviation Administration [FAA] for the installation of its Long Range Radar at the L.F. Wade International Airport [LFW], is on schedule for completion and certification by mid-July. Airport Operations Ground Electronics Specialists have been assisting the FAA Radar Technicians with the ongoing replacement project.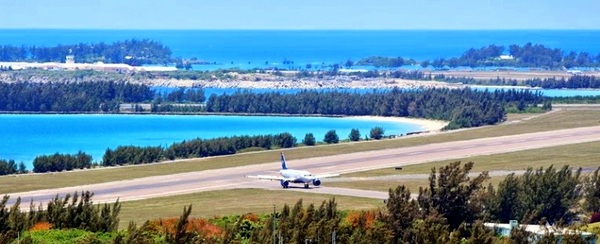 The installation of the enhanced radar receiver has been completed and the repainting of the radar tower following the removal of previously-used lead paint has started. Additional measures around the decades old tower had to be taken in order to satisfy Occupational Safety and Health requirements for day and night time work activity.
The team is currently doing all of the required electrical and mechanical upgrades and expects to have the system on line the first week of July for preliminary testing and verification. This will be followed up by standard flight checks required for certification prior to the new radar's introduction to service.
The radar replacement marks the most significant upgrade of the FAA's navigation equipment since the Bermuda Government first entered into an agreement with the FAA back in the early 1990's. The agreement calls for the placement of the radar and other equipment at L.F. Wade by the FAA and in return, Bermuda Airport Operations provides the radar surveillance data to FAA Air Traffic Controllers based in New York, in order for them to provide air traffic management services to aircraft flying to and from Bermuda; as well as aircraft flying through Bermuda airspace en route to other destinations.
"Upon completion of this project, Bermuda will have enhanced, more modernized radar capability that will provide even greater surveillance coverage. This will assist the FAA in providing safer and more efficient air traffic management services for Bermuda-bound and en route traffic over the north Atlantic," said Mr. Adderley.
"The importance of the radar is significant given our geographical location. The timeline that the FAA set for the project has certainly provided its challenges. However, our local air traffic controllers have worked as best they can with FAA controllers to try and manage the unavoidable delays caused whilst the project is ongoing. We're very grateful to the traveling public for their patience thus far," said Mr. Adderley.
Mr. Adderley advised that flights departing Bermuda between 1pm and 4pm are most likely to be affected with delays up to one hour. Airport Operations recommends those booking flights for travel during these peak hours between now and mid-July, to plan accordingly, especially when making connecting flights.
Meanwhile, work on the runway that will include the installation of modernized, energy efficient, runway centerline lighting continues with coring and trenching along the runway surface. The project is expected to last through the summer as efforts are made to try and minimize any disruption to scheduled flight activity.
Read More About
Category: All, technology