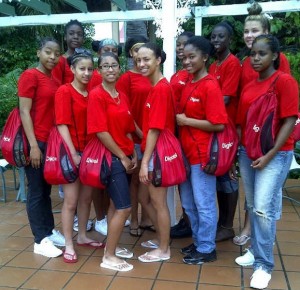 The Bermuda National Youth Netball Team has repeated their victory from last year, winning their Division in the Caribbean Netball Association's Jean Pierre Under-16 Tournament taking place in St Kitts.
So far in the tournament, Bermuda is undefeated, having won all four games. They have one more match scheduled, however their four wins so far have sealed the overall win for them, and regardless of the outcome of the next match Bermuda will win the Division.
Bermuda began the tournament with a 24 – 12 win over Anguilla, which they followed up with a 29 – 19 win over Guyana. Their third win against Anguilla saw Bermuda dominate to the extreme — winning 31-2.
Yesterdays 19-12 win over St Kitts sealed the Division win for the team. This is the second Division win in a row for Bermuda, as the team went into the tournament as the defending champions.
Bermuda held a 6 – 4 lead at the end of the first quarter, and a 12 – 8 lead going into half time. Bermuda scored 5 goals in the third quarter, while only allowing one goal against to lead 17 – 9 at the end of three quarters, in the final quarter Bermuda scored two goals and St. Kitt's scored three times. Danielle Onyia scored 14 goals, while Kirstin Saltus added 5 goals.
The Bermuda National Youth Netball Team consists of Diara Benjamin, Taahira Butterfield, Asante Chapman, Sideya Dill, Melissa Fiddick, Shi-Vaughn Lee, Kayjuna Lema, Danielle Onyia, Sinae Smith, Akeyla Furbert, Khianda Pearman and Kirstin Saltus.
[Updated with team photo]
Read More About