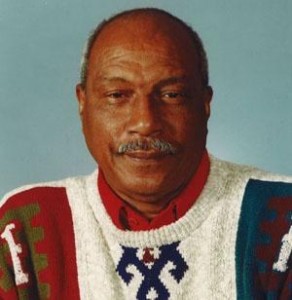 When the Bermuda Post Office honoured Roosevelt Brown [later Dr. Pauulu Kamarakafego] a year after the celebrated civil rights pioneer's death at the age of 74 in 2007, he was described as  a "Pioneer of Progress" on a 35 cent commemorative stamp.
It was an accolade which applied as much to his global work as it did to his  involvement in Bermuda politics.
Dr. Kamarakafego is one of three newly named Bermuda National Heroes along with Dr. E.F. Gordon and Sir Henry Tucker. Their contributions to the island's development and welfare will be marked in June.
Roosevelt Brown was born on November 28, 1932.
He was educated at Howard Academy in Bermuda from 1948 to 1951, and from there he attended New York University from 1951t o 1954, University of South Carolina from 1954 to 1955, North Carolina University from 1955 to 1956 and, finally, the California Institute of Technology from 1956 to 1959.
Professionally he was an ecological engineer, a field in which he held a PhD. His specialisation was in rural technology, planning and the development of rural communities.
He had in-depth knowledge of several vital areas, many of which he we could desperately use his help with today: water and sanitation; rural energy sources with emphasis on renewable energy, such as wind, solar, biomass and mini-hydro; affordable durable housing with emphasis to withstand various physical factors such as storms, hurricanes and earthquakes; agriculture and land management; cultural cottage industries; and rural health planning services, with an emphasis on preventative and traditional medicine.
Beyond his professional training and expertise he was deeply involved in political activism both in Bermuda and around the world.
In the early 1960s the Committee for Universal Adult Suffrage [CUAS], led by Dr. Kamarakafego, campaigned for the extension of full democratic rights in Bermuda at a time when the Parliamentary franchise was restricted to property owners.
He fought tirelessly for the elimination of the property-based vote and the establishment of single-seat constituencies with, as near as possible, equal numbers of voters — reforms which CUAS considered to be necessary steps for achieving the democratic ideal of "one person, one vote, each vote of equal value."
"The relentless efforts of CUAS, in conjunction with other contributing factors, led to the passage of the Parliamentary Election Act 1963, which introduced Universal Adult Suffrage for all Bermudians, whether they owned property or not, but raised the minimum voting age to 25," said former Clerk to the Legislature and Bermuda political historian James Smith. "In spite of the disenfranchisement of all adults between 21 and 25, the legislation effectively increased the potential electorate to approximately 21,000 eligible voters.
"In retrospect, the Parliamentary Election Act 1963, whilst falling far short of achieving all of the objectives espoused by CUAS, represented an interim compromise formula which only partially addressed the wishes of both extremes of the political spectrum — the ultra-conservatives and the reformists. Nonetheless, it did set the stage for the more progressive changes which were to follow three years later [when] the Parliamentary Election Amendment Act 1966,  came into force, abolishing the 'plus' vote and extending the franchise to include every adult Bermudian, by birth or grant, 21 years and over …
"Bermuda's first Constitutional Conference was convened in the United Kingdom later in the year … culminating in the drafting of Bermuda's first written Constitution, which, inter alia, laid out a broad and comprehensive framework for governing the island and, in keeping with the legislation passed earlier, eliminated the 'plus' vote, instituted Universal Suffrage for adults 21 and over and confirmed the increase in the number of constituencies to twenty ."
Dr. Kamarakafego was elected to the House of Assembly as a Progressive Labour Party MP in the 1968 General Election, the first held under the new constitutional framework he and CUAS did so much to introduce.
In 1969 he organised an international Black Power conference in Bermuda — inviting Pan-African activists and militants from North America and the Caribbean to attend.
The meeting alarmed both the local political establishment along with UK and US security agencies — so much so a unit of British troops was dispatched to Warwick Camp to conduct "exercises" while the conference was underway.
But the Black Power meeting passed without incident and Dr. Kamarakafego's role in organising it reflected his ongoing interest in the world beyond Bermuda's shores.
Later in 1969 he spent three days in Melbourne, Australia, igniting a firestorm of controversy in that country when he argued its "Whites Only" immigration policy — in place through the '50s and '60s — and entrenched discriminatory practices against the native Aboriginal people were inviting a Black Power backlash.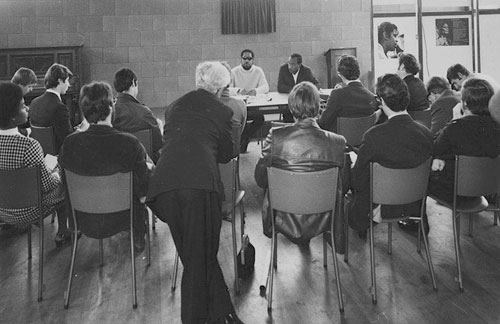 On the invitation of Aborigines Advancement League president Bob Maza and AAL employee, Bruce McGuinness, Dr. Kamarakafego addressed a meeting and held a press conference [pictured above]  at the AAL's suburban Melbourne headquarters.
The resultant uproar and media frenzy sparked Australia's first major "Black Power" scare. The term "Black Power" properly entered the Australian vernacular as a result of this specific controversy.
Subsequently Dr. Kamarakafego has been credited by both Australian lawmakers and political commentators for kick-starting a nation-wide debate on the country's racial policies and practices which have undergone wholesale reform in the intervening 40 years.
His  chose not to seek re-election to Bermuda'ss Parliament in 1972 and instead embarked on a global journey which saw him become — in the words of a Government spokesman — a kind of "international Johnny Appleseed", spreading the concepts of ecological and political sustainability around the world.
Dr.Kamarakafego went on to became a world-renowned expert in ecological/environmental engineering, specialising in rural technology.
He worked in rural areas of Africa, Asia, Latin America, and the Pacific, developing and teaching techniques to improve the standard of living of the people in these communities.
He received an award from the United Nations [UN] Conference on Human Settlements for two of these designs, amongst 100 sustainable best practices in 1996.
The UN called upon him frequently as an energy expert, particularly on renewable energy sources. He served as a member of the UN Planning Team to develop a policy paper on Science and Technology for Development in the Pacific Region countries.
He was also the International Coordinator of the International Network of Small Island Developing States of Non-governmental Organisations [NGOs] and IndigenousPeople Pacific Ocean, Indian Ocean, Caribbean, Atlantic/Mediterranean, and Arctic Regions and the Diaspora.
At the Southern Non-Governmental Organisation summit held in Algeria in 2002, he was honoured with an award as an Eminent Person, in recognition of his long-standing commitment to the principles and cause of sustainable development.
He was also the executive director of the Pan African Movement which is accredited to the UN Economic and Social Council [ESOSOC].
He served as a member of the Executive Advisory Board of the W.E.B. Du Bois Foundation, the Centre for Development of International Law and the steering committee of the UN World Summit on Sustainable Development held in Johannesburg in 2002.
He received many awards and accolades during the course of his career. In 1981 he received the Citizen's Independent Medal for his assistance to the Republic of Vanuata on their road to Independence and his outstanding contributions to the cause of Universal Adult Suffrage in Bermuda were honoured by both the Bermuda Anti-Apartheid Group and the National Association for Reconciliation.
In 1992 he was one of the first recipients of the Outstanding Human Rights Award, presented by the Human Rights Commission of Bermuda. And in 1996 he received the "Best Practices for Human Settlements" awards presented in Istanbul at Habitat II for designing and building water storage tanks and houses with bamboo, cement, sand and stones.
In 2002 he was listed in Who's Who in the 21st Century for Outstanding Achievements in the Field of Ecological Engineering, International Biographical Centre, Cambridge, England.
Speaking on the first anniversary of Dr. Kamarakafego's death in 2008, then Premier Dr. Ewart Brown eulogised the man he called "the Father of Universal Adult Suffrage" in Bermuda as a champion of unity between peoples not just on the island but around the world.
"Scholars in various disciplines have attempted to define the measure of a nation," said Dr. Brown. "Some have said that in its approach to national sport one can find the soul of a people. Others maintain that a nation's social conscience crystallises its essence.
"I do not profess to have a philosophy that rivals any great thinker's, but I assure you that I am convinced that my duty is to have this small island defined by the manner in which it recognises its native sons and daughters of stature.
"Pauulu was a citizen of the world. His native land of Bermuda was just too small for him – for his intellect and for his desire to serve people.
"The unfortunate history of our country meant that a man of Pauulu's genius could only be defined by the colour of his skin. A lesser man would have obediently hidden his talents and bowed to the system that sought to constrain him. Not Pauulu.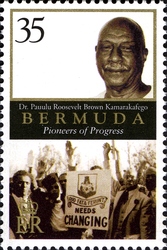 "A life such as his causes us to be thankful for the opportunity to share in it. The eternally refreshing thing about being in Pauulu's presence was that there was no end to solutions.
"Whether it was a discussion about how to address the maintenance of Blackwatch Pass, or an efficient means of dealing with flooding in low-lying areas north of Till's Hill, Pauulu would simply say, quietly, 'Doc…I designed the system for that….you want the plans?'
"He had thought of solutions to things that were not yet problems. Think about that. He thought of solutions for things that were not yet problems.
"Think of the cerebral capacity that required. Pauulu's immense aptitude for analysis served him well, not just in his fields of agriculture and science, but in politics as well – especially politics. This country's Father of Universal Adult Suffrage lived long enough to see the concept he championed on these shores mature into the adult form of one man one vote, each vote of equal value.
"I often wonder what the likes of Sir John Cox, Sir Henry Tucker and Sir Dudley Spurling made of Roosevelt Nelson Osiris Brown on the benches opposite. I suspect that even then, as they witnessed the passion of this fearless advocate of the people they knew he was right and that his ascendancy marked the beginning of the end for injustice in this country.
"Thank you, my friend for the lessons in life.
"I close with the words of Frederick Douglass who said: 'If there is no struggle, there is no progress. Those who profess to favor freedom, and deprecate agitation, are men who want crops without plowing up the ground, they want rain without thunder and lightning.'
"Pauulu's spirit beckons us to continue to right wrongs, and to make true progress in achieving unity of purpose and unity of spirit in this beautiful land of ours. His work around the world symbolised the unity of peoples everywhere and we owe his memory the achievement of that unity here at home."
Read More About