[Updated] A short while ago today [May 27] there was an incident in the Angle Street area that resulted in a dog being shot. Police and dog wardens attended an address on Angle Street at 12:38pm in connection with an animal cruelty investigation.
We have limited information at this time, but will update as able.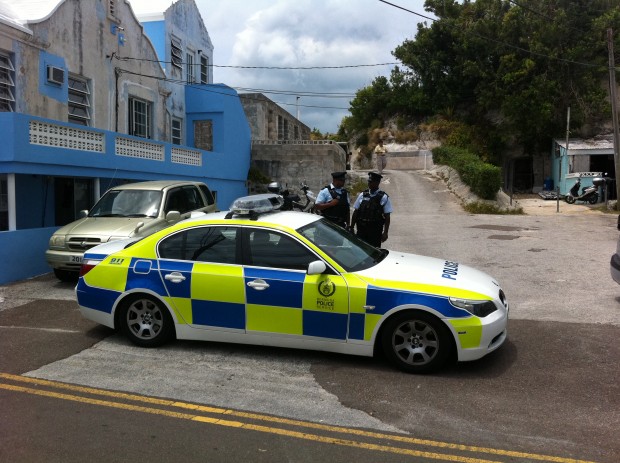 [Update 3: 14 pm] Bernews understands members of the public were attacked by dog in the Angle Street area and had to receive medical treatment at King Edward VII Memorial Hospital.
Police officers who arrived on the scene shot and killed the dog, believed to be a pit bull.
A 19-year-old man is now in police custody as regards this incident.
Bystanders said they heard someone shouting something along the lines of "my dog's licensed", and then a short while later heard shots go off. It unofficially appears the dog's body is still on the premises.
Police stated that the rumours of a person being shot are untrue.
Update 3:45 pm: Video of Police Statement below.
Update:: Short video of scene:
Update 4:43pm: Police statement
Around 12.30pm today, Friday May 27, 2011 police officers and Government Animal Wardens attended a report of dog cruelty in the area of Court and Elliot Streets, Pembroke.

The owner of the dog was located but a confrontation and a foot chase quickly ensued.

The dog was set upon the warden who was attacked violently and a passerby was also attacked in the process.

The police officer in attendance was carrying a firearm. He determined that the nature of the attack required the use of lethal force and he discharged his firearm. Two shots were fired at the dog and the dog died from its injuries.

Both the warden and the other person received bite wounds that required hospital treatment.

A 19 year old man has been arrested in connection with this incident and is currently in police custody.

In keeping with our policy on the use of police firearms an enquiry has commenced immediately to ensure that all protocols were followed, but at this early stage it appears that the firearm was discharged in accordance with and under the authority of our policies.
Update May 30: 19-year-old Jahmeiko Perkins was charged with wounding someone with intent to cause grievous bodily harm, and being in charge of a dog and not exercising proper care and control.
Read More About