Jana Matusz from Boston is the new Artist in Residence who has been on the island painting since April. The opening reception for the exhibit will be on Friday, June 17th in the Rick Faries Gallery at the Masterworks Museum of Bermuda Art. Doors open at 5:30pm.
Jana studied art at Harvard University, Oxford, the Academy of Fine Art in Krakow, Poland, and the Massachusetts College of Art. A teacher as well as painter, she is a plein air painter who paints primarily in acrylic, and draws using water-soluble media. Her work has focused on landscape, but includes still life, figure, and animals.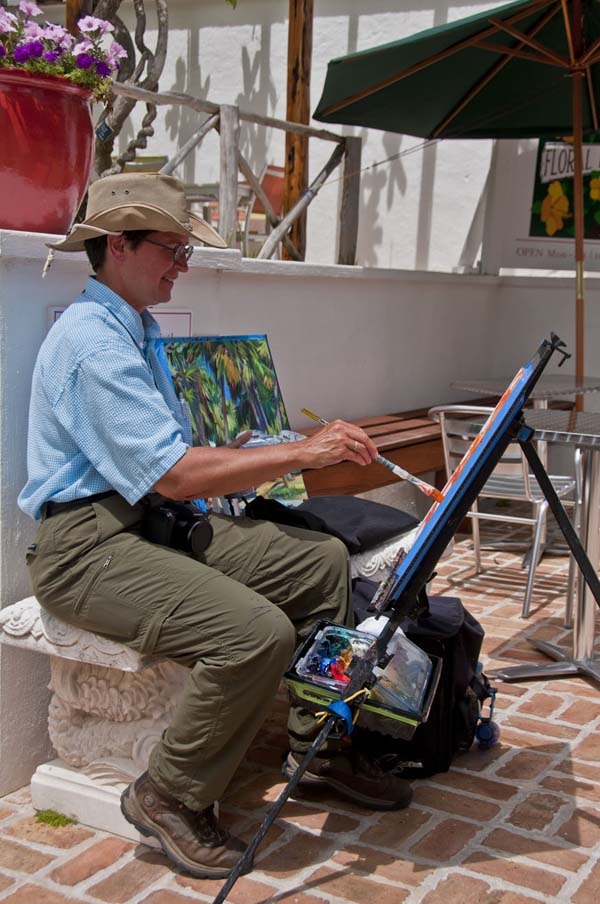 Jana came to Bermuda for the first time in March of last year, in need of an escape from the bleak, cold and dreary winter of Boston. She spent a week or so painting and exploring the island and found out about the Masterworks artist in residency programme and immediately applied for the chance to spend more time painting in the island.
For Jana as an artist, it is the light of Bermuda which make it so special. She says, "Many artist colonies, Cape Cod, for example, or St. Ives in Cornwall, are out on peninsulas, almost surrounded by water. Bermuda, of course, is completely surrounded by water, lots of it! And it does do something to the light. It's really special.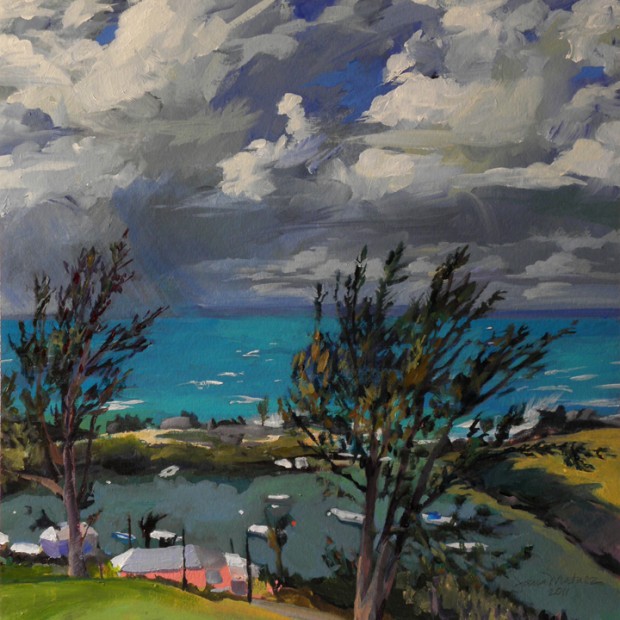 The intensity and the liveliness of that light is captured by the beautiful intense turquoise waters, the palm trees and interesting vegetation, and the unique and distinctive Bermudian architecture. I am so in love with the architecture! I'm captivated by the white roofs, the solid grace, the delightful details, and the simple, strong forms that give that gorgeous light something wonderful to fall on. For an artist who loves composition, colour and light, painting in Bermuda is a real treat."
In the past two months Jana has explored the island but found a lot of inspiration close to her temporary home in St. George's. All Masterworks Artists in Residence are given lodging at a National Trust property in the old town, and it serves as a great introduction to the local community with many of the artists forging friendships that last long after their residency ends.
Jana has found the Unesco World Heritage site to be a fountain of inspiration and says " everywhere you turn there's a painting waiting to be done!" She's also ventured over the hill and done scenes of Tobacco Bay, Coot Pond, Fort St. Catherine and even the Almeida Farm.
Outside of St. George's she's painted often at the Botanical Gardens and Masterworks and will be on hand the next two Thursday afternoons during afternoon tea at Homer's Cafe before her show (June 2nd and 9th). She has also joined the Bermuda Plein Air Painters at various locations throughout the island, and the art group of the International Women's Club.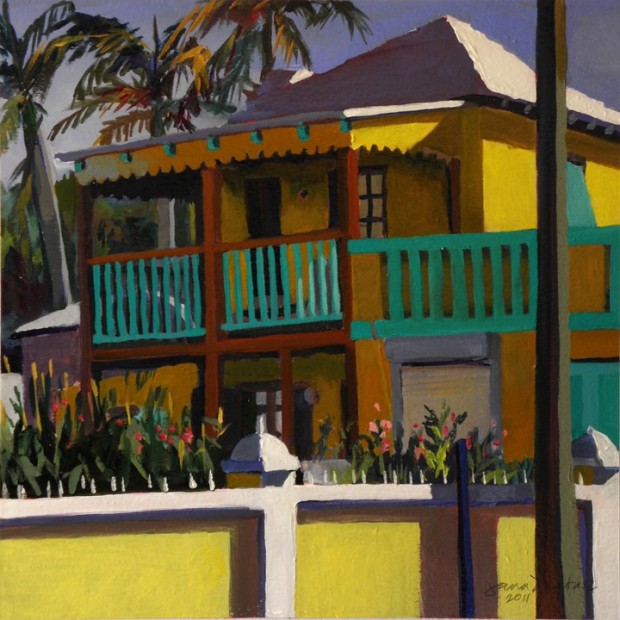 As well as being a painter, Jana draws, so on days when it the weather has made it difficult to paint, she's done a lot of drawing just about everywhere, from the Ag Show to Dockyard. Jana is quick to praise the public transport system which she has relied on to get her around the island; "The buses have been great. The bus drivers are my heroes. I am so impressed by their skill and helpfulness and patience, often in the face of very trying circumstances. I've seen them providing directions and help to visitors and watching out for Bermudian children. They deserve medals for the important work they do. I absent-mindedly left a painting bag on the bus one Sunday morning, and the drivers managed to get it back to me — they were terrific."
She has found her few months on the island to be incredibly productive and inspiring and the people to be kind and helpful. She says she now has a better understanding of her friends who keep returning to Bermuda for thirty years or more; "It's a very special place. Yes, I know — Bermuda is not without its problems and challenges, but Bermudians have so much to be proud of. I'm grateful that the Bermudians have shared their beautiful country with me."
- First photo courtesy of Lloyd Webbe
Read More About
Category: All