[Updated - Bermuda win] Bermuda will take on Suriname in the second ICC Americas Region Division One Twenty20 match at the Central Broward Regional Park Stadium Turf Ground in Fort Lauderdale starting at 2.30pm today [July 19]
Bermuda won the toss and elected to bat first. Karran Bayney and Sylvan Taylor are the Umpires on Duty
The team for Bermuda is as follows: D Hemp, L Cann, F Crockwell, K Leverock, OJ Pitcher, D Minors, R Trott, M Jones, G O'Brien, D Bell and J Gilbert.
Bermuda played their first game against Argentina yesterday, walking away with a victory.
Update: Bermuda won by 8 runs [D/L Method]. Bermuda 160/4 Suriname 41/3
Bermuda won the toss and elected to bat first. Karran Bayney and Sylvan Taylor are the Umpires on Duty. Lionel Cann [pictured below] has scored his second half century of the tournament as he reached his fifty in 29 balls hitting five fours and a six. Bermuda reached 80/0 after 8.3 overs with captain David Hemp not out on 24 from 22 deliveries.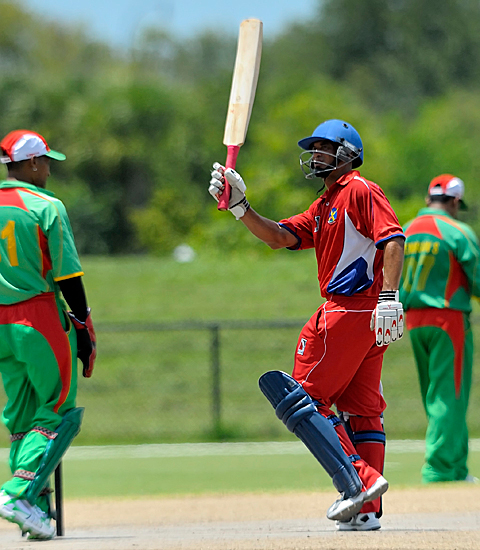 Bermuda scored 160/4 in their allotted 20 overs, Cann went on to make 63, while David Hemp [pictured below] added 50, Firqe Crockwell contributed with 20. Troy Dudnath was the pick of the Suriname bowlers with figures of 4.0-0-40-2.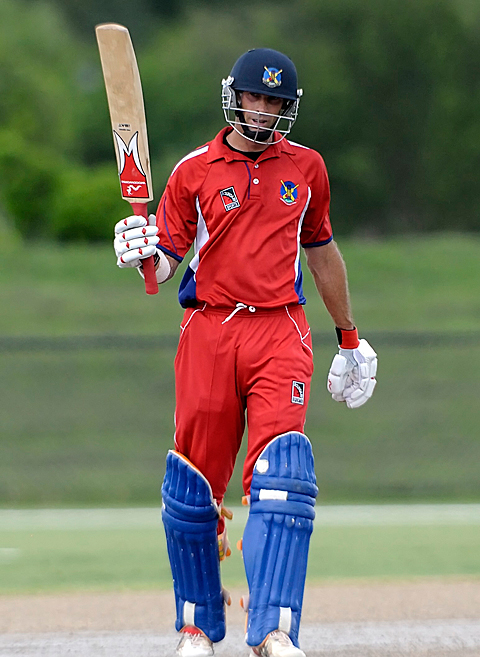 Following a rain delay Suriname required 49 runs in 5 overs, they could only manage 41/3 as Bermuda won by 8 runs (D/L Method). Giovani Gokoel was their top scorer with 18, while George O'Brien led the Bermuda bowling attack with figures of 1-0-5-2.
Bermuda's Innings
..63 (35) Lionel Cann b Sauid Drepaul
..50 (46) David Hemp c Vishraw Shaw b Troy Dudnath
..20 (21) Fiqre Crockwell LBW Troy Dudnath
..01 (02) Dean Minors LBW Giovani Gokoel
..11 (10) Kamau Leverock Not Out
..09 (06) George O'Brien Jr. Not Out
..06 Extras (4w-2lb)
160 Total for 4 Wickets after 20 overs
Fall of wickets: 1 – 93 (Cann), 2 – 137 (Hemp), 3 – 139 (Crockwell), 4 – 145 (Minors)
Suriname Bowlers
4.0-0-40-2 Troy Dudnath
4.0-0-28-0 Sanjay Oemraw
1.0-0-10-0 Giovani Gokoel
4.0-0-32-0 Vishaul Singh
4.0-0-28-1 Sauid Drepaul
3.0-0-20-1 Arun Gokoel
Suriname Innings
..03 (05) Sauid Drepaul c Rodney Trott b Kamau Leverock
..04 (05) Troy Dudnath b George O'Brien Jr.
..00 (01) Mohindra Boodram c & b George O'Brien Jr.
..18 (12) Arun Gokoel Not Out
..12 (07) Kemraj Hardart Not Out
..04 Extras (2lb-2w)
..41 Total for 3 Wickets after 5 overs
Fall of wickets: 1-9 (Dudnath), 2-9 (Boodram), 3-14 (Drepaul)
Bermuda Bowlers
1.0-0-06-0 Malachi Jones
1.0-0-05-2 George O'Brien Jr.
1.0-0-05-1 Kamau Leverock
1.0-0-17-0 Rodney Trott
1.0-0-06-0 Damali Bell
Full scoresheet, click 'Fullscreen' on bottom for greater clarity:
Read More About